Health plans and providers have historically been reluctant to reimburse and prescribe weight loss medications. This reluctance is driven by various factors such as stigma, inadequate training on weight management, and health risks associated with past weight loss medications recalled by FDA.
Only five medications remain approved by FDA for long-term weight management among adults. These differ from short-term weight management medications not approved by FDA for use beyond 12 weeks. Weight management medications are intended for use in combination with behavioral lifestyle interventions to reduce chronic disease risk.

These medications are not reimbursed by most health plans, including traditional Medicare. However, most manufacturers offer savings programs for those paying cash. For example, VIVUS offers Qsymia for $98 per month through its Qsymia Engage Home Delivery Program. They may also be eligible for reimbursement from flexible savings accounts (FSA), health savings accounts (HSA), and health reimbursement accounts (HRA) with a Letter of Medical Necessity.
As a result of provider skepticism and limited reimbursement, only about 3% of U.S. adults were prescribed weight loss medications from 2012 to 2016, and 68% of those were paid for out-of-pocket.
What's changed?
New weight loss drugs are highly effective
Last year, FDA announced Wegovy as the first drug approved for chronic weight management in adults since 2014. This medication contains the same active ingredient (semaglutide) as another Novo Nordisk medication, Ozempic. Wegovy is available in higher doses and specifically approved for chronic weight management, whereas Ozempic is approved for the treatment of type 2 diabetes. Wegovy's weight loss results outperform older medications on the market.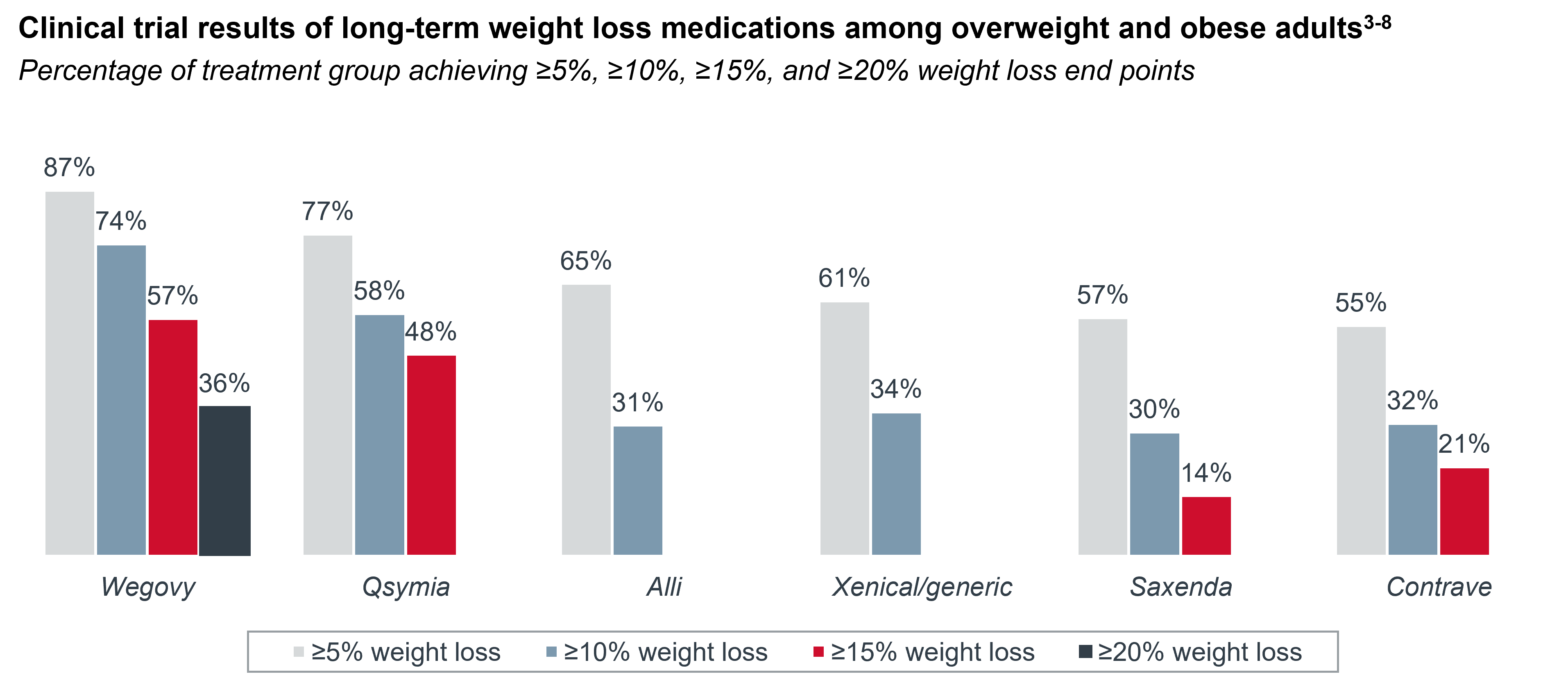 Given Ozempic is approved for glycemic control and cardiovascular risk reduction among adults with type 2 diabetes, it's not surprising Wegovy offers these benefits in addition to weight loss.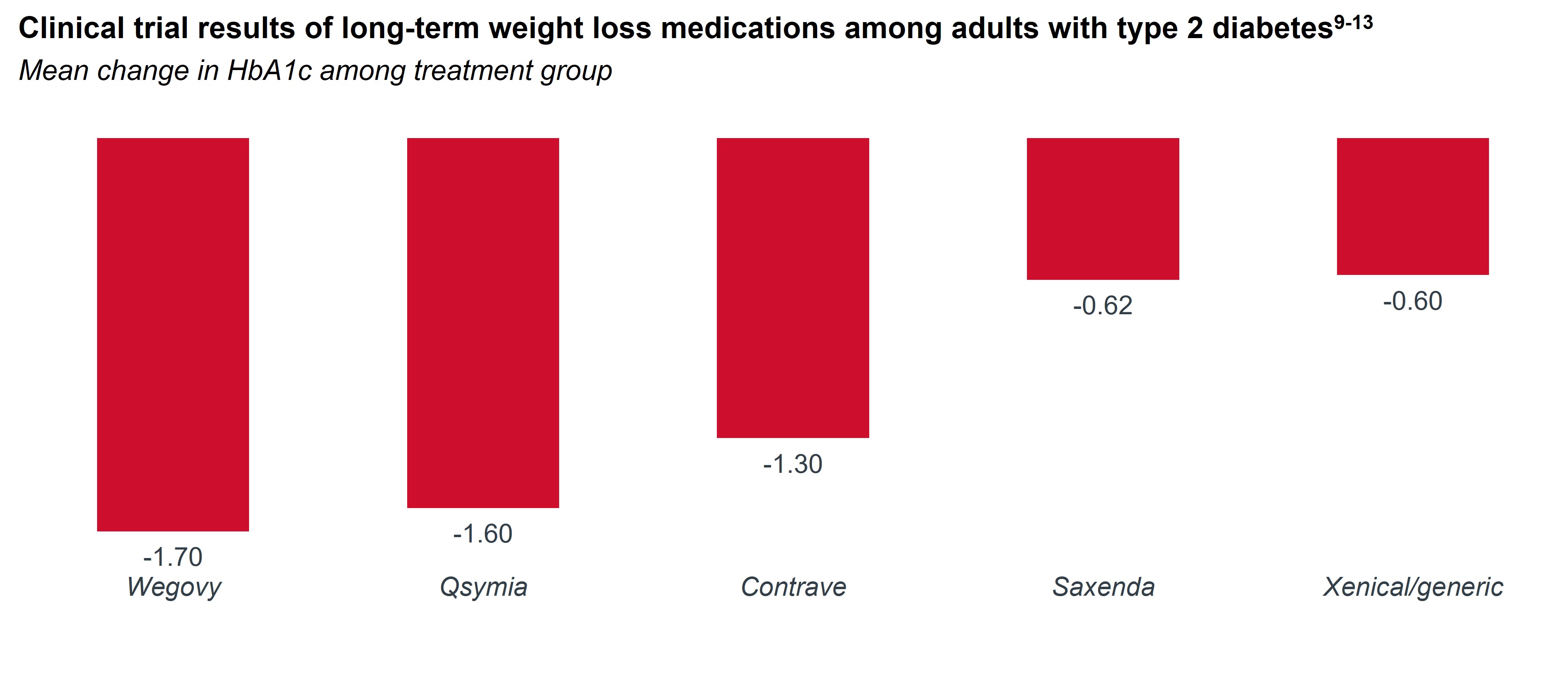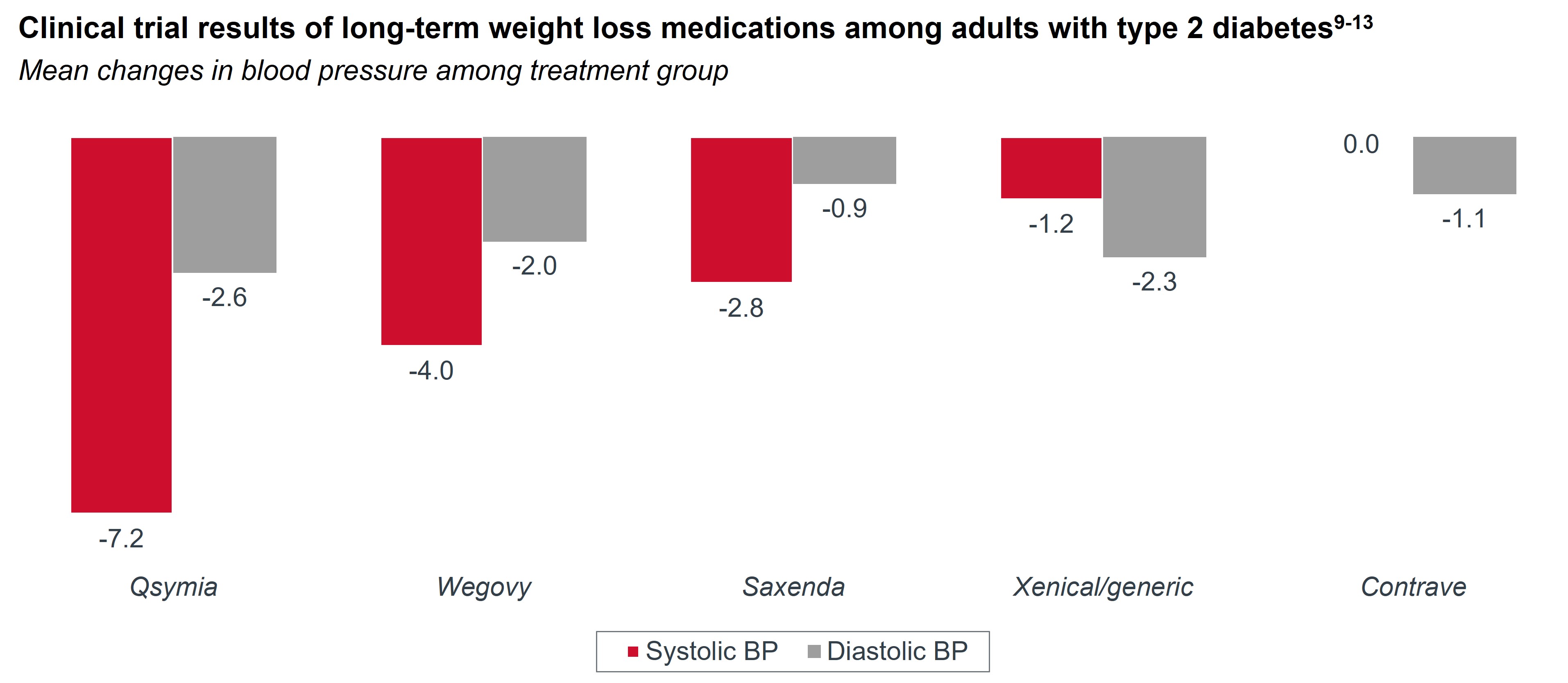 But Wegovy won't be the only highly effective weight loss drug on the market for long. Eli Lilly's type 2 diabetes drug, tirzepatide (Mounjaro), is likely to compete with Wegovy once FDA-approved for weight management, as recent trial results of the medication are promising.
In the first phase 3 trial published this summer, nearly half of participants with 10-15 mg doses of tirzepatide had a 20% or more reduction in body weight compared to 3% of the control group in 72 weeks. The medication also offers glycemic control and cardiovascular risk reduction benefits. In October, it was granted a Fast Track designation from FDA that expedites the approval process.
Amgen and Versanis are also looking to compete with their weight loss drugs under development, AMG 133 and Bimagrumab, respectively. Early phase clinical trial results of AMG 133 suggests the drug can help patients lose close to 15% of their body weight in 85 days. Amgen expects to initiate Phase 2 testing early next year.
In Phase 2 studies, Bimagrumab treatment led to a 20.5% decrease in total body fat mass among type 2 diabetic participants in 48 weeks. It also increased muscle mass by 3.6% along with improvements in glycemic control. Versanis plans to initiate Phase 2b trials of Bimagrumab this month.
Their weight-loss potential and convenience are driving consumer demand
Despite high cost, provider hesitancy and limited payer coverage, Novo Nordisk is experiencing high demand for Wegovy. This spike in demand was likely spurred by influencers and celebrities such as Elon Musk touting the effectiveness of Wegovy and Ozempic for weight loss on social media.
The high demand has resulted in world-wide shortages of these medications. We've also anecdotally heard that health system employees are increasingly pressuring employers to include weight loss drugs on formularies.
While Wegovy and Ozempic are approved by FDA for specific indications, licensed clinicians are permitted to use their professional judgement to prescribe them off-label. As a result, consumers can schedule virtual visits with telemedicine providers such as PlushCare to attain off-label prescriptions for these medications from the comfort of home.
Next steps for providers and health plans
Clinical trials undoubtably demonstrate the superior weight loss results of newer medications. But it's important to recognize the overarching goal of weight loss therapy is chronic disease prevention. In its guidance for weight management medications, FDA states these products are "intended to be used for medical weight loss...with a goal of reduced morbidity and mortality through quantifiable improvements in biomarkers such as blood pressure, lipids, and HbA1c." As such, weight loss is not the ultimate goal of these medications.
As high demand for Wegovy was at least partially driven by a TikTok trend, it's likely many consumers are seeking these drugs for aesthetic purposes. But their use by adults with BMI14 below 27 is not supported by clinical research given they were only evaluated among overweight and obese adults, often with comorbidities. Off-label uses can create shortages and reduce access to medications among people with diabetes and obesity.
Additionally, glamorization of these medications may promote stigma around body weight. Weight stigma has serious consequences, including increased risk for mental health distress, health care avoidance, disordered eating, and a long-term increase in mortality risk.
Providers and health plan leaders should carefully consider the following questions when evaluating whether to prescribe or cover weight management medications:
1. Is there evidence this medication is cost-effective for weight management?
Earlier this year, the Institute for Clinical and Economic Review (ICER) published a report assessing the comparative clinical effectiveness and value of several weight loss medications. They found use of Qsymia with lifestyle changes to be more cost-effective than lifestyle modification alone.
2. Are there any safety concerns reported in clinical trials worth monitoring among patients prescribed this medication?
Given the troubled history of past weight loss drugs, it is possible some of these newer medications are withdrawn due to safety concerns. Reviewing FDA safety labels can help with early identification of long-term health risks associated with drugs.
3. Is there evidence this medication can maintain chronic disease management goals long-term?
An extension study of Wegovy published this year demonstrated that participants regained two-thirds of weight loss achieved while using the medication after one year of withdrawal. Monitoring extension study results can help determine the long-term efficacy of this medication and others.
4. Can alternative medications achieve similar outcomes with lower out-of-pocket costs for patients?
Type 2 diabetes medications such as Ozempic, Mounjaro, and metformin are more likely than weight loss medications to be eligible for health insurance coverage with similar health benefits. Therefore, non-weight management medications may be able to offer similar benefits for type 2 diabetes patients with lower out-of-pocket costs.
5. How does this medication's results and side effects compare to weight loss procedures?
While weight loss procedures such as gastric bypass surgery and endoscopic sleeve gastroplasty can offer patients more immediate weight loss benefits, they also come with additional monetary and physical costs. These procedures come with increased risks of adverse health events such as infection and bleeding. Whereas most weight loss medications result in mild side effects that lessen over time.
6. How will clinicians maintain a holistic approach to chronic disease prevention and management with this medication?
The Endocrine Society recommends that "diet, exercise and behavioral modifications be part of all obesity management approaches." They and the American Association of Clinical Endocrinology recommend the use of these medications among adults with approved indications that haven't successfully achieved health goals with lifestyle changes alone. Clinical leaders may revisit care delivery protocols to ensure an integrative and collaborative approach to chronic disease prevention and management.
Parting thoughts
New weight management medications offer promising treatment options for cardiometabolic diseases. Health leaders should carefully consider whether benefits outweigh the drawbacks of prescribing or covering medications for their patient populations.
Footnotes
1Over-the-counter
2Prices do not account for manufacture coupon, rebate, savings, or coupon card programs. Sources: Saxenda; Contrave; Alli; generic orlistat; Xenical; Qsymia; Wegovy
3Average proportion of treatment group losing > 5%, 10%, 15% & 20% body weight in clinical studies Step 1, Step 3 & Step 4 of 2.4 mg semaglutide (Wegovy) after a 68-week regimen.
4Average proportion of treatment group losing > 5% & 10% body weight in clinical studies EQUIP and CONQUER of 15 mg phentermine/ 92 mg topiramate ER (Osymia) after a 56-week regimen.
5Average proportion of treatment group losing > 5% & 10% body weight in 1-year clinical studies Rössner et al. (2012) Torgerson et al. (2004) Krempf et al. (2003) Finer et al (2000) Davidson et al. (1999), and 54-week clinical study Lindgärde (2001) of orlistat 120 mg (Xenical).
6Rössner et al. (2012) 1-year clinical study of orlistat 60 mg (Alli).
7Average proportion of treatment group losing > 5% & 10% body weight in clinical studies SCALE™ - Obesity and Pre-diabetes and SCALE – Maintenance of 3.0mg Liraglutide (Saxenda) after a 56-week regimen.
8Average proportion of treatment group losing > 5% & 10% body weight in clinical studies COR-1, COR-11 & COR-BMOD of 32 mg naltrexone SR /360 mg bupropion SR (Contrave) after a 56-week regimen.
9Results of STEP 2 clinical study of 2.4 mg semaglutide (Wegovy) after a 68-week regimen.
10Results of Kelley et al. (2002) clinical study of orlistat 120 mg (Xenical) after a 52-week regimen.
11Results of OB-202/DM-230 clinical study of 15 mg phentermine/ 92 mg topiramate ER (Osymia) after a 56-week regimen.
12Results of SCALE™ - Diabetes clinical study of 3.0mg Liraglutide (Saxenda) after a 56-week regimen.
13Results of COR-Diabetes clinical study of 32 mg naltrexone SR /360 mg bupropion SR (Contrave) after a 56-week regimen.
14Body mass index