Behavioral health needs have worsened. There was a 50% estimated increase in the prevalence of behavioral health conditions in 2021 and a 20% increase in drug overdose deaths in the 12-month period ending in June 2020.
Cheat sheet: Inequities in behavioral health
In response, we've seen an influx of attention and funding focused on expanding access to behavioral health services. For example, funding for mental health tech startups alone hit $5.5 billion globally in 2021, more than double than in 2020. But many health care leaders lack the ability to scope the problem for their own organizations because of a dearth of detailed behavioral health data—leaving them unsure how to design effective solutions.
We decided to tap into our data sources to try to help health care leaders better understand the scale of behavioral health needs across different demographic groups.
Investigating national Medicare depression claims
Our analysis explored the Standard Analytical File (SAF), which contains Medicare fee-for-service claims data, to see how beneficiaries with a depression diagnosis were presenting to the emergency department by race and patient acuity in 2019. We focused in on this specific analysis for three reasons:
The emergency department is one of the more frequently used care settings for patients with behavioral health conditions, as roughly one in eight visits to the ED is related to mental and substance use disorders.
Depression has been a huge focus area for health care organizations and investors, as the rate of the population reporting symptoms of clinical depression more than tripled during the pandemic.
This alarming rise is particularly visible among communities of color, where the Hispanic or Latino and Non-Hispanic Black population showed elevated rates relative to the Non-Hispanic White population.
We relied on Hierarchical Condition Categories (HCC) to measure patient acuity. This is a CMS model that assigns a numeric risk score to patient based on their last 12 months of medical claims history and demographic factors, such as age and gender.
Here's what we found:
1. Millions of Medicare beneficiary claims represent just a fraction of the total US ED utilization by patients with depression
We found that there were over 2 million claims of Medicare beneficiaries with depression showing up to the ED in 2019. Because we looked exclusively at Medicare beneficiaries, we know the national scale of the problem is much larger. Additional research suggests that there are upwards of 10 million ED visits annually for patients with a depression diagnosis.
2. The Black population represents a disproportionate share of the highest risk patients
We found that Black beneficiaries make up 11% of all Medicare claims for beneficiaries presenting to the ED with depression, yet this figure jumps to nearly 17% when looking at the highest risk patients.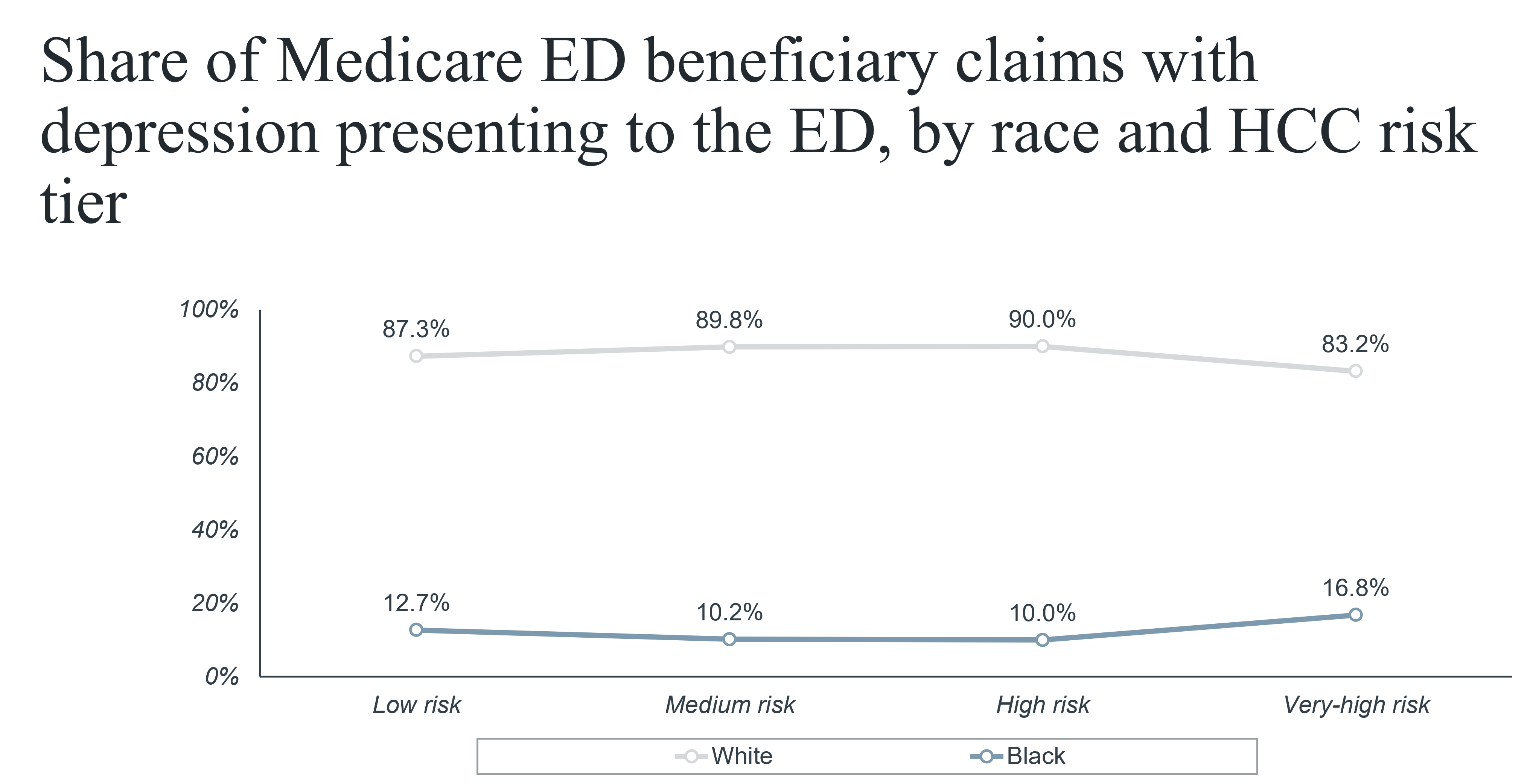 3. Severe data limitations hinder a true sizing of the problem
We hoped to investigate many of the most prevalent behavioral health conditions, but we found that most studies lacked strong data on site of care and race. That limited our ability to validate Medicare data against other figures, leading us to select depression as our sole focus.
In a perfect world we would have analyzed depression claims data across all races, but severe undercounting across several racial groups in Medicare data forced us to scope the analysis down to just two. These data limitations are not unique to our analysis—it's exceptionally hard to find robust data sources that pair behavioral health data with demographic domains.
Our guidance for health care leaders
This data analysis was one piece of our yearlong research on how industry leaders can partner to advance behavioral health equity. Whenever we tackle a complex problem that feels so intractable, health care leaders often feel so overwhelmed that it's tough to move forward.
The good news is that we already have a tangible next step leaders can take to begin chipping away at the problem: Start building up your behavioral health database today—including the demographic information of your patients, clients, or members.
Easier said than done, we know. But it is a high impact step entirely within your control—and it will pay dividends when the industry can better coordinate, make data-driven investments, and address health inequities.