We launched a survey at the beginning of 2022 to see how health leaders' perspectives on AI and analytics have changed in the last four years. We surveyed health care leaders in senior positions at provider organizations of all sizes. The goals of the survey were to:
Explore current and planned use of health care analytics, and where the barriers exist
Understand how and when analytics and AI applications are built, staffed, and deployed
Determine how AI and analytics fit within organizational strategy and future vision
Here are the five key things we learned from the survey.
1. Leaders increasingly view AI as a tool that will provide incremental value, as opposed to being a transformative, essential part of the health system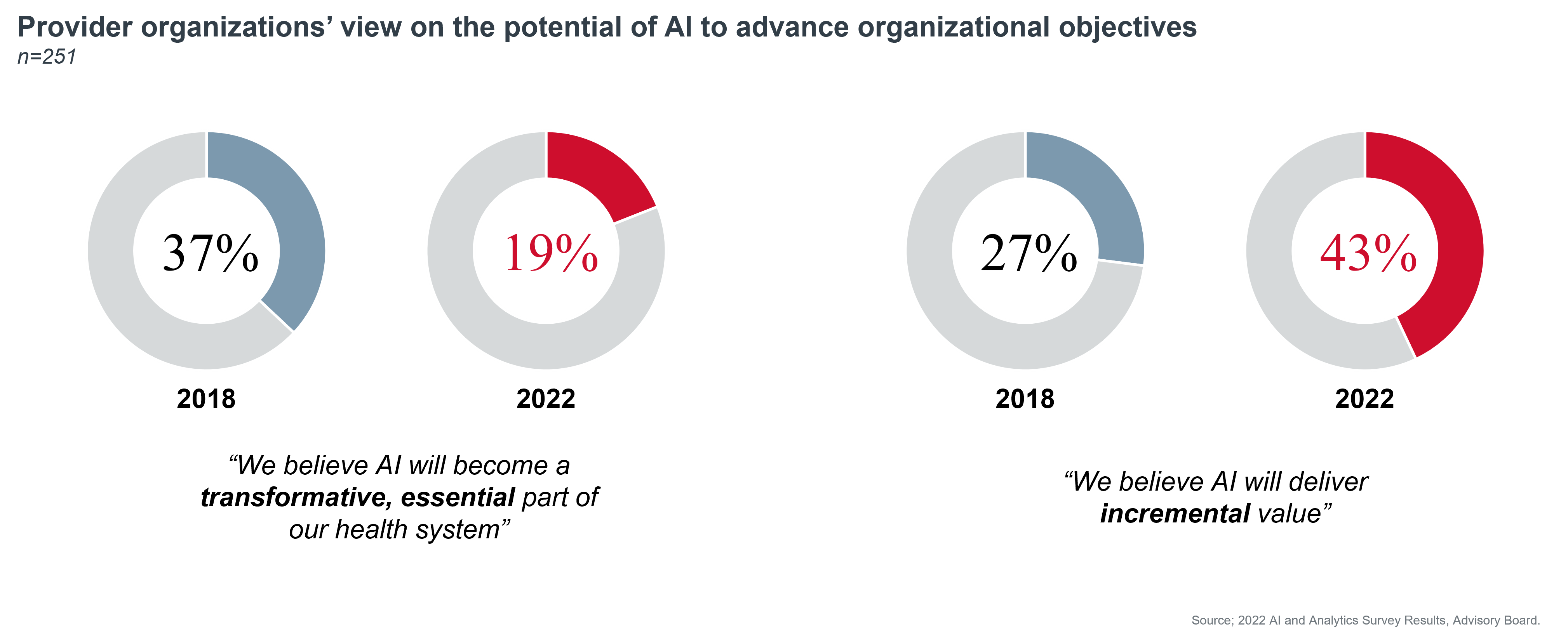 AI has the potential to be transformational in various parts of the industry. However, executives are starting to see that AI isn't something that has an immediate effect, but instead something that requires the right implementation to reap the enormous benefits.
In 2018, most leaders reported that AI would be a transformative, essential part of our system. In 2022, that perspective changed to the belief that AI would deliver incremental value. That change likely represents an increasingly nuanced understanding of AI and analytics—especially the challenges of making AI effective in an organization.
This evolution of perspective may well be a positive point for AI's longevity and success in health care, as leaders understand the complexities of the technology better and recognize that transformative change will not occur overnight.
2. Organizations view analytics as a corporate asset and align analytics initiatives with corporate priorities to follow the data, even when it leads to difficult choices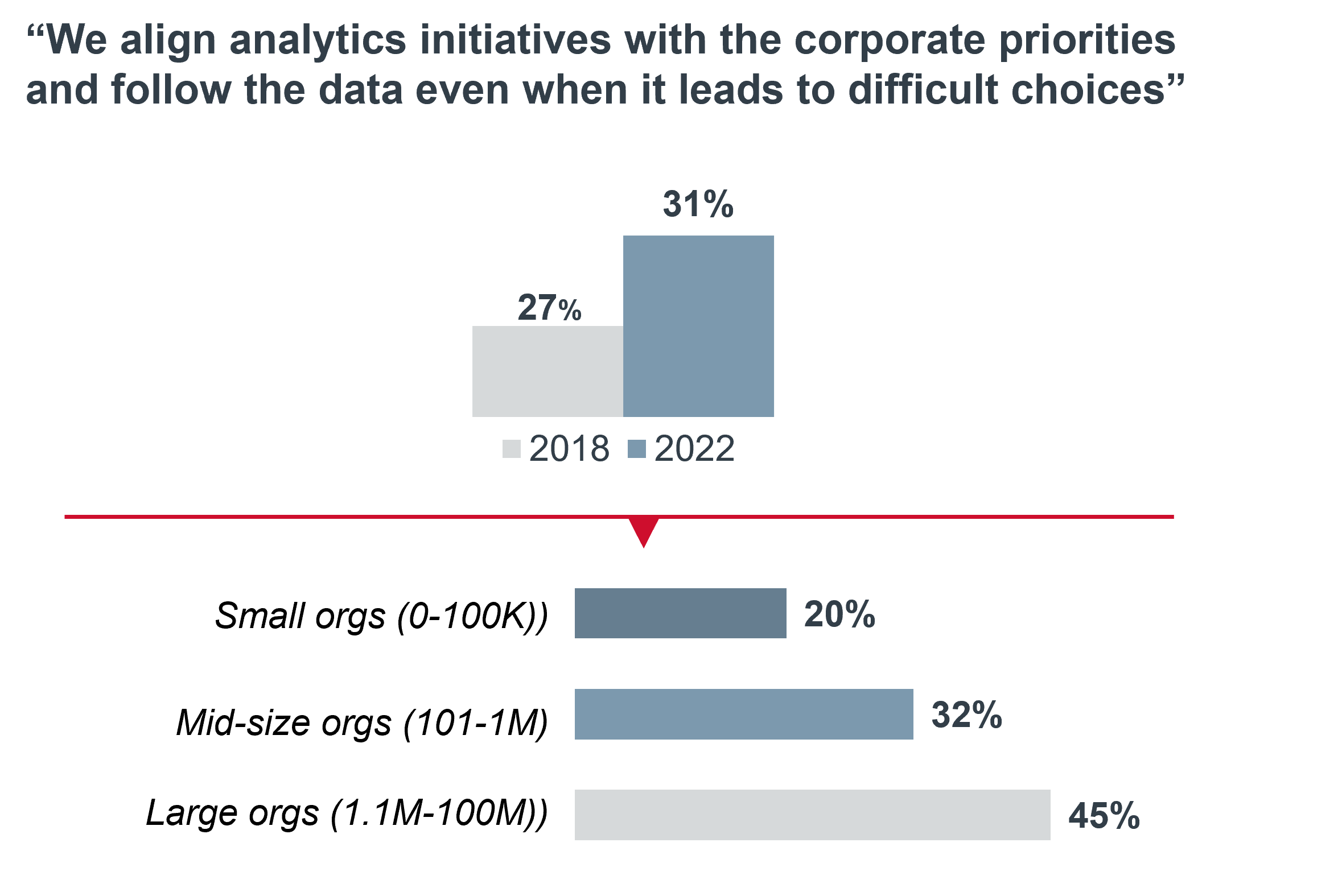 Larger organizations show greater alignment between their analytics initiatives and corporate priorities. This could be because it's more critical for larger organizations to guide strategic priorities by data rather than project champions.
Even with this change, the most "progressive" organizations in this space have shifted since 2018. Here, just 7% of organizations say they truly "celebrate analytics as a corporate asset and that is reflected in its funding and staffing."
This point is unchanged from four years ago and highlights the incremental narrative we see across this data. More organizations are recognizing the importance of analytics as part of the ecosystem infrastructure, but there is a lag in fully reflecting that recognition in funding and human capital. 
3. Analytics has grown in presence in the C-suite. However, who leads the charge for an organization sets the tone for how analytics are perceived and prioritized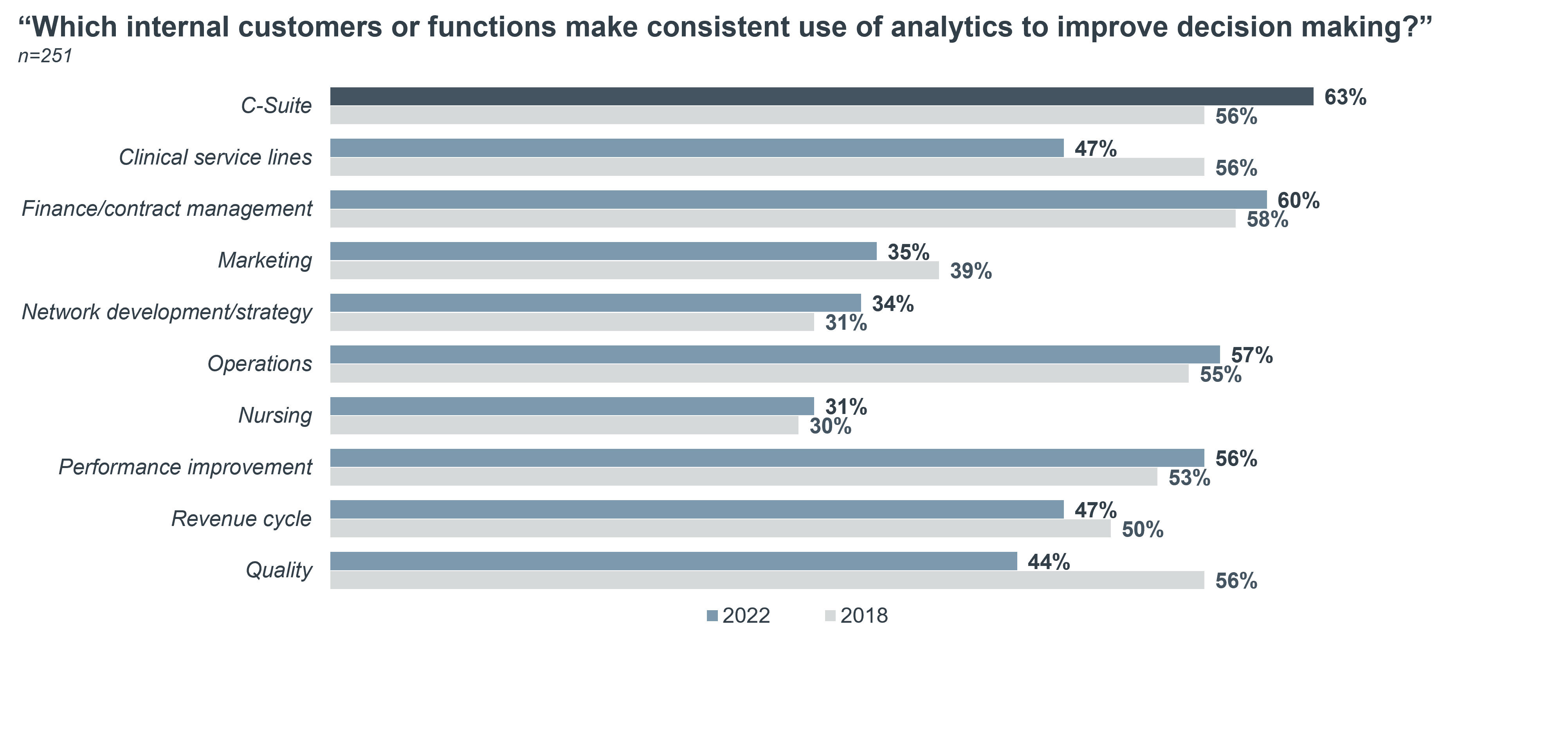 All types of leaders are seeing the importance of incorporating AI into their ecosystem. The C-suite saw the biggest increase since 2018, a sign that leaders understand that AI and analytics deserve seats at the executive table.
Leaders in operations, performance improvement, and finance/contract management also saw a slight increase. Other leaders in clinical service lines, marketing, revenue cycle, and quality saw a decrease in their consistent analytics use.
The drop in clinical service lines' use of AI analytics is interesting but could be a due the pressure from Covid-19. The pandemic tested clinical operations and shifted priorities in this space away from transformation and towards essential advancements of technology and digital health for day-to-day care.
If organizations have plans to implement AI in clinical service lines, they must determine if the target clinical department is behind on implementation because they're not open to it, or they have a readiness for new assistive technologies because they are already behind on implementation.
4. As a whole, organizations are recognizing the incremental value of AI and expect a wave of increased funding by 2024

More organizations expect and want increased funding for AI and analytics. About half of the leaders surveyed said they expect to see somewhere between 1% and 25% increase within the next two years. Leaders from larger organizations were more likely to say they expected to see an increase of 26-50% in funding.
Larger organizations have a more positive outlook on AI, which makes it easier for them to justify increased funding, because they can set their goals and missions earlier in the fiscal year than smaller organizations and they have the staffing capacity that gives executives the time to dive deep into AI.
There is more stagnation in funding when analytics efforts are spearheaded by C-suite leaders who are not in a technology- or data-related role. Here, we see that CMIO, CNIOs, and CFOs were more likely to cite "no significant change" in analytic budgets by 2024.
5. Funding and staff capability are the standout challenges for organizations in their quest to implement their ideal analytics environment

Leaders are preparing for the challenges that accompany the perceived benefit and excitement around AI. Funding was the most common challenge leaders are experience. In addition to funding, leaders are struggling with:
Staffing capability and skillsets: Finding the staff with the capabilities and skillsets to make valuable use of AI
Identifying the right tool and approaches for workflows
Where do we go from here?
Realistic expectations and shifts in considering AI's potential value in health care represent not wary pessimism, but rather a genuine maturity in providers' understanding and use of AI/analytics.
Health care organizations need to balance AI use cases that provide incremental value today with those that will be transformational in the future. Indeed, it will likely be through such incremental adoption that we see AI's full transformational force in the future.