Editor's note: This blog was updated on February 25, 2021.
Shortages of personal protective equipment, ventilators, and Covid-19 testing supplies began making headlines in March, but health care supply chain challenges are far from over. Today, the promise of safe and effective Covid-19 vaccines is tempered by serious questions about our ability to produce and distribute the supplies necessary to administer such vaccines at scale.
What's the "new normal" for health system purchasing?
This moment has demonstrated that the entire health care supply chain must evolve. But the underlying challenges are complex and interrelated—often with a compounding effect. To help members across the health care ecosystem understand what they can and must do differently to build a more resilient supply chain, we launched a multi-phase research initiative. Our early key research findings are outlined below.
1. Trust versus control: Providers are seeking to control more of the supply chain, fearing future surges and shortages.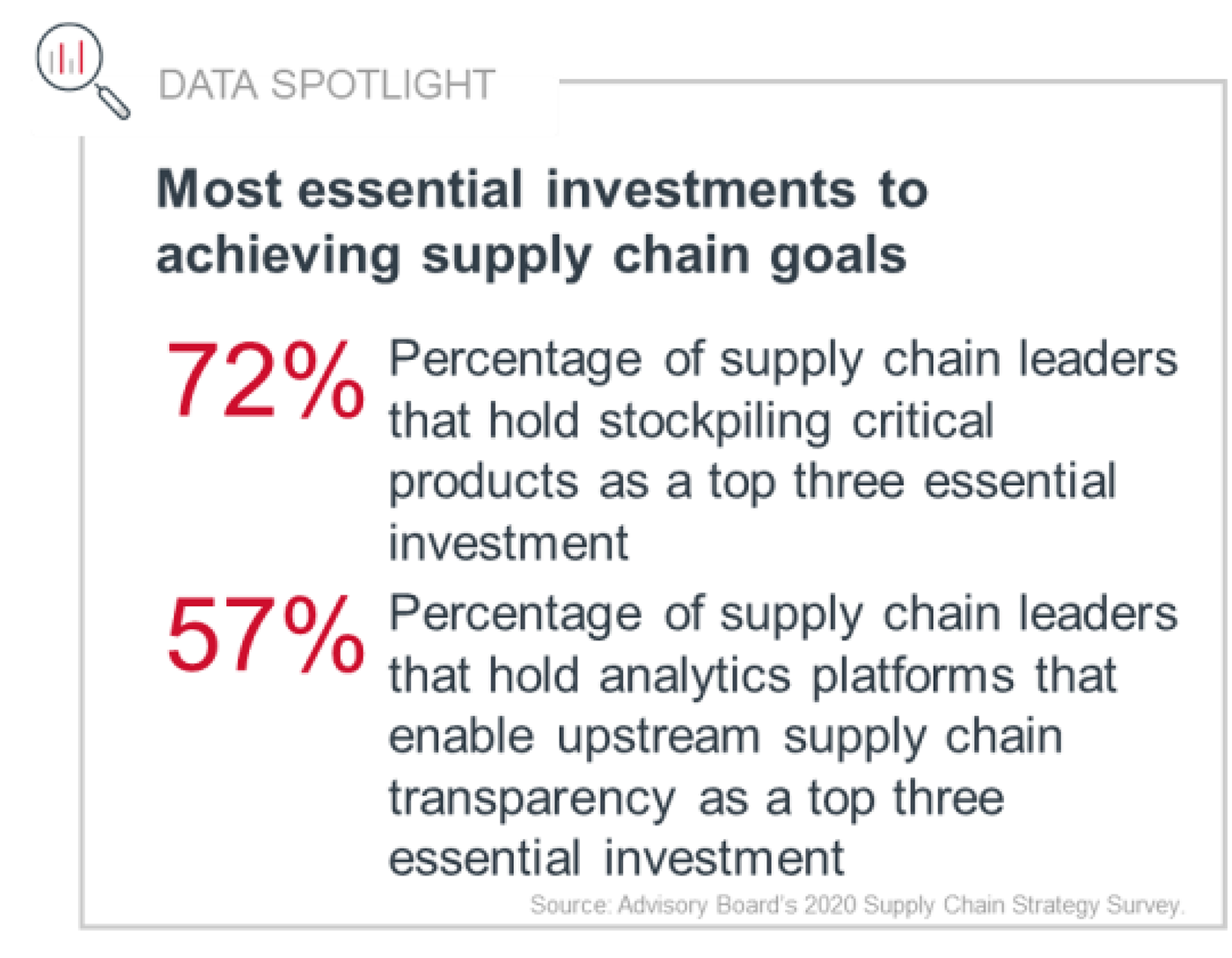 In times of uncertainty our instinct is to seize control. We're seeing this play out as provider organizations stockpile critical products and look to move further upstream in the supply chain, considering options such as large-scale warehousing, self-distribution, and even in-house manufacturing. Organizational or governmental policies to increase domestic purchasing are also rooted in this desire for greater control.
Beyond a certain point, this quest to control more of the value chain creates new challenges without resolving underlying issues. Instead, health systems must determine how far to move upstream, how much control they truly need, and where to rely on trading partners, including suppliers, distributors, and third-party analytics companies.
But this reliance on others requires trust—the very trust that eroded during the spring surge of Covid-19 cases. As a result, trading partners must actively look not only for ways to rebuild trust, but for ways to deepen and extend it.
Supplier and service provider considerations: Effective trust-building strategies must be rooted in honest conversations, greater data transparency, and shared efforts to reduce unnecessary spend. Suppliers and service providers that customers perceive as acting solely for their self-interests risk losing business as providers identify areas in which they want to exert greater control. As you communicate how you can be a reliable trading partner, first consider the following questions:
What gestures, activities, and disclosures are we prepared (and not prepared) to make to build trust with customers?
What aspects of supply chain operations does it make sense for our customers to control?
What data/information is feasible to share with customers that can deepen trust and reduce friction across the supply chain?
How can we help providers improve visibility into and control over their own supply chain operations?
2. Resiliency versus efficiency: You don't have to trade one for the other.
Today's health care supply chain is largely designed to maximize efficiency and create goods at the lowest possible price—particularly for commodities such as gloves and gowns. While practices like sole-sourcing and just-in-time inventory management successfully remove costs from the supply chain, they also create inflexibility and an overreliance on manufacturing and materials concentrated in specific regions.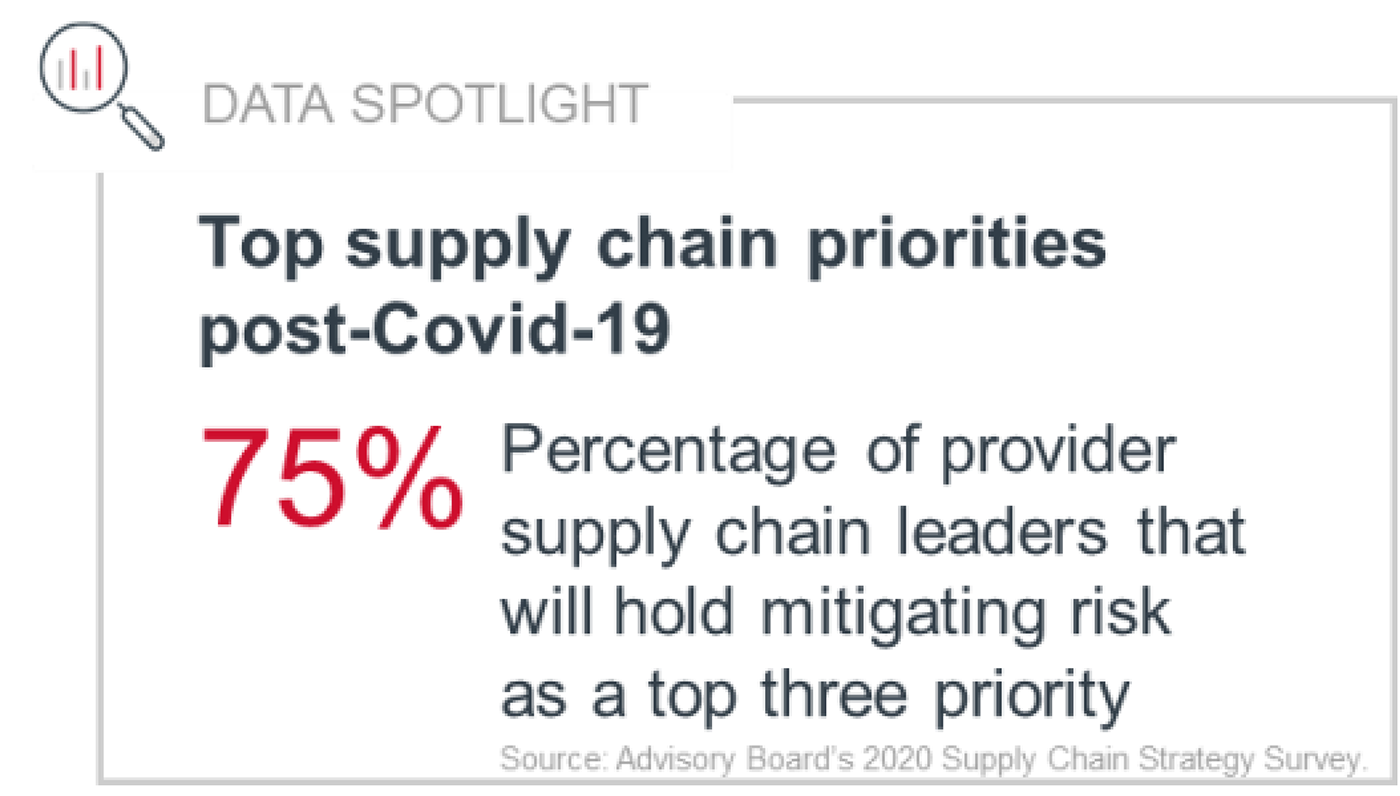 To enable greater resilience, stakeholders must look to mitigate supply chain risk in strategically important categories such as PPE, saline solutions, or other critical medications. This risk mitigation comes in the form of expanded lists of vetted suppliers, more flexible manufacturing lines, greater stockpiles, or more proximate distribution centers, all of which require financial investments and raises the specter of increased unit prices.
However, investments in resiliency do not necessarily require inefficiencies. Upon closer examination, we uncovered many strategies to improve resiliency that can also eliminate waste. For example, many providers plan to invest in their ability to track the quantity, location, and status of critical products. This investment in inventory management will help organizations use limited supplies more effectively during a crisis, but also allow them to continuously avoid costly expedited orders, expired goods, and departmental hoarding.
Supplier and service provider considerations: As part of this effort to build resiliency and efficiency, many providers will favor partners that can communicate the strength and flexibility of their own supply chains or offer solutions that help mitigate risk. However, be aware that provider customers are facing extreme financial pressures and will likely ask you to absorb additional resiliency costs. As you communicate how your supply chain can help customers be more resilient and efficient, first consider the following questions:
What are the most cost-effective ways to add resiliency to our supply chain?
Which party (or parties) will bear the costs of risk-mitigation investments?
Where is resiliency non-negotiable for providers and therefore worth the added price?
Where is efficiency non-negotiable for providers? How can we make this process more resilient without adding costs?
Are there new processes, analytics platforms, or creative partnerships that we can put in place to help customers balance resiliency with efficiency?