Welcome to the "Lessons from the C-suite" series, featuring Advisory Board President Eric Larsen's conversations with the most influential leaders in health care.
In this edition, Michael Carson, president and CEO of Harvard Pilgrim Health Care, talks about combining with Tufts Health Plan; how Harvard Pilgrim is supporting health systems during the pandemic;  and how his unorthodox background—including semi-pro soccer in Germany, the U.S. Air Force, and Anheuser-Busch—prepared him for his current role.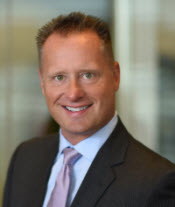 Michael Carson, president and CEO of Harvard Pilgrim Health Care
Q: Michael, you've been president and CEO of Harvard Pilgrim—a nonprofit health plan serving about 1.2 million members in Massachusetts, Maine, New Hampshire, and Connecticut, and another 2 million health services customers across the country—for a little over two years, following a wide-ranging and unconventional career march through nearly every sector of the health care industry.
I'm excited to explore your unique background, and we'd be remiss if we didn't discuss your impending combination with Tufts Health, but I don't think we can start any conversation these days without first asking about Covid-19. Boston was, of course, one of the hardest-hit MSAs in the country, and you and your provider colleagues were on the very front lines of the war.
Carson: Yes, exactly Eric. These are unprecedented times. Of course, it's different for various markets across the country, and Massachusetts today is at a different level than other states, where some hospital CEOs are already talking about elective and non-emergent services ramping back up to pre-Covid levels. But it was an extraordinarily challenging period for us all.
Massachusetts has historically been a nonprofit-driven health care environment, with this shared obligation to serve the greater good. It also had this huge sense of community spirit, and that's translated to nonprofit health plans in the state really stepping up. So very quickly and early on—in both local and national dialogue—we've been leaders in thinking through waiving copays and deductibles on testing and Covid-19 treatment, as well as taking measures such as enabling prescription pre-fills, pausing pre-authorization requirements, and facilitating transfers out of hospitals to make room for Covid-19 patients.
Q: You reference this powerful community spirit in New England, and I know Harvard Pilgrim has some very deep, longstanding partnerships with local providers. I have to imagine this preexisting trust helped facilitate and coordinate your responses on that front.
Carson: Absolutely. Because of that shared history, we don't have to spend time getting to know each other. We've been able to execute on strategy immediately, whether that's promoting telehealth options or helping to ramp up ER diversion strategies—really just finding out what our partners need.
And keep in mind, too, that in Massachusetts, about 80% of our membership is already under some type of value-based contract. So we've already been able to advance over $40 million to risk-bearing or capitation-based provider organizations in Massachusetts and across New England. We've enough visibility on how those groups are performing to advance payments based on surpluses that normally wouldn't have been settled until later in the year.
Beyond these advances to support provider cash flow, we're engaging with provider organizations on a case-by-case basis, and we're working with provider organizations to provide other support. In particular, we're concerned with, and interested in, supporting independent physician practices and Community Health Centers (CHC). Two exciting and progressive ways of us doing that is by 1) providing a $3 million fund targeted at assisting independent practices grants and 2) another $3 million in CHC donations to overcome cash flow challenges, prepare their offices to accommodate patients in a Covid-19 environment, and to fund advancements of telehealth capabilities within these independent, smaller practices. We're committed to seizing on opportunities to begin to address health disparity issues, make health care more accessible, and transforming how it's accessed.
Q: Michael, I want to double down on how you're helping health systems right now—eliminating pre-authorizations in certain circumstances, accelerating prepayments and per-member-per-month (PMPM) funding under crisis circumstances—and, more broadly, aiding the community with targeted outreach and subsidies. Can you broaden the lens a bit and describe what this looks like in practice?
Health plan resources
Briefing
Expert Insight
5 ways health plans are evolving their Covid-19 response
Carson: There are several dimensions here. On the member side, we're building out standard risk algorithms with new components based on what we're learning about what type of comorbidities are most susceptible to or harmful with Covid-19, and that enables us to hone-in our outreach to the most at-risk members supporting them through care management while avoiding unnecessary ER visits or further pressuring hospital systems. And then we're staying in communication with our provider partners to ensure that the care plans in those contexts are coordinated appropriately.
And from a community perspective, we've given more than $7 million, but you've got to do more than cut a check. We've contributed significantly to organizations that are helping communities during these challenging times, such as the Boston Resiliency Fund and United Way organizations. However, we've also rolled up our sleeves and provided community-specific support. For instance, we've dedicated a significant amount resources and support to partnering with targeted community-based organizations, local restaurants, and local delivery services in underserved communities to help get people back to work and to get meals to those in most need, like elderly populations where we're aiming to support social distancing. We've done about five of these partnerships now, and it's been a great success.
And now more than ever, Harvard Pilgrim is committed to equal access to quality health care for everyone—particularly those in black and brown communities who have been tragically and disproportionately impacted by Covid-19. As I said earlier, Harvard Pilgrim donated $3 million to CHCs throughout the region to support equity and equality in accessing health care, and to address health disparities in these communities.
Another thing we did, since we're not a provider organization, is partner with ConvenientMD, an urgent care organization, to open a drive-thru Covid-19 test site at our Quincy, Massachusetts location—that was available to everyone, not just Harvard Pilgrim members. That partnership worked extremely well.
Q: It's noteworthy that you have a governor, Gov. Charlie Baker (R), in Massachusetts who was your predecessor one or two removed as CEO of Harvard Pilgrim. That's got to help because I think he's uniquely sensitized to some of the public health implications here, and I imagine as a result will likely be more measured than some of the other governors who are prematurely and hastily reopening the states.
Carson: Yes, I agree. It's interesting. This is such a unique situation and it's an opportunity for leaders to step up and show their resilience, their leadership, their ability to manage in a crisis and their emotional intelligence. Governors across the country are faced with a dynamic set of variables and uncertainties. Leading a state, or any organization at this time, presents many challenges and unchartered territories. Just as in business, we must take a measured approach, understand options and risks, monitor progress and adjust our strategies as needed. Many governors, including Governor Baker, are doing this very well.
Background
Q: Michael, before we discuss the combination with Tufts and Harvard Pilgrim's evolving strategy, I'd like to step back and ask about your background. Not only has your career encompassed a broad swath of the health care ecosystem—from VC-backed companies to full-risk bearing ambulatory organizations to payors—but you also have this strikingly diverse personal background to begin with: growing up in Germany, playing semi-pro soccer, serving in the U.S. Air Force, even experience in the beverage industry.
I ask because your background and experience seems to have uniquely credentialed you to do what you're doing now; it's rare to have a health organization CEO who knows the reality and motivations of the folks on the other side of the boardroom table, and also have entrepreneurial and private market experience as well. Gives you a dexterity and multi-lingual skill set.
Carson: Eric, fair point, and I agree—it is diverse!  By design. Let me chunk this out a bit—I'll break it down into three phases—my formative years, my risk-taking years, and now what I'd call my optimization years.
Q: I love that. Start us off with your formative years.
Carson: So, as you said, I grew up in Germany with my mom—a single mom who, at the time, worked on a gas meter assembly line—and we lived in subsidized housing. My dinner was basically what was leftover in the cafeteria. My dad wasn't in the picture until my mid-20s. And as I graduated from high school, I didn't get a chance to go straight to college. 
But all of that creates a certain work ethic. I feel this even now; when I talk about my mom and her work ethic, and what that's instilled in me, it's a very emotional, deep-rooted thing. But it also put a chip on my shoulder—I knew others had significantly different upbringings and opportunities, so sometimes it was, "Gosh, I wish I had that," but other times it was, "I don't care where they came from or what school they went to, I'm going to kick their butt somehow."
As for my time playing soccer, I was the captain of a semi-professional soccer team and I got paid a couple of Deutsche Marks at the time. Lunch money. It was fun. But even more importantly, the role that I played on the team was center mid—at that point in time, it was like the point guard in basketball, the quarterback in football…
Q: The general on the field.
Carson: It's absolutely that. You're playing offense, you're playing defense, you're looking at what's happening right now, but you're also thinking about what's going to happen three plays from now.
And doing that at that level of any sport, and at that early age, develops your sense of responsibility, confidence, leadership, and vision. Even nowadays, at 51, I'm applying the same mindset off the field, on business decisions and strategy—it's the attitude of "I know what I'm doing." And you have to have that attitude as a leader—there's a certain amount of ego involved, because if we didn't have confidence in ourselves, we wouldn't be able to do the jobs we're doing.
Q: You also spent seven years in the U.S. Air Force—an experience that no doubt complemented this fundamental sense of responsibility and drive.
Carson: That's right. A military background is an entirely different category of experience and foundation building. One, there's tremendous sacrifice and development that occurs because whether you're at war, preparing for war, or helping your colleagues go to war, the criticality of each job in the military endows what you're doing with a great sense of importance. Second, the military forces you to go through leadership development, so you get to experience governance, structure, protocol, policies and procedures, performance management—all things that I went through as I joined different companies later in my career.
And the military also really expanded on the multicultural experience I had growing up; I got to work with people all over the world, and that taught me a tremendous amount about how to move in today's global community. Not to mention working under the threat of terrorism—every day, when I'd go to work in Germany, my car was checked for bombs. And living under that pressure changes you. These days, I wear a Garmin watch, and I can check my stress level during a board meeting and it's almost always a resting heartbeat, meaning no stress. After what I've been through, there's not a lot that really gets me worked up.
Q: Let's move into your post-military career and the transition to civilian life—what was your first industry position, and how did you get it?
Carson: While I was in the military, we implemented total quality management (TQM), and I got pretty engrossed in change management and business process management—I actually got certified as a capital "F" facilitator on TQM. And when I left the military in 1994, I came across a guy running an Anheuser-Busch (AB) distributorship in Chicago, and AB was making its subs go through something they called commitment to excellence—basically TQM under a different name.
So this guy realized I had this background, and he asked me to interview with him and a panel of VPs at his business. I was a little bit intimidated, but I told them, "Listen, this is nothing more than controlled common sense. We're going to follow a process of evaluation, set business goals, and understand what the KPIs are. Then we'll test and adjust the process as needed. So don't worry about what it's called; you know this stuff already. It's just doing our jobs correctly."
So at a very young age, 23 or 24, I got this leadership job working with the C-suite; I got a taste of multifunctional, multidimensional challenges that make or break a business. And that has fed a hunger in me to really look at things in totality and understand how things are connected. And all of this together, along with the night-school degree I got around that time, I consider my formative years—really the lessons that shaped who I am.
Q: After you shifted to the civilian workplace, how did you chart your career path in health care? How much of this diversity in your skill set cultivation was intentional versus happy accident?
Carson: Well, this gets into what I call my risk-taking years. And I'd say it was intentional. I'm not embarrassed to admit that I used to have a spreadsheet that had everything that happens in the health plan, maybe 15 or 18 functions, and I identified in each category whether I'd worked a job in that capacity, for how long, and what I felt my proficiency was. And using that tool helped me figure out where I needed to fill the gaps in my skillset. Over time, I got the opportunity to fill in that grid by working in a variety of significant health plan leadership jobs. Some in corporate roles, some in local plan roles. As important as it was to learn about various functions, it was equally important to learn about multi-plan or multi-market strategies as well as local, customer-facing execution…and the dynamics between the two.
I've done M&A work in terms of evaluating, buying, and integrating health plans. In Georgia, for example, we did five years' work of pre-go live on a Medicaid plan, served as the government relations partner, and then stood the plan up and integrated it into a larger organization, or—like we did with PHP in Florida—bolted on two organizations as well. I've done sales management, network management, marketing, medical management.
Q: Nothing to be embarrassed about—in my past conversations with CEOs, I'd say it's quite rare and exceptional to have that level of intentionality in the middle of your career—"these are the skills I want to cultivate, these are the ones I need to supplement."
Carson: Well, I've always felt that I'm at my best when I have as broad a scope as possible rather than focusing on one subject matter, but some of it is luck, some is timing, and some is the opportunity you create for yourself. You know, not every company would give somebody who's never worked in medical management before an opportunity to be VP of medical management.
I've been fortunate and honestly, many times, I didn't really fully appreciate how much I would learn going into some of these roles—like in 2014, when I was working in a great job leading a Medicare organization, I got the opportunity to explore the provider side. And from a career-building standpoint, that's key, right? That willingness to take a lateral job or try something that freaks you out a bit? That's how you grow.
Q: This was an opportunity with ConcertoHealth, right? Talk about this, because I think your experience in taking on delegated risk from the provider side is an invaluable asset in your current role.
Carson: Exactly, Eric. I was intrigued by the offer because I'd done a lot of work executing and optimizing provider risk contracts from the health plan side, and I felt that the role a full-risk provider plays in the system, sort of "the dime that controls the dollar" if done right, was really intriguing. So I took an opportunity with ConcertoHealth. It was focused on brick-and-mortar physician clinics, as well as hospitalists and home care delivery, surrounded by care management, utilization management, risk adjustment, and the integrated technology and processes to make it all work.
And it was fascinating, because I observed great physicians so entrenched in the fee-for-service (FFS), "let me address the issue that's presenting right now" mindset versus thinking about a patient's total care plan and whole person health. I'd see doctors focus on a patient's diabetic coma that the patient had, without also thinking through, "How can we improve our education or update our diabetic tools or provide other types of services to ensure that this sort of mishap doesn't happen again?"
But I also saw the physicians who are just dying to have the right support structure, the right payment environment—to have the social services worker and the pharmacist right next door, lab testing onsite, patient records with health plan data, all of those components working together. Physicians who really know the benefit of integrating a patient within the care team at their fingertips. I witnessed how that integration of data could work, and that just further solidified my belief in the model.
Q: And it gives you the shared vocabulary. You can speak to providers with that shared understanding and experience.
Carson: Absolutely. That experience allows me to sit at the table with key provider organizations today and have productive conversations—even if it's just a contractual relationship, and say, ''I know what works and what doesn't work. I anticipate that you're having these specific challenges and here are some ways I think my organization can help you." And that's always been received positively. I've even had hospital CEOs ask whether we could take over running their medical groups.
So, just being able to speak the same language, and to talk to them about specific things affecting their business and their mission—that makes a huge difference. And while it may seem like common sense, there are many, many payor-provider conversations where that is not happening.
Q: So let's talk about where you are now: your "optimization years." How do you define this chapter?
Carson: I define these years as trusting in my abilities. And that doesn't mean I don't make mistakes, but I have a general confidence in who I am and what I can bring to an organization. That translates into building a confident team and organization that is solutions- and results-oriented.
You know, there's a certain confidence that comes with many of the leaders in health care organizations and other industries; we're in a place where we can think less about the short term—about meeting this month's goals or this year's budget—and focus more on the larger strategy, such as how we're going to improve competitiveness or member health outcomes, address health disparities or overall unsustainable health care costs.
Combining with Tufts Health Plan
Q: Michael, let's pivot and talk about the combination with Tufts. I know your predecessors tried to do something like this several years ago, but it never crossed the finish line. What made this time more propitious for coming together?
Carson: I think there are a few points here. One, just based on my career, the concept of a diverse portfolio of products is in my DNA—and I've been on record, even before this combination, saying how one way or another we're going to diversify Harvard Pilgrim's business. Second, we're in a position of strength entering this conversation, so it's not as if we're limping along and wondering whether we're doing it for the right reasons. We're on our third year of really great results and we've invested very strategically in ensuring that upcoming years would be great as well.
Third, we have to think about dynamics of the health care market combined with the low margin nature of our business. There's a ton of disintermediation going on—Accolade, Quantum, Optum—all kinds of services that chip away at the revenue model of a health plan; constant provider consolidation; and all the uncertainly from a regulatory perspective, with CSR, the ACA, risk corridors. And then frankly, even though we're a regional nonprofit health plan, we're not just competing against other local nonprofit health plans—we have to compete against the nationals on scale, pricing, consumer tools and product strategy. So those are significant headwinds we need to prepare for to be able to serve our members and communities for a long time to come, and this combination helps do that.
[Editor's note: The Daily Briefing is published by Advisory Board, a division of Optum.]
Q: Let's talk about the combination basics – first, just by the numbers, what will the combined revenues be?
Carson: Just north of $8 billion. Individually, the commercial book of business would be just north of $4 billion, the combined Medicare business just over $2 billion, and the public plans Medicaid business around $2.5 billion.
Q: And on the MA side, it's about 120,000 combined lives?
Carson: Yes, along those lines—120,000 Medicare Advantage lives, and then another 80,000 Medicare Supplement lives.
Q: And where are you on the regulatory front with approvals and the final inking of the combination?
Carson: Progressing as expected. In the midst of Department of Justice as well as Massachusetts and New Hampshire Attorneys General reviews and anticipating being able to move forward around the end of the year or early 2021.
We are committed to doing what's best for our members and communities and excited about our combined value proposition. We know it's up to us to prove that value.
Q: That's encouraging. So we can agree that there's product complementarity in terms of commercial on one side and the more robust Medicare Advantage on the other side, and presumably some geographic synergies as well. Periscoping up a bit, I'd love to hear your strategic vision for the merger itself.
Carson: The complementary nature of our combination is quite significant. We are highly complementary in terms of fully insured and self-insured commercial products and government programs as well as our respective geographic footprints. The result of our combination would be an even better diversified product portfolio with deep community engagement across New England from Maine to Rhode Island and strong businesses in Massachusetts, New Hampshire, and Connecticut. In addition, Harvard Pilgrim would bring a nationally leading third-party administrator business and population health services with over two million customers across the country.
Strategically, we're looking for our combination to build upon the community focus and collaboration our nonprofit designations have epitomized for many years. We think that it's a critical asset of our combined organization that we're able to fulfill our customers' needs and meet their highest expectations, while also being a different-in-kind local organization that they know they can call to speak to local representatives and get local action—we know who lives in Penobscot, Maine, and how to pronounce Coös County in New Hampshire. That's very important to our customers and we're looking to fulfill the need for top quality health care solutions for New Englanders in any product, combined with local decision making as we go forward.
Q: Hand-in-hand with the strategic rationale you just mentioned, Michael, is the respective organizations' collaborations with providers. Tufts has a joint-ventured MA plan with Hartford Healthcare, and Harvard Pilgrim created Benevera, a population health organization jointly owned with Dartmouth Hitchcock, Elliott, Frisbee and St. Joseph's in New Hampshire. Can you talk about the partnerships that each organization has architected and share how you're thinking about those kinds of collaborations as a combined entity?
Carson: Both organizations have prioritized deep payor-provider relationships and models throughout their respective histories. Harvard Pilgrim's roots are in payor-provider relationships reaching back to being founded by doctors at the Harvard Medical School in 1969. These collaborations continue to be a critical component of Harvard Pilgrim's strategy today to create the best possible member experience and health outcomes while making it easier for providers to do business with us and controlling costs.
About five years ago, Harvard Pilgrim formed Benevera, which focuses on aggregating a number of levers available to payors and providers to improve health and lower costs for our fully insured and Medicare Advantage members in New Hampshire. These innovations include benefit and product design collaboration to optimize customer value and cost control coupled with care delivery and care management coordination to optimize member/patient engagement through what we call Whole Person, In Person services.
Tufts' has been equally focused on fostering strategic payor-provider relationships including its reentry into the New Hampshire market through a joint venture called Tufts Freedom Plan, in collaboration with a few New Hampshire hospital systems. And then, as you pointed out, Tufts started a relationship in Connecticut with Hartford Healthcare, establishing the Medicare Advantage organization called CarePartners.
It's safe to say to, if approved, the combined organization would continue its focus on strong provider collaborations. Personally, I'm eager to blur the lines between payor and provider so that we can focus more on the patient, the member and drive higher levels of value for each and every health care dollar.
Managing risk
Q: Michael, let's pivot a bit and talk more broady about your risk-based membership, because I think this is an important characteristic of your plan. Earlier in our conversation, you mentioned that 80% of your membership is already value- or risk-based and that influences where you and Tufts together will guide the combined enterprise in future. Can you go into more detail here?
Carson: It varies by state, so that 80% refers specifically to Massachusetts. And within Massachusetts, I'm talking about primarily commercial business, because our Medicare business is still relatively small. So of the commercial business in Massachusetts—between Atrius Health, Mass General Brigham, Beth Israel Lahey Health, UMass Memorial Health Care, Steward Health Care, and others—you have a good amount of membership on the commercial side that's under a risk relationship. And when I say risk, it is either global risk or upside and downside risk.
As solid as that penetration rate is, risk deals are not something that you put in place and then forget about. They need nurturing, they need evaluation, they need innovation to succeed in a sustainable fashion. Many of them still have too much of an FFS model built into them and some are simply due for reevaluation of current terms and market dynamics. The other reality is that there are still a significant number of members across New England not being cared for under value-based relationships. Those are key priorities of ours today and will be as part of our combined enterprise strategies.
Q: I won't ask anything confidential or proprietary, but I assume it's bounded by cautious guardrails on both sides. How much of a safety net is there on the downside?
Carson: Details vary and we have various arrangements along the continuum of risk. Some with more or less up and down risk corridors and protections. I support managing transitions to risk and building trust through data exchange and collaboration. Good risk deals are win/win/win equations where the member benefits from high quality care and affordable premiums, the provider benefits from consistent and appropriate compensation with opportunity to do better and the plan gains medical expense predictability allowing it to set favorable pricing and grow in membership. This balance is not achieved when the provider is not willing to take appropriate downside risk and plan pricing is pressured by a competitive market. That turns out to be a lose/lose less/lose a lot equation.
As we discussed, sometimes you have MLR-targeted risk arrangements that are FFS-based underneath. So, there's reconciliation to an MLR at the end of the day—payout surpluses or collect deficits on those. But because many of those are established, longstanding contracts—so the trust between payor and provider is already there on execution and downside risk—they tend to have less of the guardrails you're talking about compared to a provider group new to risk contracting.
Re-ignite the growth engine: 3-part report series
Q: I'm curious about your risk arrangements, because certain relationships around the country that were billed as ""risk"" were actually FFS plus reconciliation on the backend; these models did very little to insulate ambulatory practices from the economic impact of Covid-19. So when you reference risk are you talking about per-member-per-month payments?
Carson: We're trying to get providers to PMPM all the time, but very few of them want to. I'll take a global cap payment all day long, but in many of these established organizations, while they might be prepared to do a risk deal, they're not prepared to rip the Band-Aid off and do individual PMPM—they want to stay in the FFS, transactional environment.
Even in Massachusetts, even with the great penetration rates on upside and downside risk, you still have the embedded FFS and reconciliation methodology built in, which is not the best way to do this thing. It doesn't remove the administrative burden that you should be removing in a risk deal. And it exposes us to exactly what you pointed out in a situation like this, where it severely impacts cash flow.
Plus, in my opinion, to get real cultural change within a provider organization, the provider compensation is key. If I'm going to have doctors really understand that we'll be providing whole-person care and that we're going to be evaluating performance and compensating on the wholeness of health outcomes and TME and cost management, then we need to get away from this transactional FFS tracking. Clearly there are coding requirements, but the culture has to be disrupted by changing how an individual doctor is compensated.
Unfortunately, this is what happens when we don't go all in—when we fight to retain the safety net of the old model instead of being truly disruptive and transformative. And yes, it means that we don't extract the full potential of these value-based relationships.
Q: I'm interested in your insights here because you've been on all sides of this—the delegator of risk on the payor side, and the recipient on the provider side. So what I'm hearing you say is that payors generally want to give risk, but providers are unreceptive? Or would you say that Harvard Pilgrim is uniquely keen on giving risk and providers aren't that willing to take it?
Carson: When I was on the provider side, I would try to talk health plans into doing certain risk deals and delegating as much as possible to us as a provider organization—credentialing, UM, CM, risk adjustment, quality, even sales at one point.
In terms of delegating risk or taking on risk, the issue is trust. Or better said, the lack of trust. Providers often aren't resourced to do sufficient actuarial work to vet risk proposals. Therefore, many either shy away from taking on risk or choose to go very, very slow. This is somewhat understandable, which is why I think payors need to empathetic and provide transitional tools and resources to help providers progress down the value-based reimbursement continuum to down-side risk.
In terms of delegation of services connected to a risk deal, we felt we were often better equipped to manage a certain book of business for them and could leverage the continuum between member engagement and patient care in a more effective manner. But inevitably, there would be a health plan leader who strongly believed in the plans' role in managing care and perhaps hadn't had great experiences delegating, who got in the way of progress. Again, it comes down to trust which needs to be built between the payor and provider organizations.
The thing is, a health plan usually has other things to worry about, especially when you're dealing with a nuanced population—most health plans, for instance, are not equipped to build the specialized capabilities needed to handle the elderly complex care population. So now, as a plan, if I find the right provider organization to partner with, I'll take it. We'll put all the controls in place to have a bi-directional workstream and optimize what we both bring to the table and to make sure the member has a ""Harvard Pilgrim"" experience. But if there is a capable provider organization, I'll give that group risk all day long.
Q: You're unique in that regard. I don't think many of your counterpart CEOs share that worldview.
Carson: Well, I think there are nuances to it, which makes it tough. But ultimately, it goes back to my three driving themes—transforming care access, aggregating a disparate health care system, and helping guide members through it.
So as a plan, we have to find ways to aggregate various components of the health care system, and sometimes it's ownership, but sometimes it's just the right contractual relationship and focusing on doing what's best for the member, for the customer, and for the overall health care system. I don't think doing this in isolation is really the best way for us to accomplish what we're trying to do.
Q: Let's talk about this, because I think broadly speaking, Covid-19 is going to be a major catalyst for the roll up of physician practices, especially by payors. Not to be overly dramatic, but Covid-19 may well portend the end of independent practice. What does that mean for Harvard Pilgrim?
Carson: Eric, I agree with you—I think this has the potential for being a big accelerant to practice acquisitions. This will be expanding hospital-owned groups, larger provider organizations growing their footprint or consolidating to extract synergy and it will be investors, strategic/VC/PE, looking to capitalize on the opportunity. The latter will likely be more directed at significant Medicare Advantage practices.
Our priority is successfully completing the Harvard Pilgrim/Tufts Health Plan combination effort, but vertical integration and sub-acute assets will very much remain on our radar and part of our long-term strategies. Clearly, from a payor perspective, retaining a balance of hospital and non-hospital dynamics in a marketplace is very important as is a provider environment that is supportive of multi-payor relationships.
Q: And what are your thoughts on ""aggregation versus partnership"" pre- and post-Covid-19? In other words, what was your philosophy coming into Covid-19 about partnering with physicians in a non-equity, integrated way, versus acquiring practices outright?
Carson: I think alignment with identifying targets for when we are ready to pull the trigger has been one of the things that's come out of Covid-19; it accelerates some of the thinking about what might be out there and available. It also softens the marketplace; organizations affected by something like this are likely more open to having these kinds of conversations and understanding the value that a partnership such as ours could bring.
So I can't say that we've actively engaged in planning on this, given our combination efforts with Tufts and getting through Covid-19, but it meaningful and transformative payor-provider integration is something that our board and I value significantly and anticipate executing on when the time is right. Stay tuned on that one.
Q: Do you need to be fully integrated to manage medical loss ratio, invest in longitudinal care, and close gaps in care? What's the delta in terms of efficacy between owning and partnering?
Carson: I think there are multiple ways to be successful here; it's not just one path. So much depends on details. What is the market environment? What's the nature of the population being served? What is the leadership and vision of both organizations? Is provider compensation aligned? And on and on.
One of the ways I've described this is that if the payor has five top measures of success and the provider organization has its five, the integration of the two organizations depends greatly on how well a new set of top five success measures are agreed upon and executed against. Otherwise, as they say in Jersey, forget about it. I've seen provider organizations not motivate its individual practices or physicians to engage in the model appropriately, I've seen payors take their eye off the ball and not manage the relationship properly and I've seen insurmountable challenges in getting to agreement on the long-term joint success measures. It's not easy, but it's possible and it is most definitely worth it. We owe it to our customers to work together and optimize our system.
Q: Adjacent to this topic, I'd like to ask about your partnership with Landmark Health (which specializes in in-home medical care for the polychronic and complex MA population) both in terms of the partnership itself and, more broadly, how you think of the home as a site-of-care strategy. Early innings, but I think we can agree the care delivery shift to the home is going to be one of the ""winners"" in a post-Covid world.
Carson: I very much believe in it. And Landmark's been doing a great job with a targeted segment of our Medicare population—it's an example of how important the right partnerships are, because as much as we've pushed and will keep pushing Harvard Pilgrim to develop really intricate population health programs, there's no need for us to not capitalize on skillsets and capacities like Landmark to accelerate such strategies and make progress quicker for our members.
Hospital at home, in-home primary and specialist care, telehealth are all great examples of the much-needed health care transformation we need in this country and they've been significantly accelerated by Covid-19. Having such an intense focus on optimizing payor-provider risk relationships, I've always felt these types of solutions needed to gain much more traction to address total medical expense as well as health outcomes. In fact, at Harvard Pilgrim, we're well on our way to engage in some interesting new telehealth product type discussions, we've had several alternative site of care strategies in place and we'll continue to optimize partnerships—like the one we have with Landmark—to provide access to the best, most affordable care possible to our members.
Q: Thanks, Michael, for a fascinating and wide-ranging conversation. As we close, any final predictions for how these digital and tech-enabled modalities will change your product offerings?
Carson: It's early, but I love the idea of offering a virtual-only primary care product side-by-side with a full, traditional network product. With Covid-19 having thrusted all of us into the digital world for pretty much all aspects of our lives, providers and the care delivery system has had to follow. I think it's awesome. I've heard from hospital and provider group CEOs about how surprised they are about physicians so quickly adjusting to telehealth and I've heard from physician leaders about how many of their medical and behavioral health patients are so readily taking the leap.
Unfortunately, I've also seen how quickly the use of telehealth services has dropped in certain parts of the country. As much as 50% in a week. It's very easy for things to go back the way they were pre-Covid. We have to seize on this paradigm shift and create the environment and motivation to keep it going. Let's not miss out on the opportunity to transform how health care is accessed, address health disparities in our communities and reset the system for a better tomorrow.
We've talked a lot about payor-provider risk relationships today. I believe that optimization of alternative site of care strategies and driving digital transformation is the way to get to "next level" health outcomes and affordable, wide-spread value-based care delivery and reimbursement models. We must incorporate lessons learned, aggregate as much of our fragmented system as we can and provide solutions to achieve meaningful impact on health outcomes and total health care cost.
And finally, I believe that, as payors, must use this experience to address what consumers want. We have to step up and show the connective and representative value we present to consumers. No longer can we accept being next to last on the list of net promoter score industry rankings, just above the cable company. Let's direct our resources and attention toward creating a user-focused experience and truly guide our members through the complexities of our health care system.
Get more lessons from the C-suite
Check out Eric's recent must-read interviews with top hospital and health system leaders:
From Ascension to Intermountain and now 'home' at SSM Health: How Laura Kaiser is 'systematizing' mission-based care

Laura Kaiser, president and CEO of SSM Health, talks about the call to nonprofit health care, SSM Health's legacy of caring for ""Our Dear Lords, and why she's completed at least one triathlon almost every year—for the last 36 years. Read our interview with Laura.
Marc Harrison promised to turn Intermountain into a 'Tesla.' He wasn't kidding.

Marc Harrison, president and CEO of Intermountain Healthcare, talks about Intermountain's recently announced strategic reorganization, previews the launch of a ""virtual hospital"" to better serve rural communities, and shares the surprising worry that keeps him up at night. Read our interview with Marc.
'A little bit of a pirate': How Kelby Krabbenhoft built a $6B system—and where he's taking Sanford next

Kelby Krabbenhoft, president and CEO of Sanford Health, talks about the unprecedented CEO-philanthropist partnership behind Sanford's rapid growth, why a successful leader needs to be ""a little bit of a pirate, and the merger that will make Sanford a nearly $6 billion health system. Read our interview with Kelby.
"