Check out more insights from the 2019 Trending Now in Cancer Care Survey
Nearly all programs reported that they planned to add or grow services this year, with survivorship visits, palliative care consults, navigation, and genetic counseling topping the list.
What services or programs do you plan to add or grow in the next 12 months?1
Percentage of respondents, 2019
n = 125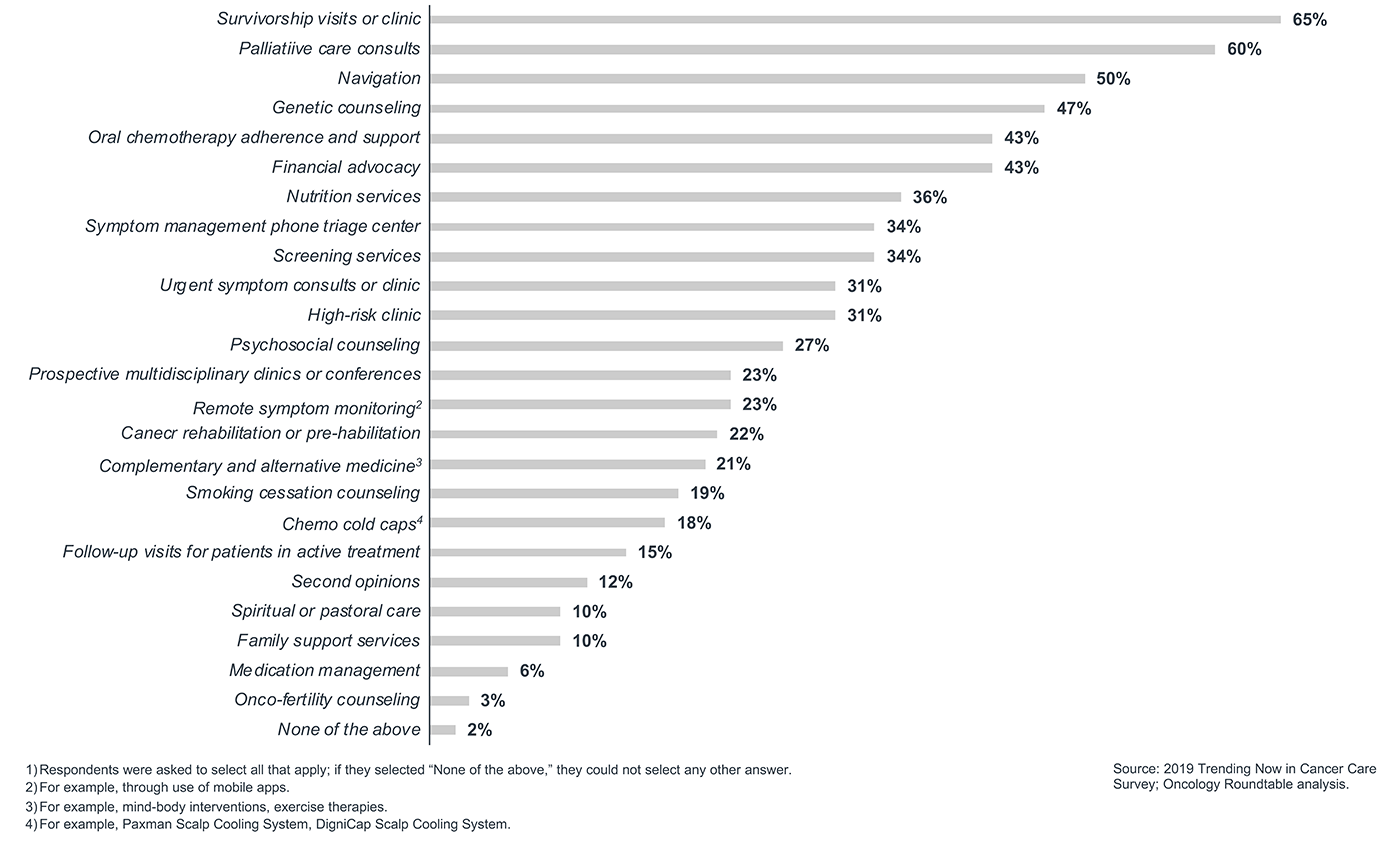 Building out established services holds top priority
Several of the top-ranking services that programs plan to develop this year are mainstays of cancer program offerings. For example, in 2018, 80% of programs reported offering palliative care services, 88% offered navigation, and 88% offered genetic counseling services.
Programs are driven to make these established services more robust because they recognize their value, want to meet the standards set by accrediting organizations like the Commission on Cancer (CoC), and face increasing pressures from consumeristic patients.
Several services merit greater prioritization for growth
Other services received lukewarm attention despite their value to patients and cancer programs.
1. Telehealth is a versatile but underdeveloped resource.
Telehealth—with the exceptions of virtual genetic counseling and tumor boards—has historically been underutilized, even though it presents an opportunity for distributing constrained resources across a system and expanding patient access. When this survey was conducted in 2019, most support services were offered via telehealth by fewer than 10% of programs, and only 18% of survey respondents used telehealth to expand access to rural patients.
Which of the following services do you currently provide or plan to provide via telehealth?1,2
Percentage of respondents, 2019
n = 119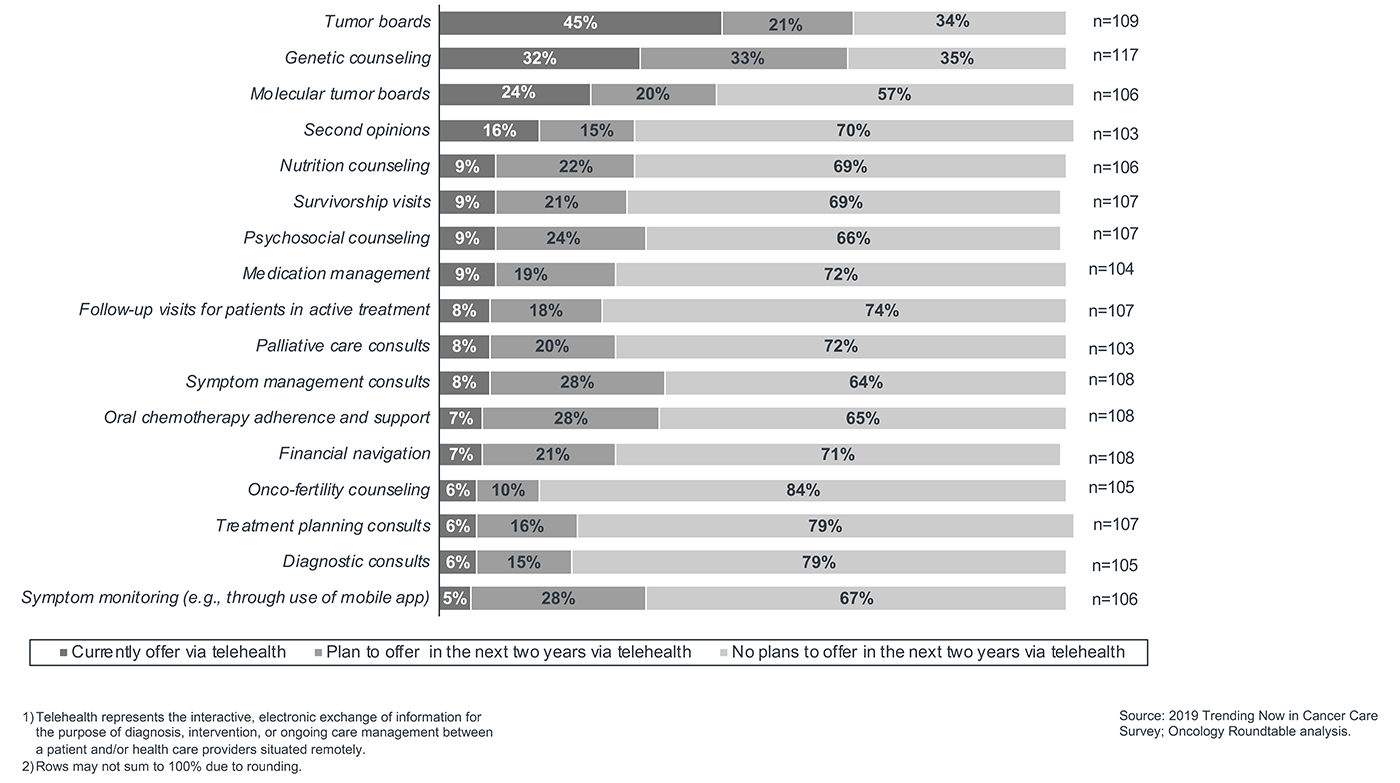 View the on-demand webconference: Oncology Telehealth 101

In light of Covid-19, cancer programs have had to rapidly adapt and scale up their telehealth strategy, with many programs bringing projects off the backburner and realizing the urgency—and usefulness—of providing services via telehealth. Although less than a quarter of respondents in 2019 indicated that they planned to provide a given support service via telehealth, we're curious to see how that will change as cancer programs adapt to a "new normal" and potentially integrate telehealth services into permanent offerings.

2. Value of symptom management is recognized, but fewer programs prioritize its growth.
Robust urgent symptom management services have demonstrable benefits in controlling costs by lowering acute care utilization and improving patient outcomes. Cancer programs recognize this opportunity: 85% of respondents rank "improving symptom management to reduce avoidable ED visits and hospitalizations," in the top five opportunities for cost savings. Even so, the availability of advanced symptom management services lagged behind other support services in the 2018 survey, and garnered only moderate prioritization for growth in 2019.

What services or programs do you plan to add or grow in the next 12 months? 
Percentage of respondents, 2019
n = 125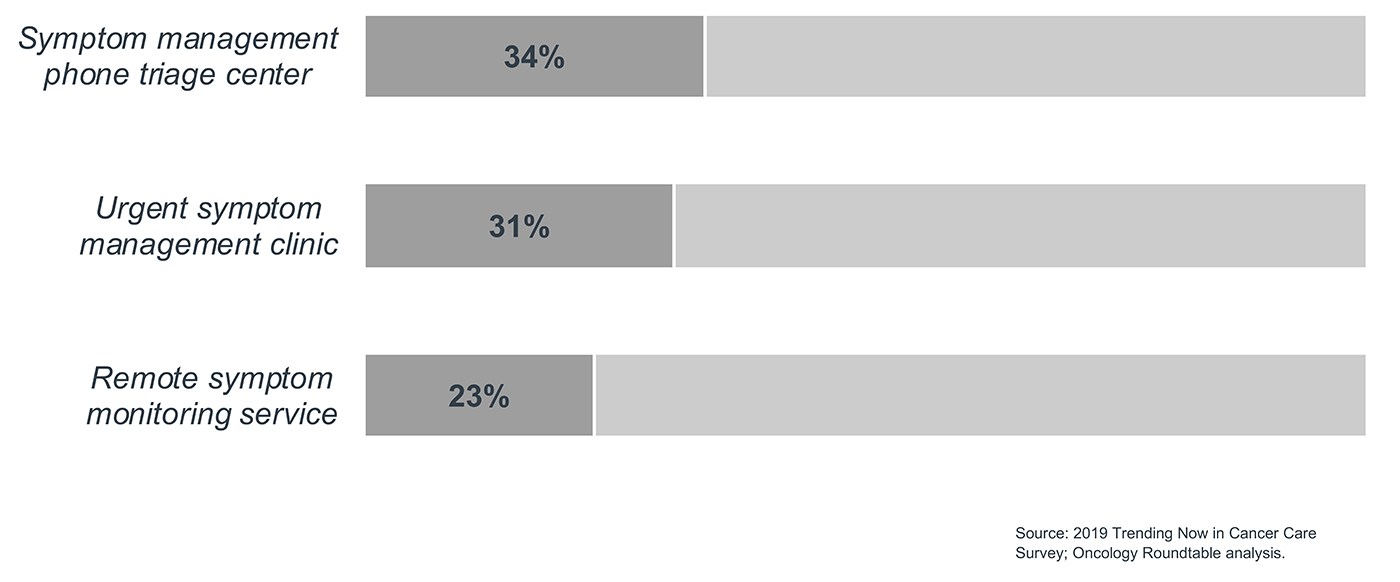 3. Second opinions may deserve a second thought.

Reports suggest that a significant proportion of cancer patients get a second opinion, and providing an excellent second opinion experience can be an effective strategy to capture patients and grow volumes. For programs with high volumes of second opinion consults already, formalizing and better managing the process also has benefits. 

Still, building out second opinion services ranks near the bottom of priorities for program development, with only 12% of programs interested in adding or growing the service in the next two years.
4. Making sure you've got the right navigator background is an opportunity to drive value.

Almost all cancer programs employ clinical navigators according to our benchmarking data, and a third of programs plan to hire one in the next 12 months. In contrast, while less than 23% of cancer programs already employ non-clinical navigators, only 19% of programs plan to hire one this year. Cancer programs must critically weigh the benefits of lay versus clinical navigators in light of their specific community needs and program objectives. Identify the personnel with the most appropriate skillset for the position to make sure clinical experts spend their time on top-of-license tasks.

All too often, we see nurse navigators spending their time on paperwork and connecting patients to transportation and community resources—this is valuable work but doesn't require or maximize a nursing degree. Our Patient Navigation Toolkit can help you optimize your navigation strategy by assessing the needs of your program and more clearly defining the navigator role.
For more information on the 2019 Trending Now in Cancer Care survey, check out the Oncology Roundtable's  insights and the Association of Community Cancer Centers'  blog.