Get ready-to-use slides on the latest women's health market trends
In 2016, we wrote about how to decide whether "To close or not to close your OB unit," based on key program challenge solvability, market demand, and downstream ramifications.  In addition to these factors, health systems weighing or implementing closure must consider two additional impacts and how to address them.
Impact #1: Reduced access to care threatens patient outcomes
Fewer than half of all rural counties have a practicing OB-GYN, meaning the majority of rural women do not have access to prenatal care and labor and delivery services. These access gaps can have serious implications for women's health.
A lack of prenatal care contributes to higher rates of infant mortality, and increases the likelihood that women will die a pregnancy-related death by three to four times. Further, data shows that women who need to travel farther from home for care have more adverse outcomes. Finally, longer patient travel for care means that patients may instead go to a nearby ED that is often times not equipped to handle deliveries. 
Potential solutions:
Create alternative access points using telehealth or mobile clinics: According to Advisory Board research, telehealth modalities such as virtual visits can be used to replace a portion of routine pregnancy checkups or facilitate consults with specialists. Maternal Fetal Medicine (MFM) specialists are relatively uncommon, and even more difficult to recruit to rural areas. Health systems can fill a service line gap by using telehealth to provide MFM services even if volumes don't support a full-time specialist. Additionally, some health systems have begun using mobile clinics, like the MOMobile, to provide prenatal care.


Train existing workforce to handle OB patients: According to CMS, there are opportunities to leverage the existing health care workforce to improve access to maternal health services. For instance, health systems can train nurses to educate women about health risks and warning signs throughout pregnancy, or leverage social workers to address substance abuse and mental health concerns. To prepare for pregnant patients seeking care in the ED, leverage EMS in pre-hospital management of OB care for pregnant patients and for pregnant trauma patients. Next, train ED staff to handle emergent deliveries, and have protocols in place for complex patients.
Impact #2: Community and staff push-back
OB unit closure often, and understandably, results in a strong emotional response from the community and impacts staff morale. Therefore, it's essential that health systems weighing OB unit closure consider ways to mitigate community backlash and the impact on staff.
Potential solutions:
Communicate changes to the community: First and foremost, communicate any changes to the OB unit with the community. Within the community, work with physicians to determine where patients will deliver, hold "town hall"-style meetings to discuss your decision-making process, and announce the closure well in advance to give patients time to re-consider where to deliver.


Include clinicians in the discussion to ease transition: Before making any investments decisions, discuss plans to replace obstetrics services with physicians. One health system that consolidated its OB unit involved physicians as much as possible in the design and development of the new facility. To do this, the system created forums for physicians to ask questions, and ensured physician comfort with new team members by making introductions and developing relationships early on.


Carefully plan transition: OB closures require logistical coordination throughout the planning and execution process. To minimize unanticipated impact to your OB unit and surrounding sites, prepare for site operations on moving day by holding a "mock move" to prepare staff, plan for EMS transfers every five-to-seven minutes on moving day for post-partum patients, and incorporate local volunteers to help coordinate activities.
Get ready-to-use slides on the latest women's health market trends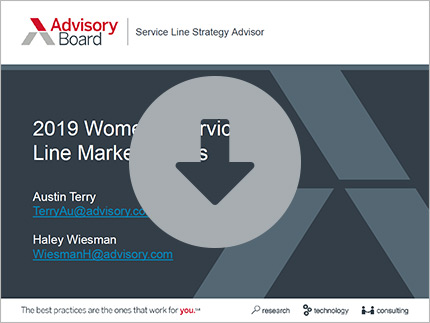 Download our ready-to-present slides to learn everything you need to know about planning your women's health service line.