COVID-19 weekly webinar: What health care leaders need to know
Read on to see how your peers are building alliances with former competitors and out-of-industry companies in pursuit of common public health goals.
Hospital partnerships
Former competitors are now working together to share resources and coordinate a regional, unified response to COVID-19. Below are just a handful of ways you can work with your peers.
Open a jointly operated call center to screen patients. Community Health Northwest Florida and Sacred Heart have used a common call center to ensure they are following identical testing procedures and directing patients to sites with capacity. 


Share testing and laboratory capacity. Cleveland Clinic and University Hospitals have opened drive-thru testing sites together and are sending samples to laboratories that can deliver the fastest results. The University of Virginia has developed its own COVID-19 test and made it available to hospitals across the state. 


Provide joint services such as childcare. Providence St. Joseph Health, Kaiser Permanente, Legacy Health and Oregon Health and Sciences University have launched childcare services together to ensure staff with children at home are able to keep working.


Grant privileges to non-affiliated physicians in the region. The University of Colorado Hospital has partnered with hospitals in the Denver region to expand privileges so that they are easily able to flex staff across facilities based on need.


Ship ventilators and personal protective equipment between facilities. A group of five hospitals in New Jersey, including Holy Name Medical Center, Valley Hospital, and Hackensack Meridian Health hospitals, are holding daily teleconferences to identify equipment needs based on daily changes in demand.


Contribute staff, funding, and expertise to open dedicated COVID-19 treatment facilities. San Francisco area hospitals, including Kaiser Permanente, Sutter Health, Chinese Hospital, and UCSF Health, have announced they will jointly open 40-beds and eight critical care beds at St. Francis Memorial Hospital in anticipation of a surge in demand for inpatient care.


Join information sharing alliances to coordinate resource needs and share best practices. One such alliance is the COVID-19 Healthcare Coalition, which includes health systems, such as HCA Healthcare, Mayo Clinic, Rush University Medical Center, and University of California Health System. Many public health departments and hospital associations are also offering a means for hospitals to share and analyze data and coordinate a regional response.
Out-of-industry partnerships
Companies across nearly every sector are contributing to the COVID-19 response effort by utilizing excess capacity across their facilities and workforce. Below are some of the ways your hospital can partner with the private sector.
Coordinate with retailers to expand drive-thru testing capacity and availability. CVS Health, Walgreens, Walmart, and Target have all pledged to use their parking lots to open testing sites. Four locations are currently operational in Shrewsbury, Massachusetts and the Chicago suburbs. Consider using retail sites to provide expedited testing availability for first responders and individuals beyond the reach of the health system.


Repurpose rooms at hotels and colleges to house low-risk patients. Five hotels in Chicago have already announced their intention to house 2,000 individuals who need to be in isolation or quarantine, but do not need hospital-level care.


Deliver medical supplies, test kits, and pharmaceuticals to patients at home in conjunction with ride-sharing companies. Lyft has announced its intention to work with health care organizations to support the needs of vulnerable populations.


Transport equipment, supplies, and test specimens more expeditiously to places in need by working with delivery companies. FedEx has dedicated 28 flight legs to carry COVID-19 test specimens from 50 different locations to labs across the United States.


Help design and test medical equipment for companies to manufacture. Ford expects to produce 75,000 face shields in its first week of production and will test the equipment at Detroit Mercy, Henry Ford Health Systems, and Detroit Medical Sinai-Grace Hospitals. JOANN Fabric and Craft Stores is another organization that is offering its sewing equipment, donating supplies, and making space available in each of its 800 stores so that up to 10 individuals can sew masks and hospital gowns.


Solicit donations of supplies from local and national employers. Intel, Facebook, and Apple are among the companies that have donated millions of face masks to providers in need. Local construction companies, dentist offices, cleaning companies, and many others are also contributing.
Community Partnerships
Finally, we would be remiss if we didn't mention the tremendous support hospitals are finding from individual volunteers that are offering their time and expertise to the response effort. Here are two ways you should consider using your volunteers close to home.
Distribute kits to volunteers to make masks. Dartmouth-Hitchcock Medical Center, Parkview Health, and Providence St. Joseph's Health are among those that are distributing materials to volunteers willing to sew masks for visitors and non-clinical staff so that they can conserve clinical-grade personal protective equipment for front-line workers.


Activate retired physicians and nurses. Hospital systems in Illinois, Texas, New York and other states that have waived licensing regulations are bolstering surge capacity by adding retirees with clinical experience to their response efforts.
Has your organization entered into a unique partnership with an unlikely ally? Email us at GelbaugC@advisory.com and HaugerN@advisory.com to share your story.
Your top resources for COVID-19 readiness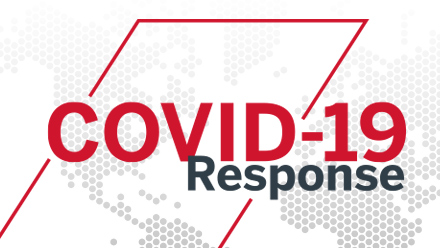 You're no doubt being inundated with a ton of information on how to prepare for possible patients with the 2019 coronavirus (COVID-19). To help you ensure the safety of your staff and patients, we pulled together the available resources on how to safely manage and prevent the spread of COVID-19.