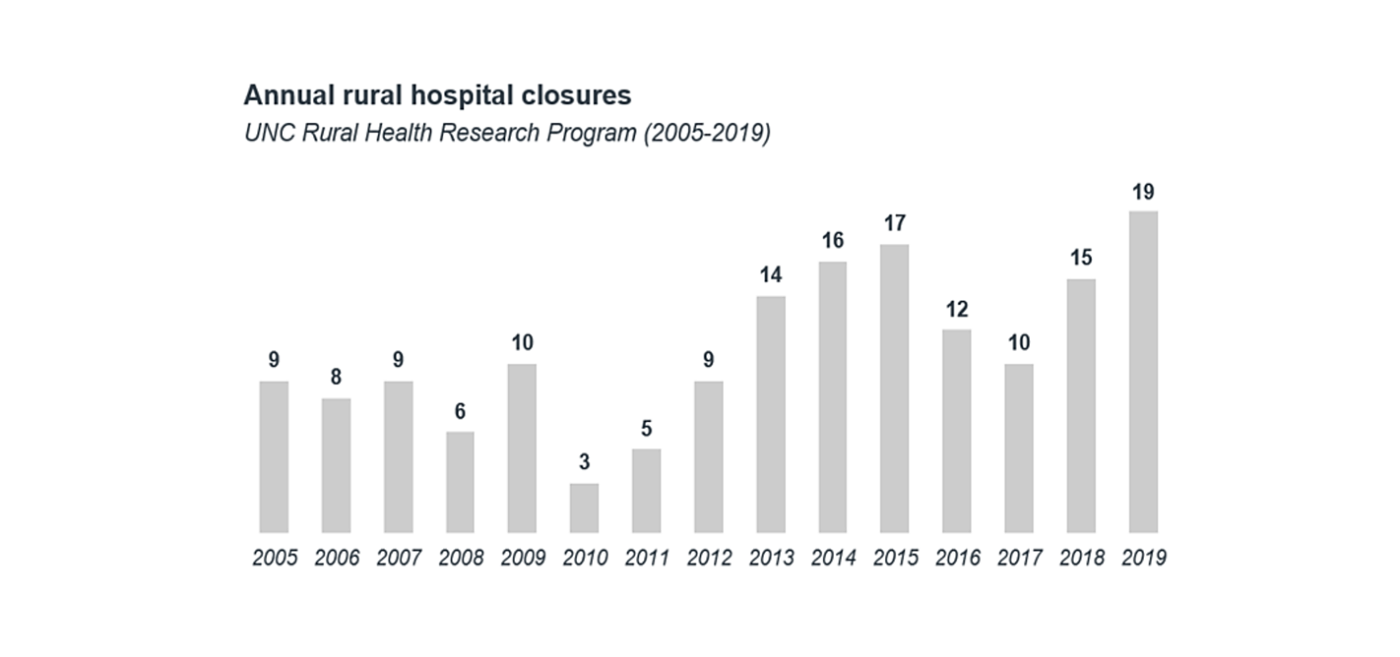 With 21% of remaining rural hospitals at high risk of closure, and more than 40% operating at a negative margin, health executives have been faced with the stark reality of rethinking their rural health strategy.
In our first installment in this series, "Rethinking your rural hospital strategy? Answer these 4 guiding questions," we covered the four major questions strategic planners must answer to identify the ideal state of a downsized rural hospital.
But what if your best rural hospital strategy is actually a non-hospital strategy?
Given recent trends, organizations such as the UNC Rural Health Research Program and the Bipartisan Policy Center (BPC) have published extensive research into rural hospital closure and policy. Based on our review of these reports, if you find your market does not support a hospital of any size, there are three things you need to know:
1. Closure is not your only option—you can also convert your facility to fill a community need
While rightsizing for your market may not involve any inpatient beds, you should consider whether local demand may support a converted, non-hospital site of care.
In a study of 47 rural hospitals that stopped providing inpatient services, researchers found that 21 were successfully converted to one of six site types: primary care facilities, outpatient offices, urgent care centers, emergency facilities, skilled nursing facilities, and rehabilitation units.
Though exact financial outcomes differed, every converted facility had a positive cash flow margin the year of closure and fared far better in total margin than abandoned, or truly closed, hospitals.
The bottom line is that there are alternatives to rural hospital closure—and examining community demand for primary, urgent, emergency, and post-acute care can inform your decision.
2. Successful hospital conversion is dependent on a rural funding mechanism
Rural hospitals overwhelmingly close due to financial pressures. With that in-mind, if you want to succeed with a converted rural hospital model, you need to do more than right-size health services to meet local demand – you need to secure funding. 
According to a BPC report titled "Reinventing Rural Health"—which included insights from nearly 100 thought leaders in states disproportionately affected by rural hospital closure—successful rural health initiatives need to identify community funding mechanisms and payment models that allow for local innovation.
Potential avenues for funding include general partnerships with health systems in single network ACOs, or more formal participation in either CMS' Accountable Care Organization Investment Model (AIM), which helps fund value-based care in rural and underserved areas, or other innovative models through the Center for Medicare and Medicaid Innovation (CMMI). For example, through CMMI's Pennsylvania's 2017 Rural Health Model, CMS and participating payers can help fund the transformation of rural hospitals to offer services and delivery models tailored to local needs.
3. For long-term solvency, look to develop a primary care workforce and telemedicine network
While there are clear alternatives to rural hospital closure that can be financially viable given new funding, payment, or partnership models, the fact remains that some markets may not be able to support these services over the long-term.
To help bolster converted rural care sites or prepare communities for unavoidable closure, BPC recommends rural communities invest in primary care physician workforces and comprehensive telehealth. Between Graduate Medical Education proposals that promote rural residencies and efforts by CMS and the Federal Communications Commission to strengthen telehealth reimbursement, both options are likely to offer long-term support for community health needs.
Overall, while rural hospital downsizing may not be avoidable, there are alternative care models that can be both financially feasible and help support the long-term health of rural communities.