Win physician buy-in for your patient experience efforts
The Gatorade debate
Rolling out a new clinical protocol is never easy, especially when it changes clinicians' existing workflows. And ERAS is uniquely challenging because the protocol doesn't just affect workflow—it also contradicts central tenants of traditional surgical training.
For example, standard practice requires patients to stop drinking fluids around midnight before their surgery. ERAS protocols, however, encourage patients to drink clear liquids, like Gatorade, up to two hours pre-op to prevent dehydration. It may seem like a minor (and welcome) change for patients, but it's a significant departure for experienced physicians that can lead to skepticism and resistance. As one CMO put it, "We had to pull back our implementation because physicians just couldn't get past the Gatorade."
Johns Hopkins creates an ERAS community of interest to win buy-in
Given the counterintuitive nature of ERAS, organizations need a dedicated physician engagement effort from the outset.
Johns Hopkins Medicine, one of the early implementers of ERAS, uses a two-pronged approach to overcome skepticism and win physician buy-in for ERAS:
Start with an in-person ERAS networking event to spark interest

Any time Hopkins rolls out ERAS for a new procedure or service line, the organization starts with an in-person networking event. Over dinner, attendees get to know Hopkins' centralized ERAS team, discuss workflow challenges, and meet other physicians interested in ERAS. The goal of the in-person session is to uncover physicians' concerns and equip existing ERAS supporters to engage neutral physicians or address naysayers' concerns.

Use digital reinforcement to sustain ERAS engagement

Hopkins keeps momentum going through an opt-in listserv of physicians known as the "ERAS community of interest." The ERAS team uses the listserv to share emerging external research and data from service lines with live ERAS protocols. They also encourage community members to use the channel to share their personal experience with ERAS with their peers. The goal is to create a forum where physicians can share tips and tricks and debate the challenging parts of ERAS.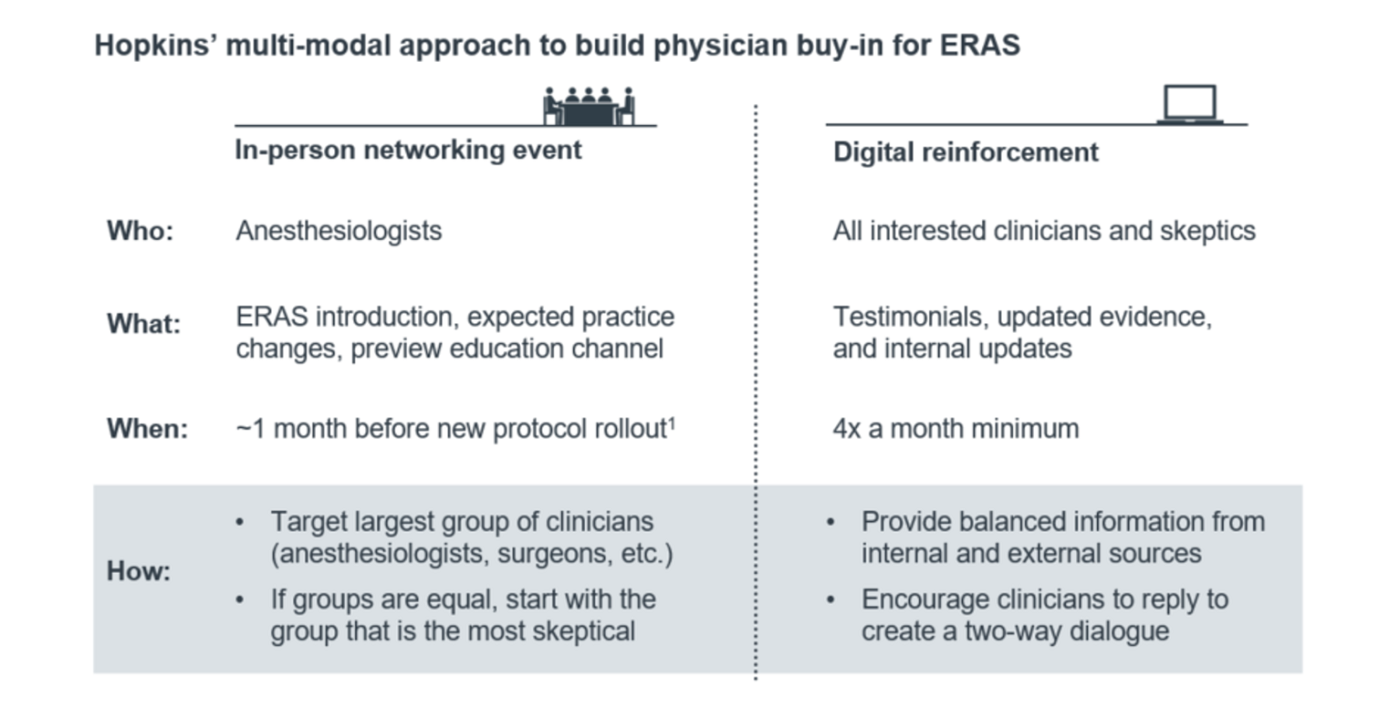 Pair bought-in physicians together on ERAS cases
Hopkins' efforts don't end with the listserv—the organization takes its engagement efforts offline and into the operating room. Hopkins realized bought-in anesthesiologists weren't always scheduled with surgeons who used the protocol, requiring them to switch back and forth between ERAS and non-ERAS cases. Now, when there's an ERAS case, schedulers turn to the "ERAS community of interest" list to identify anesthesiologists to support ERAS cases.
Not only does pairing bought-in anesthesiologists and surgeons together streamline anesthesiologist workflow, it also produces a steady stream of internal evidence to share with the broader ERAS community of interest.
Help us build our ERAS Starter Kit
The Physician Executive Council is collecting best-in-class member collateral for our upcoming ERAS Starter Kit. We're specifically looking for resources to generate physician buy-in, develop—and scale—new ERAS protocols, and educate providers and patients.
If your organization is working on ERAS, and would like to be featured in our toolkit, email Virginia Hite to set up a 30-minute research interview.
How physicians can help rein in costs
Join the webconference to learn how best-in-class organizations engineer low-cost clinical products and enable frontline clinicians to practice cost-conscious medicine.