To find out, we surveyed our cardiovascular and imaging members and received over 85 responses. When we compared these findings with a survey we conducted in 2012, we noticed a change in the CV imaging management landscape.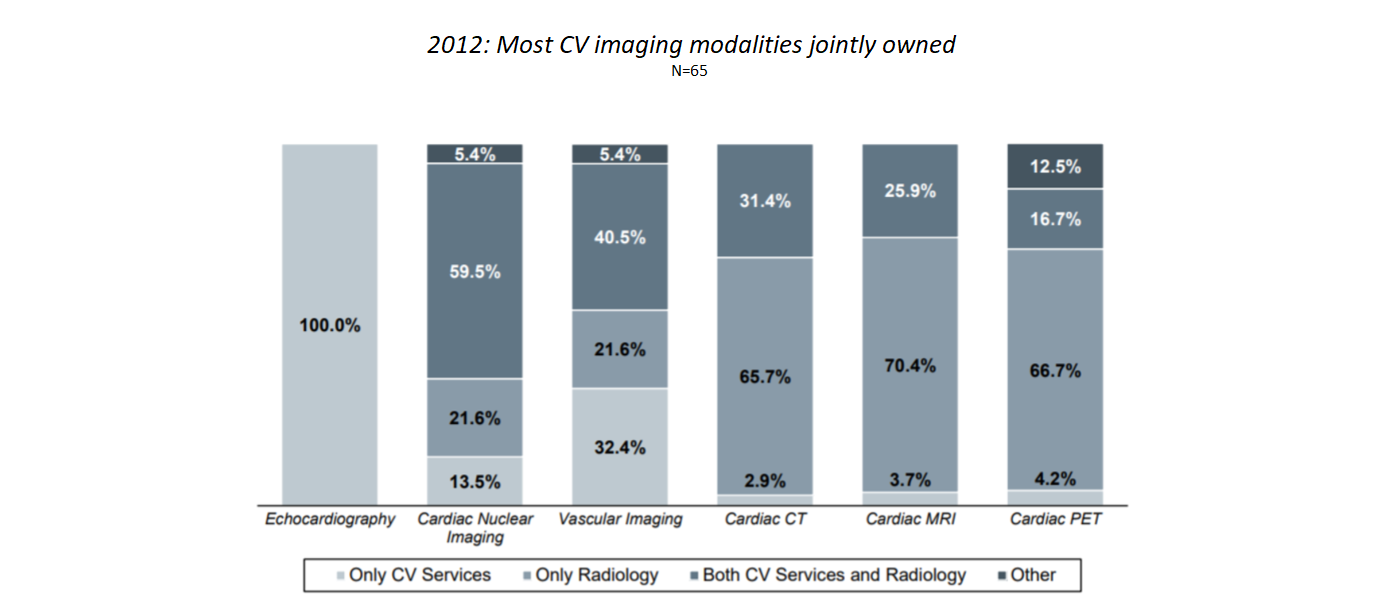 Unsurprisingly, echocardiography remains predominately in the hands of cardiology. However, more programs today have single service line management of cardiac nuclear imaging services than they did in 2012, when the departments shared these services. Trends in vascular imaging management remain steady, without a clear consensus on where these services should reside. Finally, cardiac CT, MRI, and PET are slowly shifting out of radiology's exclusive control.
Still interested in taking our quick poll? Click here to access our one-question survey.
Be wary of over reads and turf wars
Regardless of which service line owns CV imaging services, programs should establish a delineated reading and billing strategy to avoid over reads and service turf wars, especially given how many modalities remain under shared management. While radiologists and cardiologists can both contribute to a CV imaging report, in most cases, "payers and patients will not pay two interpretation fees, nor are there any appropriate CPT modifiers to describe a split interpretation of a single diagnostic imaging study," according to a white paper from the American College of Radiology. Some organizations have a system for paying non-billing physicians a portion of collected payments, but in many cases, only one physician should be reading an imaging exam. Additionally, according to a new study in the Journal of American College of Radiology, referring providers prefer "a single radiologist read in a single report for a multipart CT scan," as opposed to multiple subspecialists.
Ample opportunities to collaborate across service lines
Even if reading responsibilities are divided, there are plenty of opportunities to collaborate across cardiovascular and radiology departments. For instance, one way organizations are working together is through cross-service line capital purchasing.
Radiology departments have internally jointly purchased equipment across sites for years, but there is opportunity to extend these strategies across departments. When it came time for the cardiovascular service line at UMass Memorial to replace its ultrasound equipment, it teamed up with the radiology and obstetrics departments to jointly purchase. The system's clinical engineering team held a system-wide vendor fair, and invited staff to evaluate each vendor using a standardized ranking form.
The clinical engineering team used these ranking forms to settle on a single vendor, enabling them to purchase more equipment at a lower cost, save vendor training hours, and easily float staff across rooms and sites.  

There remain other opportunities to collaborate across departments, including joint image quality reviews, combined technologist training programs, and AI adoption. If your program is working on a strategy to collaborate across departments, that you would like to share, please email SnowE@advisory.com.