To identify opportunities to improve the RFP process, we surveyed provider organizations and facility firms and identified three key opportunities for improvement:
1. Scope projects precisely to keep everybody on the same page
Construction projects take several years, and it's difficult to predict what your organization will need in the future. To maintain flexibility, some organizations prefer to build first, and then make decisions about which services to include. Others, seeking to engage stakeholders, solicit many opinions but don't choose among them until the building is nearly complete. However, "build first, decide later" typically results in costly modifications and delays down the line. Before the RFP even goes out, you should clearly define a facility's purpose: What service lines will it include? What population will it serve? How big should it be?
To avoid this pitfall, invite key internal stakeholders to a multidisciplinary steering committee responsible for facility planning, such as Gwinnett Medical Center's implementation teams. In this model, a diverse set of stakeholders from across the organization discusses and agrees on project needs. The team meets regularly to ensure everything is running smoothly and regroups following the construction process to evaluate the team and processes.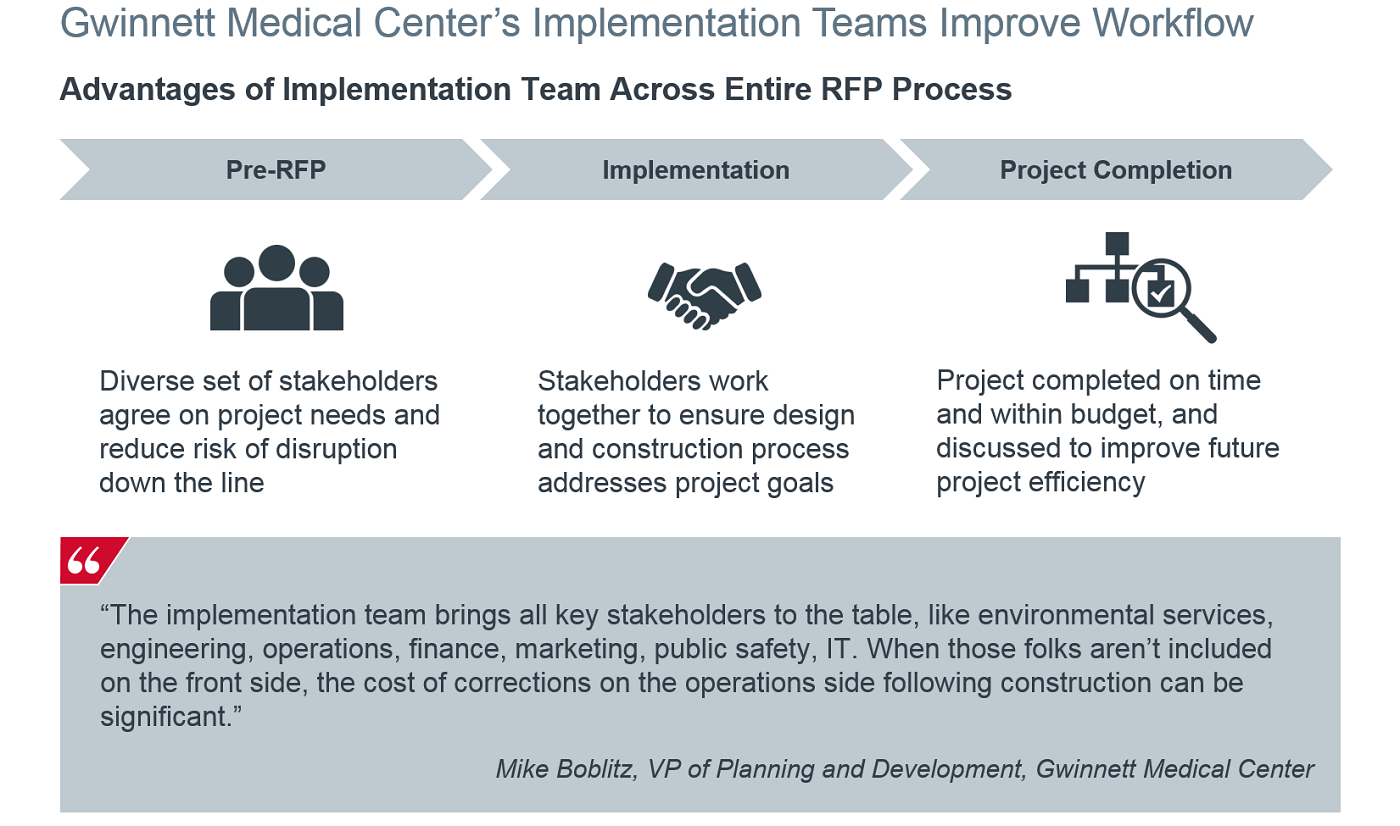 The idea of a committee may seem obvious, but the key differentiator in Gwinnett's process is just how diverse their stakeholder pool is. They're not just pulling in facilities directors and COOs—they're including environmental services, operations, marketing, IT, and more. By improving internal communication and gaining multi-stakeholder buy-in, Gwinnett avoids costly last-minute construction fixes and is better able to communicate a unified vision to architecture and design firms.
Guiding questions to streamline facility planning:
What stakeholders need to be involved in this process?
Are all of our stakeholders on the same page?
Are our project expectations clearly defined?
2. Offer realistic submission timelines to get higher quality RFP responses
In conversations with our facility planning members, we heard that many organizations expect top-notch RFP submissions in anywhere from 72 hours to two weeks. This isn't enough time for architects to prepare their best work, which means you're losing out on high-quality designs.
Aim for three-to-four weeks to get the most out of your architects.
Guiding questions to streamline facility planning
Are our submission timelines realistic?
Do our timelines allow for architects to submit the highest quality designs?
3. Use clear selection processes to improve decision-making
Once you have the submissions, it can be challenging to choose a winner. What should you prioritize? Who gets to decide? Does everyone have to agree?
Define your decision criteria, participants, and process in detail—before you issue the RFP.
Another option, which can be used in tandem with a scorecard, is to choose solely based on value—meaning the efficiency of the design and how well it aligns with the organization's vision. Some provider organizations ask facility firms to submit everything but the fee. After choosing a submission, the organization can then discuss fees with the winning firm and will move on to the next firm if those discussions don't pan out.
Guiding questions to streamline facility planning
What metrics for judging submissions matter most to our organization?
How can we create a scorecard to judge submissions?
Can we choose on value rather than cost?