Access the CV Market Estimator for market-specific 5-year forecasts
To help CV and imaging programs navigate this balancing act, we've provided a forward-looking analysis of three market dynamics affecting CV imaging services:
1. Demographic changes increase volumes but worsen case mix
An aging and increasingly comorbid population is contributing to soaring projected volume growth for CV imaging services. However, higher volume may not necessarily translate to increased revenue. As the Medicare population grows, for instance, many programs may see a shift from private to public reimbursement and see total revenue fall as a result.
What does this mean for CV imaging leaders? Balance a reduction in revenue by increasing capacity and throughput to maximize volumes.
2. Regulatory scrutiny to limit reimbursement potential, particularly in the HOPD
CMS, commercial payers, and regulatory bodies are increasingly committed to appropriate use of imaging and cost containment, resulting in greater efforts to promote evidence-based imaging utilization, patient steerage, and payment changes. Medicare reimbursement remained relatively flat for CV imaging services between 2018 and 2019. However, given that CV imaging-related codes made up eight of the 22 most frequently billed codes[1] at off-campus HOPD in 2016, site-neutral payment (SNP) policies could put CV imaging revenue at newer hospital-owned off-campus facilities at risk.
Hospital Outpatient Prospective Payment System (HOPPS) payment rates[2]: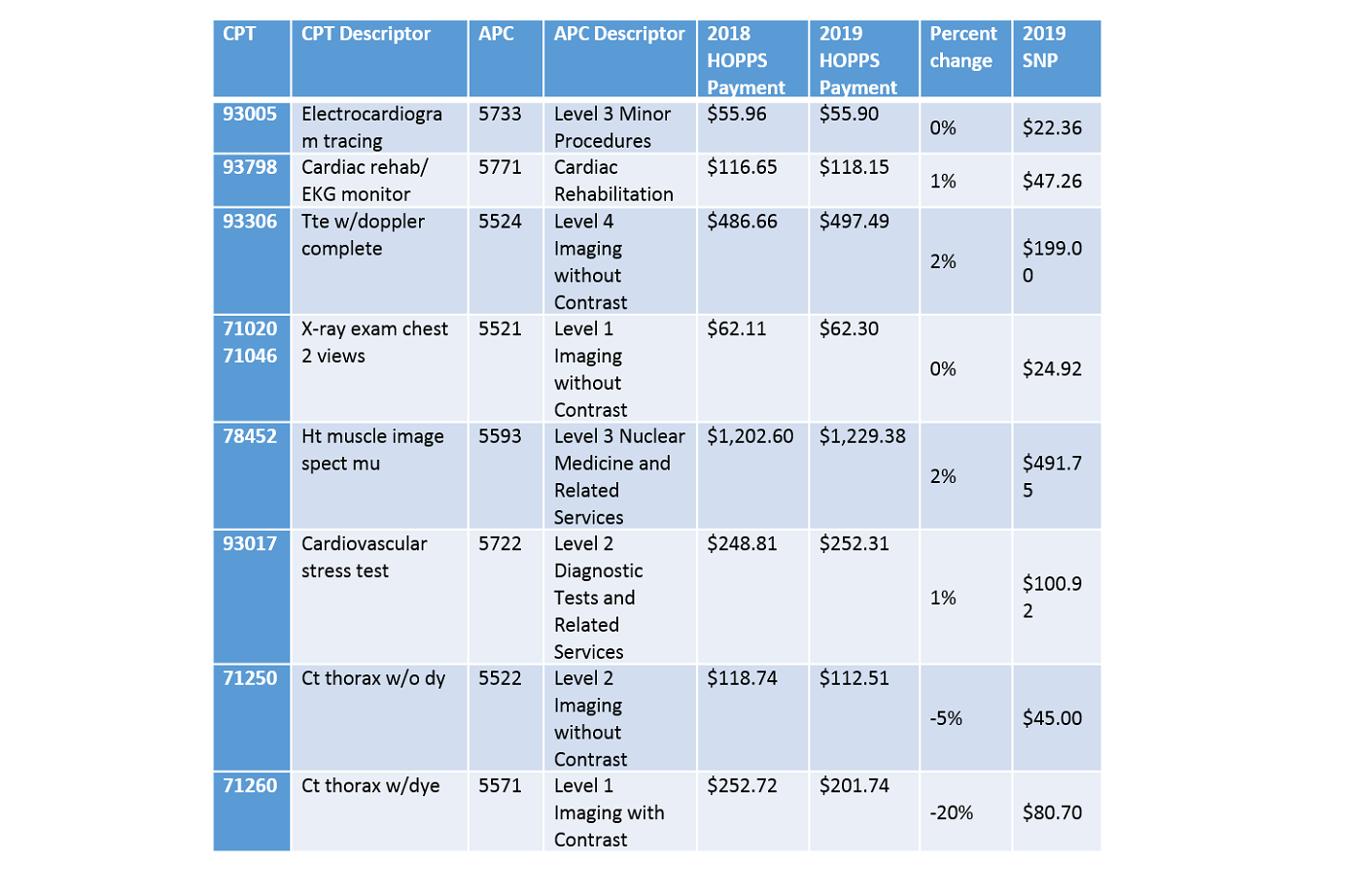 Programs will also soon feel the effects of the clinical decision support (CDS) mandate—the requirement that referring providers consult appropriate use criteria (AUC) within a clinical decision support tool when ordering advanced outpatient imaging for Medicare patients. The long-term implications of CDS remain unclear, but it is likely that CV imaging will be significantly affected, given that Coronary Artery Disease was one of CMS' target clinical priority areas, which were determined based on conditions with the highest volumes of imaging exams. It is still early, but some studies suggest the tool will curb utilization of high-cost imaging exams that fall within these priority areas while increasing utilization for other modalities.
What does this mean for CV imaging leaders? Given that CV imaging is highly susceptible to inappropriate use, focus on successfully implementing CDS support tools to avoid penalties and prepare for potential volume impact.
3. Growth in emerging technology not always a safe bet
Innovations—especially in PET, non-invasive fractional flow reserve CT (FFR-CT), and Coronary artery calcium scoring (CAC) technologies—have not only pushed the envelope of imaging applicability but also rendered it increasingly difficult for capital-constrained programs to identify "must-have" versus "nice-to-have" equipment. Across the next five years, technology will continue to drive volume growth, but these growth trends are less certain to continue into the future.
What does this mean for CV imaging leaders? Consider these key factors before investing in new CV imaging technology:
Organizational capacity: Does this technology help reach programmatic goals? Do we have the right staff and expertise to operate the equipment?
Market supply/demand: Is demand projected to grow long term? Do other local providers offer this technology?
Competitive advantage: Will this technology open up a new revenue stream or help reduce program costs? Can we effectively differentiate this service to win patient, payer, and physician preference?
Financial viability: What is the technology's cost and potential revenue? Will revenues recover in 5 years?
Ability to reduce long-term costs: Will this enable earlier diagnosis and prevention? Will this technology help reduce unnecessary procedural utilization?
Look out for an upcoming blog to help guide investment in new CV imaging technologies
Quick poll
After much interest, we are launching a three-part blog series on Cardiovascular Imaging, which will be coming out across the next few months. Your responses will help inform our next post. If one of your colleagues would be better suited to complete a survey on those topics, we encourage you to forward the link.