Access the prostate cancer tumor site dashboard
Let's unpack these two forces and what they could mean for your prostate cancer volumes.
1. USPSTF softens their stance on PSA testing
In 2012, the USPSTF changed their screening recommendations to specify that PSA screening was not recommended for any men due to concerns about overtreatment. The 2012 recommendation responded to evidence suggesting minimal difference in survival outcomes between men with low-risk prostate cancer who received active treatment and those who chose active surveillance.
This reduction in screening led to a sharp decline in prostate cancer incidence, as evidence by the chart below.
But in 2018, the USPSTF finalized a statement softening their 2012 recommendation to specify that patients aged 55-69 and their providers should determine whether to undertake PSA screening on an individual basis. This recommendation takes into account new evidence from long-term trial follow-up that demonstrated a slight mortality benefit of PSA screening. Despite the USPSTF's new stance, many physicians still feel that PSA screening should not be recommended in most cases. In contrast, a statement from the Large Urology Group Practice Association (LUGPA) expresses concern that the recommendation still minimizes the importance of PSA screening for certain populations.
One population that could benefit from PSA screening is black men, who are more likely to die from prostate cancer than white men. A recent study demonstrated that PSA testing for black men between the ages of 40 and 60 was a strong predictor of more aggressive forms of prostate cancer. Based on these findings, the study advocates that physicians consider these increased risks for black patients and bring them up in conversations around PSA screening.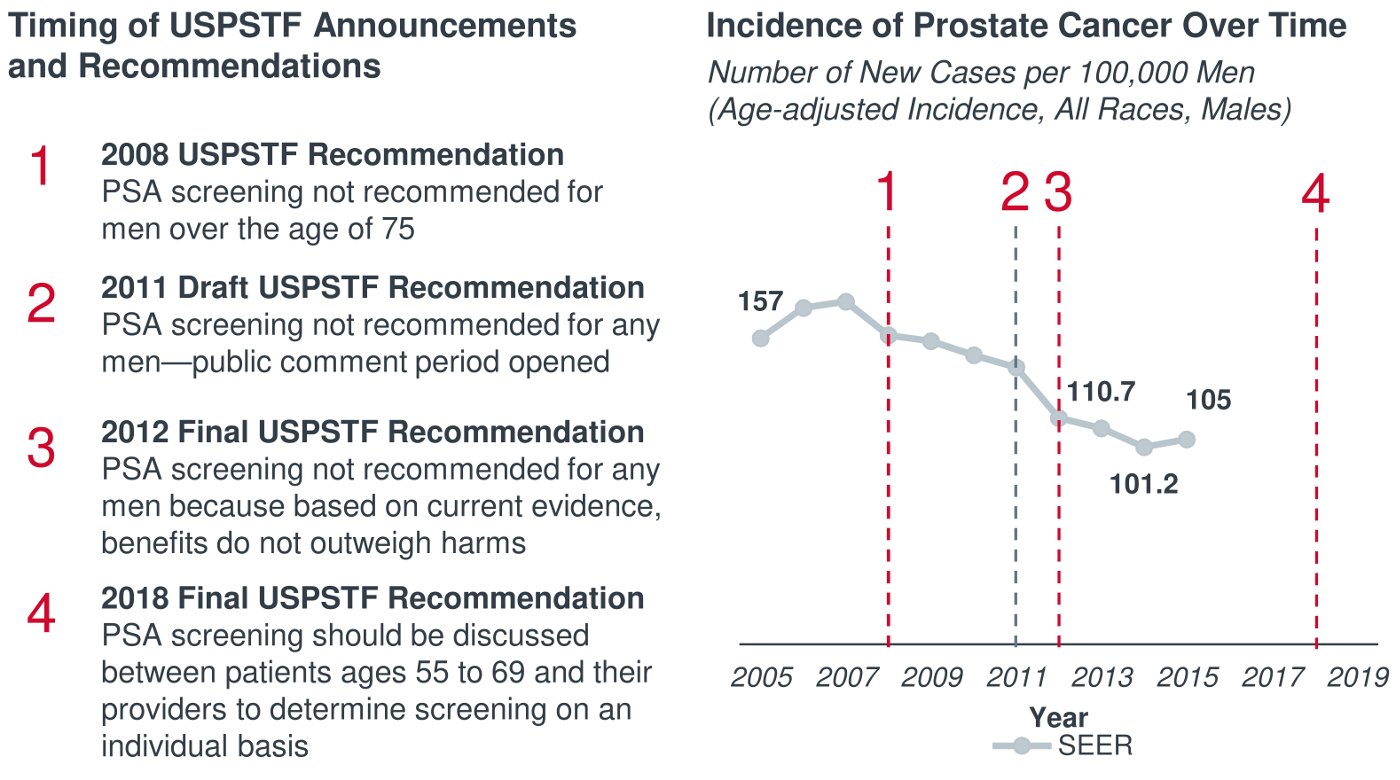 2. More men with low-risk prostate cancer opting for active surveillance
Although the new USPSTF recommendations have the potential to drive increased PSA testing and thus higher prostate cancer incidence, it is not yet clear whether this will result in higher treatment volumes—as a growing number of men with low-risk prostate cancer are choosing active surveillance over active treatment.
In fact, a recent study evaluating the choices of veterans who had been diagnosed with low-risk prostate cancer between 2005 and 2015 showed a sharp trend toward active surveillance. In 2005, only 27% of men decided to forgo active treatment for active surveillance or watchful waiting. By 2015, the percent of men delaying treatment had nearly tripled, with 72% of men under 65 choosing active surveillance or watchful waiting.
This trend is encouraging for many in the medical community who believe that increased screening and early detection of prostate cancer actually cause more harm than good due to overtreatment. However, the authors of the study noted that as many as two-thirds of men treated in private medical practices may still be receiving aggressive early treatment for low-risk malignancies.
How will these forces affect your cancer population?
These sometimes-contradictory forces can make it difficult for program leaders to anticipate their future prostate cancer volumes. To help, we recommend the following:
Use our

Cancer Incidence Estimator

to get a baseline for expected prostate cancer incidence in your market;

Talk to PCPs and other providers in your community to understand their perspective and behaviors when it comes to PSA screening;

Discuss these forces with physicians at your own organization to understand their stance on active surveillance and whether they've observed an increase in low-risk prostate cancer patients choosing active surveillance over treatment; and

Review your own organization's prostate treatment volumes to see if they were impacted by the 2012 USPSTF recommendation, and if they've fluctuated since USPSTF released the

draft

statement of their 2018 recommendation in April of 2017.
Help patients decide what's best for them
Regardless of how these factors will impact volumes, cancer programs should focus on providing the best care possible for their patients. This means educating men around the risks and benefits of prostate cancer screening, and ensuring that men diagnosed with low-risk prostate cancer are aware of all their treatment options, including the benefits of active surveillance.
To help patients make informed choices, shared decision making is key. Our shared decision making compendium includes a variety of resources to help programs encourage the use of shared decision making by their providers.
Another strategy to help patients choose the best course of treatment is through multidisciplinary treatment planning. Studies have demonstrated that patients who were able to speak with multiple providers when determining the best course of treatment were more likely to opt for active surveillance than those who saw only a surgeon or urologist.
Get our 'Oncology Essentials'
Review the slide decks from our four-part webconference series to understand today's cancer patients—what they expect from you, and how their market is evolving.