Complimentary resource: The most important trends impacting your denials strategy today
Revenue Cycle Advancement Center: Let's start by learning a little about you. How long have you been with Sharp?
Gerilynn Sevenikar: I've been with Sharp Healthcare for 39 years, and I've been the VP of revenue cycle for 25 years. I actually started at Sharp during college in 1979, working in ED registration. After I got my degree, I joined the organization. I saw that the health care industry was changing quickly. At the time organizations were realizing the benefits of service line consolidation and the centralized business office, and that type of environment was really appealing.
RCAC: That's great—so you've really been able to see and implement a lot of changes at Sharp. Which hospital revenue cycle departments report to you? And do you oversee any business functions outside of the acute care setting?
Sevenikar: I oversee front-end access (pre-arrival, arrival) midcycle (HIM, release of information, chart auditing), charge master for hospitals, and all billing and follow-up for hospitals. I also have a revenue integrity team for hospitals, customer service, and collections (which includes both the hospitals and the clinics), and revenue cycle IT.  
RCAC: How has the prevalence of capitated contracts and working with Sharp's health plan changed revenue cycle operations?
Sevenikar: When Sharp first introduced capitation, there was a perception that we wouldn't have to work capitated claims. The reality is, staff still need to process a clean claim, the payer still needs to receive the encounter, and we still need to process a remittance and follow through as necessary. It's definitely not a free for all.
RCAC: That's interesting, because I think it's an assumption a lot of us in revenue cycle may have made. Let's talk about what you're working on now—what are your current challenges?
Sevenikar: One of the areas Sharp is focusing on is the payer-provider relationship. Typically the relationship starts with contracting, and sometimes that means it starts in an adversarial place because both sides are trying to get what they want.
We want to start these conversations in a better way. For example, our biggest areas of denials tend to be medical necessity and patient status.  At the end of the day, if we can agree on this, life would be easier.
So, we started a pilot eight months ago with one of our payers—we opened medical records to them in exchange for presumptive authorization of patient status (inpatient vs. observation) for same-day and ED admissions.
The medical records are accessible to the payer concurrent with the stay, and the payer has 48 hours after admission to review the patient's status. If the payer intends to deny the admission, they have to notify us and give us the reason. We can then secure missing documentation for the records as appropriate. If the payer doesn't reach out to us, the admission is preemptively authorized.
We decided to start with this specific payer because we had a very high appeal success rate (overturn rate of 85%). Payers need to lower their costs too, particularly administrative overhead, and so we all saw this as a potential "win-win."  So far, we've had zero notification denials.
And the pilot has actually expanded.  Six months after launch, we began to get some discharge requests for diagnosis-related group (DRG) reviews. So we opened up the records to allow the payer to review the DRG. We did see an increase in post-service audits, but it was expected—it's like playing whack-a-mole. We've also expanded to other payers—we are working under the same arrangement with four others.
RCAC: That's such an interesting way to work with payers on denials, and so many revenue cycle leaders around the country and struggling currently with both denials prevention and mitigation. What else are you working on in the denials space?
Sevenikar: We are currently working with a vendor who employs an algorithm to determine the clinical acuity of the patient. If Sharp and our payers could mutually agree upon a method for using predictive analytics to determine IP status, we could push case management to a new level of efficiency.  It would be a giant leap forward.
RCAC: That would be huge. Where have you prioritized the most investment in terms of both time and staff?
Sevenikar: The Revenue Cycle Team at Sharp is always looking for progressive, innovative ways of improving our business and perfecting our work flows. We started our HRO (high reliability organization) journey in 2015 and have taken those concepts to heart in the revenue cycle. 
Our focus is on zero harm and zero defect. One of our largest projects is our "clean claim" percentages, so we engaged our Six Sigma division and have a target of 95% first pass clean claims. We are pushing rules further up in the revenue cycle so that when the claim is released, it goes through our scrubber and transmits to the payer first pass.
What this translates to in our work force is that billers are only touching inventory that requires action.  This is very different than the employee of five or 10 years ago, when a high volume of accounts just needed someone to "look and make sure everything was there" before billing it. Today, we build rules to only stop what needs to be looked at.
We all are looking at how to improve our margins, managing cost is a high priority.  Creating these efficiencies in workflows and engaging our teams in a real time productivity tool that rewards and recognizes achievements are two ways to help us get there.
And, building our revenue integrity strategy and creating efficiencies in our HIM Release of Information workflows are two other areas that we have prioritized this year.
RCAC: We know that patient experience is incredibly important to Sharp, with The Sharp Experience.  How does that apply to the revenue cycle?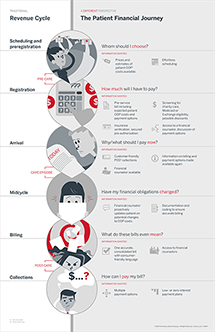 How to deliver a positive patient financial experience
Sevenikar: Another focus area is the patient financial experience. We are currently recruiting an Experience coordinator who will create a financial experience journey map (from scheduling to closing accounts) to make sure messaging and experience is consistent, and to find touchpoints to improve, and to delight our patients.
RCAC: Do your patient experience efforts include plans for a single patient bill?
Sevenikar: We tried working on a single bill, but gave up trying to do it through paper billing. Instead, we use our patient portal, which has a significant amount of utilization—about 25% of our patient population. We've implemented a single bill via the patient portal resulted in a cash influx of $600,000 as it's much more convenient for patients to pay this way.
RCAC: You have quite a bit happening at Sharp. Any other areas we haven't touched on that you're excited about?
Sevenikar: A last focus area is employee engagement and retention, particularly among our millennial staff. For the past eight months, we've been developing a "gamification" program in some of our departments—beginning with pre-billing and moving toward the customer service team.   
The idea was to treat revenue cycle productivity as a game, and encourage staff to continue to strive to reach the "next level," the way people do with video games and apps like candy crush. The process began with an exercise to determine the optimal workflow, and then worked with our analytics team to find trigger points in productivity. At those points, we attached "coins" to encourage staff to strive to that next level.
Each employee builds his or her own avatar, which appears on a leader board. As they do their work and accrue points for their productivity, they move across the leader board in real time, and managers are able to track performance using a gamified tool.
There are rewards for consecutive top-performance days, top players, and employees can even challenge each other. The coins employees earn can be used to buy things like gift cards, t-shirts, or 15 minutes off with pay.
Employee engagement in this idea was critical, so we first pitched the idea to them, and they loved it.  The team has been involved in the development and discussion and this involvement alone has been an engagement driver. Last year, our turnover rate was 6%, and now we are sitting at 1.8%.
RCAC: That's such a unique approach to engagement and productivity. You clearly have proof of concept with the change to turnover rate.  In general, how do you define high performance in the revenue cycle?
Sevenikar: A high performing revenue cycle provides gold star customer service, serves as guardians of the revenue cycle, secures every dollar they are entitled to via charge capture, documentation, and codification, in the most cost-effective manner possible.