How to address the needs of your rising-risk patients
Here are your two most frequent questions—and the answers you need to know:
1) What is best practice for identifying rising-risk patients?
Every provider engaged in risk-based contracts agrees that effective care management for high-risk patients is a universal starting point. But to manage population health successfully, providers must invest in care management for "rising-risk" patients—each year, about 18% of such patients escalate into the high-risk category when not effectively managed. By investing in rising-risk patients' management, organizations can significantly slow the progression from the rising-risk to the high-risk patient cohort and avoid the associated costs.
To develop a sustainable strategy for identifying rising-risk patients and managing their care, keep in mind these key components:
Refresh your strategy to identify at-risk patients every one-to-two years, focusing on key risk factors and escalation triggers;


Use the medical home as the epicenter of patient management;


Focus patient education on building self-management skills; and


Engage community organizations to fill care gaps surfaced in the community health needs assessment.
2) How can we identify, measure, and address the effect of social determinants of health on patient outcomes?
Health systems are becoming more aware of the systemic effects of social determinants of health, as nonclinical risk factors are increasingly linked to adverse patient outcomes. To identify the most pressing social barriers to care, such as social isolation or food insecurity, start with these four steps:
Design a framework to prioritize across equity efforts by ensuring leadership reflects community diversity and training staff (e.g., with cultural competency) to identify and understand disparities;


Use a data-driven approach to decide the proper starting place by using open-access databases (e.g., census data) to geo-hotspot zip codes reflecting a disproportionate amount of targeted nonclinical risk factors (e.g., lower socioeconomic status);


Tap into community knowledge for a nuanced approach by assigning staff based in community settings the responsibility of directly identifying the most common barriers to patient access and self-management. Then use that feedback to identify interventions most likely to succeed; and


Tie system-level priorities under value-based care efforts to high-impact interventions to combat disparities at their source and connect patients to targeted support.
Most programs strive for a positive financial ROI when they invest in addressing various social determinants of health, but—in the short-term—that's an often unattainable goal. In the interim, use process metrics as a proxy to estimate success during year one of a new initiative, then incorporate outcome measures in year two to fill the range of competencies outlined below.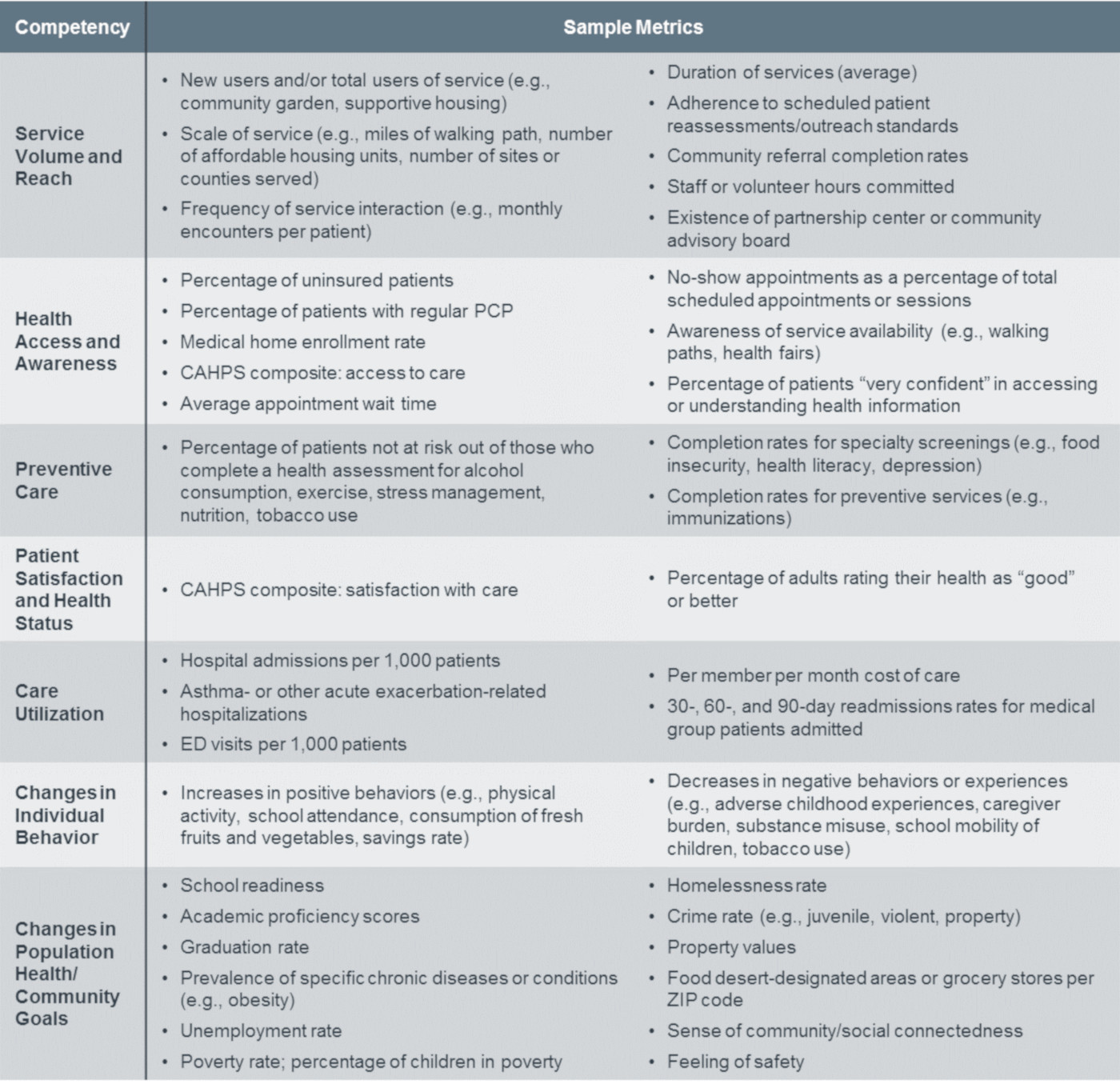 After identifying these social and environmental risk factors, collaborate with community partners to build sustainable, community-centered programs. Here are three ways you can address nonclinical needs and improve outcomes through partnerships:
Meet fundamental needs critical to clinical success: To enable patients to prioritize their health care management—and, in turn, significantly cut affected populations' ED visit rates, hospital length of stay, and readmission rates—you must first meet patients' baseline needs, such as hunger and housing.


Remove barriers to access by tailoring services to a patient's severity of need: Improve access to health services limited by logistical barriers (e.g., work hours, lack of transportation) by offering ride-share services, hosting health fairs, or developing a mobile health clinic program.


Engage disconnected patients at-risk of clinical escalation: Partnerships with community-based organizations (e.g., religious institutions, barbershops) that service at-risk, disengaged patient populations can drive engagement with the health system and reduce the community-provider trust gap.
Access our Population Health Job Description Library
When hiring your population health team, why start from scratch when we've already vetted the best job descriptions from leading organizations?