The resulting ED-based Life-Sustaining Management and Alternatives (LSMA) program has been providing care to patients with unmet hospice and palliative needs ever since. The program keeps non-acute patients out of inpatient beds while ensuring they receive appropriate care at the right time, without slowing down ED operations or overwhelming staffing needs.
LSMA program integrates seamlessly into emergency department operations
When patients enter the ED, transporting paramedics or triage nurses flag potential palliative care needs by asking themselves an important question: "Would I be surprised if the patient died during this visit?" If the answer is no, or if the patient has a complex chronic condition (another trigger for a consult), the palliative care nurse navigator is called to the patient bed to determine whether or not the patient should be seen by the palliative care physician.
For eligible patients, the palliative care team then provides consults, treatment, advance care planning, and transition services to ensure that the patient not only receives the care they need in the short-term, but is best positioned for ongoing care. Because palliative care physicians are double-certified in palliative and emergency medicine, the palliative needs can be addressed concurrent to the patient's other conditions.
Flowchart of LSMA Operations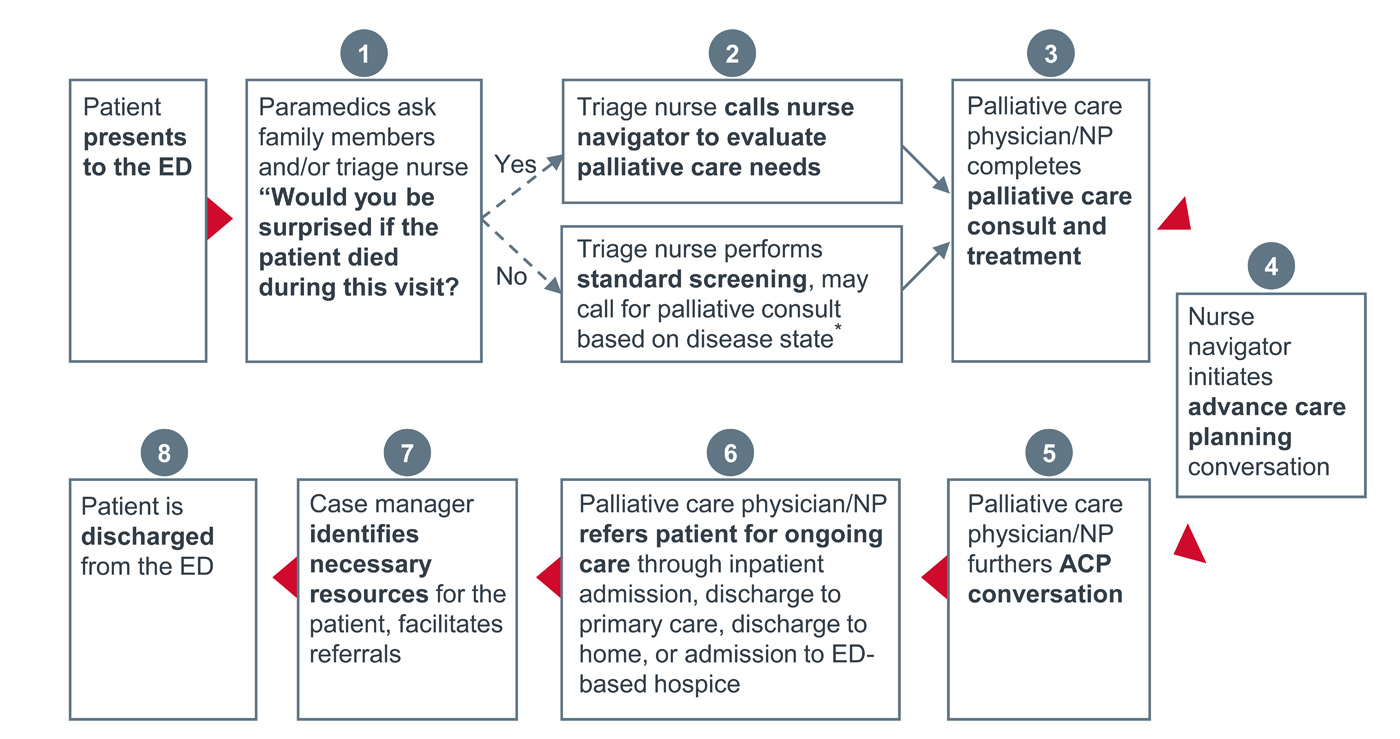 *Disease state triggers include cancer, dementia, delirium, organ-based chronic illness (CHF, renal failure, etc.).
Sources: St. Joseph's Regional Medical Center, Paterson, NJ; Population Health Advisor research and analysis
With clear role delineation, palliative care staffing needs are minimal
To guarantee coordinated care while still preserving efficient ED operations, each care team member at St. Joseph's has clear roles and responsibilities:
The triage nurse is responsible for flagging patients that may need palliative care services based on disease state or likelihood of fatality and handing them off to the palliative care team.
The nurse navigator is responsible for evaluating at-risk patients' palliative care needs, obtaining consult permission from a patient's PCP, and then communicating the needs to the palliative care physician/NP. The nurse navigator also initiates advance care planning conversations with patients who lack advance care plans and/or documentation.
The nurse champion takes on nurse navigator responsibilities to ensure continued palliative care nursing staff coverage even when nurse navigators aren't on-call.
The palliative care physician/NP provides palliative care consults and treatment in the ED and participates in advance care planning conversations with willing patients, and refers patients for ongoing care.
The case manager helps to execute the physician/NP's referrals by connecting patients to internal and external resources that best meet their needs.
But this clear staff delineation doesn't have to mean huge resource investment. In the case of the LSMA program, no new staff was required. While nurse navigators and champions are RNs specially trained in palliative care and physicians/NPs are dual-certified in emergency and palliative medicine, the care team continues to operate as traditional ED staff. This suggests that even minimal staffing investment can improve care and reduce unnecessary acute utilization for emergency palliative care patients.
May 17 webconference: Care Management 101
Join us on Thursday, May 17 to learn the 5 key attributes of effective care management organizations—from patient recruitment through graduation.
Register Now