We often hear that infusion center nurses and advanced practitioners are not being leveraged effectively because they have too much on their plates between documentation, patient education, and symptom management. Clinical support staff, which includes LPNs, CNAs, and MAs, represent a prime opportunity to ensure top-of-license practice among your highest-paid staff.
We surveyed more than 250 infusion centers on their staffing models and operations to discover key insights on the right clinical support team.
LPNs, CNAs, and MAs not the same; facilities hired more MAs than LPNs
While it would be tempting to hire clinical support staff as a catchall role, it is important to keep in mind that LPNs, CNAs, and MAs have different scopes of practice and each of these roles can contribute to your infusion center in a different way. For example, our survey results revealed that MAs were the most commonly hired clinical support staff, with a median of 2.2 FTEs budgeted per institution. In contrast, less than 10% of institutions had LPNs with a median of 1 FTE.
Interestingly, academic medical centers and teaching hospitals did not have more LPNs, but are likely to have more MAs and CNAs than community and freestanding centers. Because these facilities tend to treat more complex patients, CNAs and MAs may be critical to increase top-of-license practice among nurses and APs. To ensure that all of your staff are being used effectively, you can create a  scope-of-practice matrix to identify responsibilities for each clinical role within your infusion center.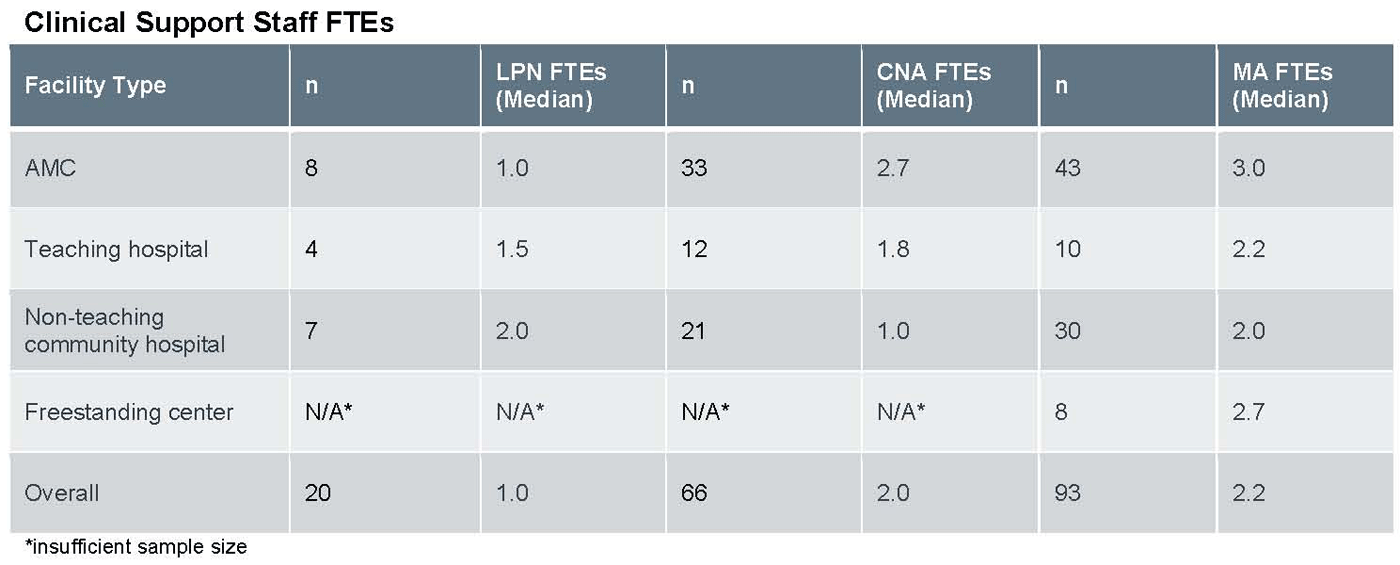 Patient to support staff ratio varies by facility type
Overall, organizations with clinical support staff have a median of 15 daily patients per staff member, although this ratio varied across facility types. Teaching hospitals tended to have the highest number of patients per support staff with a median of 22 daily patients per staff member while freestanding centers only had 9.5 daily patients per staff member. Support staff at AMCs and community hospitals fell in the middle, caring for a median of 14.6 and 16.0 patients respectively.
It's also worth mentioning that there are significant limitations to this calculation. This analysis is meant to provide a benchmark for the ratio of patients to support staff, but it does not reflect the number of patients that staff may be responsible for at any given time.
Interestingly, facilities with clinical support staff treated a median of 40 patients a day, compared to 26 patients a day in facilities with no clinical support staff. While there are a lot of variables that impact patient volumes, clinical support staff can play an important role in improving efficiency and top-of-license practice.