More than a decade after FDA first approved a helmet that uses transcranial magnetic stimulation (TMS) to treat major depressive disorder, researchers are still unsure of how exactly the science fiction-like device works, James Hamblin writes for The Atlantic.
Ready-to-present slides: Neuroscience market trends for 2019
What is TMS?
TMS uses electrical currents to essentially "rewire" a person's brain, Hamblin writes. The technique was first used as a diagnostic tool for the motor cortex in the 1980s. FDA approved the first TMS helmet, NeuroStar, to treat psychological disorders, such as major depressive disorder, in 2008, Hamblin writes. Since then, others have followed. FDA in March designated BrainsWay's TMS helmet, as a Class II medical device—a designation that means the device is presumed to be safe. It's the same classification as electric wheelchairs and pregnancy tests.
Inside the BrainsWay helmet, wires deliver electrical charges through capacitators in bursts. Then, pulses pass a second current that alters the brain's electrical fields, according to Hamblin. When the currents reach the patient's head, "[t]he scalp and skull do not shield the electrical processes in the brain from such a force any more than a cubicle wall shields your ears from a colleague who is incapable of keeping his phone on silent," Hamblin writes.
According to TeeJay Tripp—medical director of Serenity Mental Health Centers, a clinic that provides the treatment—TMS activates the prefrontal cortex, which can then impact the amygdala and other structures related to emotion in order to rewire the brain to experience fewer symptoms of depression and OCD.
The organization said it also offers patients TMS to treat "ADD/ADHD, addiction, Alzheimer's disease, anxiety, autism, bipolar disorder, chronic pain, eating disorders, multiple sclerosis, schizophrenia, stroke rehabilitation, and substance abuse." FDA has only approved TMS for treating depression and OCD, but it can still legally be used off-label, Hamblin writes.
What do we know about TMS?
While some well-known hospitals, including Johns Hopkins University and Yale School of Medicine, offer TMS, the treatment is not really common, or well-known, Hamblin writes. "Even when I surveyed physician friends about it, several hadn't heard of it, and no one had seen it used in more than a rare case," Hamblin writes. "It is certainly not woven into typical treatment plans."
There's also a lot of unknowns surrounding the technology.
The Mayo Clinic in a paper said that while "the biology of why TMS works isn't completely understood, the stimulation appears to impact how the brain is working, which in turn seems to ease depression symptoms and improve mood."
It's also unclear whether TMS has a lasting effect on patients' brain function, according to Hamblin.
The lack of research and understanding that surrounds TMS creates a lot of uncertainty, according to Hamblin. For instance, the claim that the helmets rewire patients' brains is at odds with FDA's classification of the device, Hamblin writes. According to Hamblin, FDA typically classifies devices that change human physiology, such as things that "rewire" the brain, as Class III.
In addition, some experts are concerned that, if the process really does rewire patients' brains, TMS could cause "unwanted cortical activity or serious adverse effects," Hamblin writes, adding "anything that proposes to offer a hard restart to your central nervous system, the health risks cannot be zero—and should be expected to be significant."
But does the helmet work?
As for patients, the TMS appears to have varied levels of success.
Bre Hushaw, a senior at Northern Arizona University, described the device as lifesaving. Hushaw suffered from depression since her mother died when she was 10 years old, and her symptoms worsened after a shooting at her school in 2015.
"From age 15 until I was 20, I was extremely suicidal, and I was self-harming," Hushaw said. She'd tried several medications to treat her depression before learning about the BrainsWay helmet.
For treatment, Hushaw underwent TMS for 20 minutes, five days per week, for six weeks. Hushaw liked the treatment to being "tapped" by a pencil, Hamblin writes, but the results were impactful. After wearing the helmet, Hushaw said, "I felt like there was a huge blanket that was lifted off my shoulders and I felt completely free. … It actually, really saved my life."
But other patients have said TMS didn't do anything to relieve their depression or anxiety at all. For example, LeeAnn Tucker underwent TMS for six weeks to treat her anxiety disorder and PTSD, but after almost two months of treatment, nothing changed. "I would love to say it worked, but I felt no different when it was over," she said (Hamblin, The Atlantic, 4/19).
Ready-to-present slides: Neuroscience market trends for 2019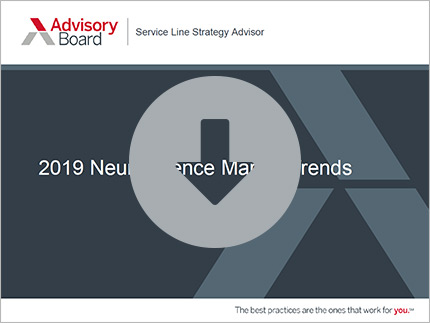 Want the latest information for your next neurosciences meeting? We updated our most popular slides on neuroscience with the latest market trends. This ready-to-use presentation covers everything from growth outlook and financial considerations to new care management priorities and technology innovations.
Use the slides to frame your next strategy meeting and build a strong foundation for your presentation.