Payment incentives, outdated patent regulations, and other factors have allowed drugmakers to increase the price of insulin by nearly 300% from 2002 to 2013, according to a bipartisan congressional report released Thursday.
Download the executive's guide to key pharmacy issues
Report details
For the report, Reps. Tom Reed (R-N.Y.) and Diana DeGette (D-Colo.), co-chairs of the Congressional Diabetes Caucus, launched a nearly year-long bipartisan investigation on the rising cost of insulin. The investigation involved consultations with health care providers, health insurers, insulin makers, patients, pharmacies, pharmacy benefit managers (PBMs), and wholesalers. The report focuses on the factors driving the increase in insulin prices and offers policy proposals to reduce insulin costs.
Findings
Reed and DeGette found the average price of insulin nearly doubled in 2012, even after insulin prices had increased significantly over the prior decade.
Reed and DeGette in the report wrote, "[M]arket failures have allowed a handful of players along the insulin distribution pipeline from manufacturers to health insurers to capitalize on their strategic positions, driving up the price of insulin and minimizing competition."
According to the investigation, insulin prices have increased over the past few years because "the insulin market has an influx of upward price pressures without offsetting downward forces." Reed and DeGette found "the structure of the insulin delivery and payment pathways create several incentives for entities along these pathways to artificially raise the price of insulin."
For example, wholesalers can generate a profit from selling insulin to pharmacies by setting the cost of insulin higher than their acquisition costs, according to the report. Reed and DeGette also note the current rebate system provides an incentive for PBMs to accept high-priced drugs. According to Reed and DeGette, drugmakers pay PBMs rebates in exchange for a spot on a formulary, which is a list of drugs covered under a health plan. As a result, drugmakers can set high list prices, but PBMs will not pay the prices because of the discounts. Instead, uninsured patients end up paying the high list prices.
Reed and DeGette in the report also note a lack of pricing transparency has contributed to the increase in the cost of insulin.
11 policy recommendations to bring down insulin prices
Reed and DeGette in the report recommended 11 policy proposals to address the rising cost of insulin:
Allow generic drugmakers to manufacturer older, off-patent versions of insulin;
Cap out-of-pocket costs for prescription drugs designed to treat chronic conditions;
Encourage the development of generic insulin products by addressing extensions on patents;
Link a patient's out-of-pocket costs to negotiated prices instead of list prices;
Promote the development and use of value-based contracts between insulin makers and PBMs;
Promote the use of standardized fees and other payment arrangements instead of rebates between insulin makers and wholesalers;
Restrict the number of changes an insurer can make to a formulary each year;
Require insulin makers, PBMs, and health insurers disclose the value of rebates to other entities in the insulin supply chain; 
Require manufacturers disclose how they determine the list price of insulin products;
Standardize the process for patients to challenge formulary restrictions; and
Standardize a process for drug formularies to disclose patient cost-sharing information (Hellmann, The Hill, 11/1; Luthi, Modern Healthcare, 11/1; Paavola, Becker's Hospital Review, 11/2; Diamond, "Pulse," Politico, 11/1; DeGette and Reed report, 11/1).
Five ways to control the flow of drug expenditures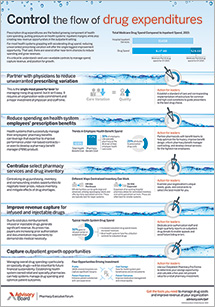 Prescription drug expenditures are the fastest growing component of health care spending. And while reducing unwarranted prescribing variation is the single biggest improvement opportunity, there are several other near-term chances to reduce spending and grow revenues.