Read Advisory Board's take on this story
Providence St. Joseph Health, a 51-hospital network based in Washington, has rolled out initiatives to help doctors understand and make care plans in line with patients' end-of-life wishes, Alex Kacik reports for Modern Healthcare.
Download URMC's conversation prompts to start improving end-of-life care for patients
More hospitals offer palliative programs—but obstacles remain
Palliative care has seen a gradual rise in recent years, Kacik writes. A study published in Health Affairs last year found the percentage of hospitals with more than 50 beds that had a palliative care program rose from 25% to 75% between 2000 and 2015. The researchers credited educational efforts by the Center to Advance Palliative Care for the rise.
New payment models have helped spur the rise of palliative care programs as well, Kacik reports. The 2016 physician fee schedule included new codes that allow doctors to be reimbursed for end-of-life planning. According to CMS, almost 23,000 providers billed Medicare for end-of-life planning appointments on behalf of roughly 575,000 Medicare beneficiaries in 2016.
But while it's become more economically feasible for hospitals to provide palliative care, there are still cultural obstacles, according to Ira Byock, founder and CMO of Providence St. Joseph Health's Institute for Human Caring. "This is still misinterpreted as being about death or only necessary when someone is seriously ill," he said. "People have to understand that excellence in care needs to be highly tailored to them as a person and not just a problem list."
What Providence is doing
With these cultural barriers in mind, Providence St. Joseph has sought to improve conversations between doctors and patients around end-of-life planning.
For instance, Providence St. Joseph now offers an advanced directive online toolkit that assists patients in deciding which type of palliative care program is right for them. Their choice is recorded in Providence's EHR, which alerts doctors if treatments appear contradictory to the patient's wishes. The toolkit is available in several languages and designed for each of the seven states where Providence St. Joseph's operates, Kacik reports.
"We are trying to create a new environment where it's easier to ask these questions, listen better and document all this in the EHR so it's part of the routine," Byock said.
Further, Providence St. Joseph's is training physicians and staff across its hospital network on how to have end-of-life conversations and ensure patients are aware of realistic outcomes to potentially difficult treatments, Kacik writes.
The organization also sends videos and other resources to patients and their families to help them fully understand their medical conditions and palliative care options.
In addition, the Institute for Human Caring worked with StoryCorps, which records and shares Americans' personal stories, to create a platform called Hear Me Now, which allows patients, family members, and caregivers to share personal stories related to "whole-person care."
Rod Hochman, president and CEO of Providence St. Joseph, said, "For some clinicians, it's easier to say we will just do more." However, Hochman's experience coordinating a treatment plan after his father had a stroke gave Hochman insight into how patients feel about aggressive medical interventions after a major medical event. Hochman told Kacik that he had to fight with his father's physician, who wanted to prescribe aggressive treatment that scans showed would be ineffective. "It gave me an appreciation for what we put our patients through all the time. And it helps me appreciate what our clinicians need to do," Hochman said (Kacik, Modern Healthcare, 5/29; StoryCorps website, accessed 7/12).
Advisory Board's take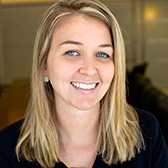 Deirdre Saulet, Practice Manager, Oncology Roundtable
Improving end-of-life care has been a longstanding priority for health care providers, but many struggle to overcome the numerous cultural and clinical barriers to doing so. For example, only 2% of the oncology board certification exam relates to end-of-life issues. Therefore, it's not surprising that many physicians feel unprepared and uncomfortable broaching end-of-life issues with their patients.
To encourage and support providers in having these discussions, there are three strategies organizations can deploy:
Identify high-risk patients: Organizations can help providers in identifying which patients are at the highest risk of dying so that they can prioritize conversations with those patients. The simple method of asking doctors, "Would you be surprised if this patient died within the next year?" can be effective. However, given quickly evolving treatments and the human tendency to err on the side of optimism, using data to objectively evaluate patients' risk of mortality is often more reliable.

At the Denver Veterans Administration Medical Center, researchers created prognostic criteria to identify patients with the highest mortality risk. The criteria rely on data that every patient could tell their provider or could easily be extracted from the patient's chart. Among a hospitalized veteran population, the tool demonstrated 79% sensitivity (rate of correct positive prediction) and 75% specificity (probability of correct negative prediction). These tools are rapidly developing; for instance, researchers at Stanford are now partnering with Google to leverage AI for predicting patients' risk of mortality for a number of conditions.

 

"After using the tool, documentation of advanced directives for breast cancer patients have increased from 19% to 81%."

 

Make advance care planning standard for all patients: In 2006, the Institute of Medicine issued a report recommending that every cancer patient receive a care management plan with 13 components, including an advanced care plan. Since then, few—if any—organizations have been able to accomplish this hefty task. But the Oncology Care Model (OCM), which launched in 2016, reemphasized the importance by including IOM care plans as a requirement for participating practices.

UAB Medicine, AtlantiCare, and the USA Mitchell Cancer Center are using treatment planning software, Carevive, to meet this requirement. Using patient-reported and clinical data, the tool alerts them when patients do not have an advance care plan documented.  Since using the tool, documentation of advanced directives for breast cancer patients have increased from 19% to 81%.

Tap into the entire care team: With growing patient panels and a never-ending to-do list, oncologists and other providers benefit from the support of other care team members.

At Gundersen Health System, medical assistants are responsible for identifying patients without advance care plans and flagging them for oncologists. After highlighting the importance of advance care planning, oncologists introduce patients to a social worker, who walks patients through the process and saves the plan in the EHR. After implementing this process, Gundersen saw the percentage of cancer patients with documented advance care plans skyrocket to 60% from 15%.

 

"After implementing this process, Gundersen saw the percentage of patients with advance care plans skyrocket to 60% from 15%."

 

UAB Medicine uses lay and clinical navigators to talk about end-of-life issues with patients. The navigators undergo robust training, including an internal certification course with the directors of palliative care, medicine, and nursing, as well as Gundersen Health System's online 'Respecting Choices' end-of-life training program. For patients who get the services of a navigator, UAB documented an 18% decrease in costs of care for the last 90 days of life and a 13% increase in hospice use in the last two weeks of life.
To learn more about the four tactics to improve patient care and reduce cost at the end-of-life, check out our new research brief on improving end-of-life care for cancer patients.