It's common practice for donated livers, once removed, to be packed on ice while they await transplant, but a new study published Wednesday in Nature found that livers were far less likely to be discarded if they traveled in a device that mimicked the human body. 
Here are 5 key tactics to attract and retain transplant patients
According to STAT News, FDA recently approved a similar device for storing lungs, which when taken with the liver findings "underline a shift in thinking about how best to handle organs for transplants."
Study details
Ever since organ transplants became common medical practice in the 1960s, organs for transplant have been stored in cold conditions—commonly packed on ice like "beers on a camping trip," STAT News reports. The exact chemicals used to preserve an organ have changed over time, but the basic approach has remained similar.
But researchers from the Consortium for Organ Preservation in Europe noted that sub-optimal livers do not tolerate the cold well and often end up unusable. The researcher hypothesized that "normothermic preservation," in which livers are stored and transplanted at warm temperatures, would enable transplant surgeons to safely salvage more livers.
To test this theory, they used OrganOx's perfusion machine, called Metra, to keep livers perfused with blood at 98.6 degrees Fahrenheit—the internal temperature of the average person. The researchers in a randomized trial with 220 liver transplantations tested the difference between those preserved using the traditional cooling method and those preserved using normothermic preservation.
Findings
The researchers found livers stored using Metra were about half as likely to be discarded as those stored using conventional methods. They found 16 of the 137 livers maintained by the Metra were discarded, compared with 32 of the 133 livers stored in cold conditions.
The researchers discovered that normothermic preservation extended the length of time livers were viable outside of the body. With those stored using normothermic preservation remaining viable for an average of 12 to 13 hours, compared with seven to eight hours of viability for those stored in cold conditions.
Constantin Coussios—study co-author and co-founder of OrganOx, said that normothermic preservation keeps the liver "pretty much pink by [the] time it's delivered and makes a very rapid transition to normality once transplanted."
Reaction
Coussios said that his research team is confident that normothermic preservation would work with other organs as well, not just livers, and called the results of the study "a real watershed moment" for organ transplant practices.
Several transplant surgeons who were not involved with the study praised the findings.
Ronald Busuttil, chair of surgery at UCLA Medical Center and founder of UCLA's liver transplant division, said the normothermic preservation technique "a very, very exciting new modality to revive and restore livers that might otherwise be discarded."
Markus Selzner, the surgical director of the liver transplant program at Toronto General Hospital who also was not involved with the study, called the study a "landmark paper … truly a breakthrough in organ preservation."
James Markmann, chief of the transplant surgery division at Massachusetts General Hospital, said that normothermic preservation "should translate into saving lives of people who are waiting for a transplant" (Healy, Los Angeles Times, 4/18; Boodman, STAT News, 4/18).
Here are 5 key tactics to attract and retain transplant patients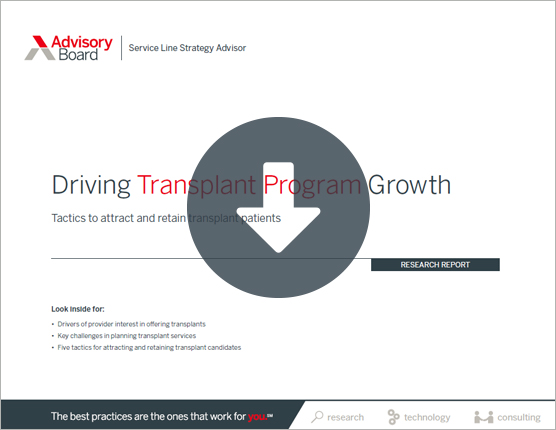 Download this briefing to learn how to expand the pipeline of potential transplant patients and engage them across the care pathway.