JPMorgan Chase CEO Jamie Dimon in an annual letter to stakeholders outlined six "critical problems and issues" that JPMorgan, Amazon, and Berkshire Hathaway will focus on under a joint venture to launch a health care company.
Read Advisory Board's initial take on the partnership
Background
Amazon, Berkshire Hathaway, and JPMorgan in January announced a new partnership. At the time, the three companies said their goal was to identify "technology solutions" that would provide "simplified, high-quality, and transparent health care at a reasonable cost." The three companies said the new health care company will be "free from profit-making incentives and constraints."
In February, Berkshire Chair Warren Buffett in a CNBC interview added that the venture aims to find a lower-cost way of delivering better health care.
Letter details
In his annual letter, Dimon provided more detail on the venture, saying the companies will hire "a strong management team" to focus on six "critical problems and issues" in the health care industry:
Aligning incentives among patients, physicians, and insurers;
Determining why specialized and costly treatments are frequently over- and under-utilized;
Developing improved wellness programs, targeting obesity and smoking;
Examining the amount of money spent on administration, fraud, and waste;
Examining why an "extraordinary" amount of money is spent on end-of-life care; and
Empowering employees through access to health care data and telemedicine.
Dimon in the letter wrote that the venture will use "top management, big data, virtual technology, better customer engagement, and the improved creation of customer choice" to address issues in health care. He added that while the joint venture "will start very small," the participating companies are "optimistic."
Separately, Dimon in an interview with Yahoo Finance on Thursday said the companies have not appointed a CEO for the joint venture yet, and operations have not started. According to the letter, Dimon says he will continue updating investors on the joint company's progress in "coming years," which Bloomberg said indicates a long timeline for the company's goals. The sentiment echoes Buffett's comment in February, when he similarly predicted slow movement, saying, "I'm hopeful but don't expect any miracles out of us soon. … This is not easy. If it was easy, it would have been done."
Reaction
According to Axios' "Vitals," the new details that have emerged about the joint venture indicate the companies have "modest" aims.

Several other companies are working toward the same goals, "Vitals" reports, and it remains unclear whether the Amazon, Berkshire, and JPMorgan plan exclusively to lower the cost of care for their employees or to find solutions for the nation's broader health care system (Baker, "Vitals," Axios, 4/6; Tracer, Bloomberg, 4/5; Humer/Henry, Reuters, 4/5; Spitzer, Becker's Hospital Review, 4/5). 
Next, get 8 strategies to contain future cost growth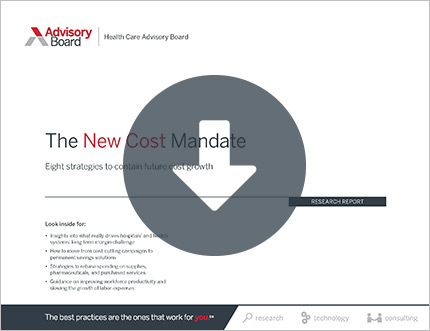 Download our new research report, "The New Cost Mandate," to learn the drivers of the emerging margin management challenge and get a road map of strategic solutions for hospital and health system leaders.