Your top resources for Covid-19 response and resilience
The reason behind the care delays boils down to fear: According to a survey by the American College of Emergency Physicians, 70% of consumers say they are very or somewhat concerned about contracting the new coronavirus if they go to facilities to receive care for issues not related to Covid-19. This fear is translating to lower rates of routine disease management and preventive screenings and lower rates of hospitalizations for acute conditions such as heart attacks, strokes, and appendicitis. In fact, according to data from Cigna, hospitalizations decreased by 35% for atrial fibrillation, 31% for transient ischemic attack, 28% for epilepsy and seizures, and 24% for gastrointestinal bleeds compared with pre-Covid-19 levels.
To reverse this troubling trend, providers must take immediate action to inform patients that deferring essential care can pose greater health risks than the risk associated with contracting the virus itself. To help, we've summarized both the potential precautions that your organization should consider to help assure your patients, as well as the tactics for communicating your facilities' safety protocols to patients.
Highlight safety precautions to mitigate infection risk
Before reaching out to the community, it's essential that organizations put the proper precautions in place—otherwise, they cannot hope to regain trust within their community. Below we outline six tactics your organization could deploy to create a safe environment for patients.
1. Separate your Covid-19-related services from your other offerings.
While most organizations are cohorting patients to treat Covid-19-positive patients separately from Covid-19-negative patients, health care organizations can take this a step further. For example, you could cohort by:
Location: While most organizations have already dedicated a wing in the hospital to treat Covid-19 patients, many are considering establishing provisional "Covid-19 free" hospitals, clinics, or urgent care facilities to give patients the reassurances they need to feel safe. One example is the University of Michigan's "injury-only" bone and joint clinic that treats only acute musculoskeletal injuries.


Hours: Another option is to establish special hours for high-risk patients. Similar to tactics used by grocery stores, reserving time for high-risk patients at a certain time of day can provide comfort to patients. This strategy could be used for scheduled preventive or follow-up visits for senior citizens, expectant mothers, and the immunocompromised.


Staff: Finally, patients may be reassured to know that you are cohorting staff so that those who treat Covid-19 positive patients are not also treating non-Covid-19 patients.
2. Establish screening and testing protocols.
Media reports have shown there's widespread confusion over screening and testing protocols, which is understandable given they can vary by state and location. But organizations can set patients' minds at ease by establishing clear screening and testing protocols for their facilities. For example, providers could:
Screen every individual for symptoms before entering the facility, including by taking their temperature. Consider pre-screens and automated platforms to quicken the process.


Test every patient (if able) before arriving for an elective procedure. Consider how you can make this process convenient for the patient, such as collecting samples from the home or a drive-thru setting.
 3. Adopt universal masking among patients and staff.
While personal protective equipment shortages (PPE) remain a problem for many organizations, those that have adequate supplies could alter policies to ensure all staff and patients are masked while inside the facility. Many organizations are now giving personal protective equipment to patients if they do not arrive to facilities with sufficient protection. For example, this is one key piece of Tideland Health's "Safe in Our Care" commitment.

 4. Continuously sanitize public spaces (in plain sight to patients).
Health care organizations know the value of a clean work environment. To ease patients' minds, take this one step further and ensure you're cleaning public spaces—and that you're doing so in plain sight of patients. For instance, you can:
Establish hand sanitizer stations;


Remove magazines, brochures, and other frequently touched objects from common areas;


Disinfect waiting area chairs, door handles, etc. continuously throughout the day; and


Emphasize that you're sanitizing rooms and equipment between patients. 
5. Take physical distancing precautions.
By now, most Americans have become very familiar with social distancing. Grocery stores and other essential businesses have made one-way aisles and placed stickers on floors to make sure people waiting in line are at least six feet apart. Patients, therefore, may be comforted to see similar practices in health care settings. For example, you may:
Put social distancing signage on floors and walls, especially in areas where patients stand in a queue;


Space out chairs in waiting rooms;


Establish contactless check-in and check-out procedures;


Have patients wait in cars until they are ready to be seen; and


Restrict the number of individuals (including visitors) allowed in a facility at one time to reduce density (this may require spacing out appointment slots).
6. Encourage use of alternative access points when appropriate.
Many health care organizations have limited entry points into their facilities so they can properly screen patients. However, some individuals may still feel uncomfortable entering the facility, and would prefer alternatives to receive treatment. Organizations should: 
Consider alternatives such as curbside or drive-thru stations to deliver essential services such as vaccines; and


Explain how options such as telehealth and house visits (if available) are in place to minimize the number of times patients have to come in physically for a visit.
Tactics for communicating your facilities' safety protocols
If you've already adopted the safety precautions outlined above, the next task is to ensure that your community understands the measures you have put into place to create a safe environment.
Don't hold back on this front—despite reports that providers have significantly increased communication with patients during the Covid-19 outbreak, current communication strategies may be falling short of quelling patient anxieties about receiving care. In fact, according to a recent ReviveHealth survey, 57% of respondents want to hear more from their local providers when it comes to Covid-19.
But how you approach these communications is just as important as getting them out to the public. While you're developing your Covid-19 messaging strategy, consider these five tips.
Providers should aggressively push out these messages to the public as soon as possible, because while consumer fear and anxiety is warranted and understandable, deferring essential care may ultimately pose a greater health risk to the communities that you serve.
Your top resources for Covid-19 response and resilience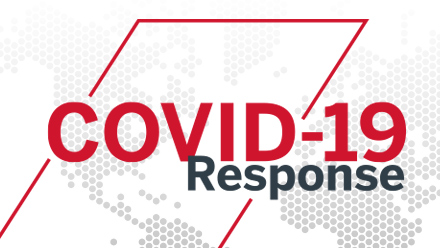 Get best practices and expert insights for safely treating Covid-19 patients, protecting and empowering staff, and navigating the road ahead for your organization.