CMS's physician supervision requirements continue to be an area of uncertainty and confusion for many of our members. Here, we have compiled the most up-to-date information on physician supervision for chemotherapy and radiation therapy.
What is "supervision"?
CMS defines three levels of physician supervision for hospital outpatient departments:
General supervision: The physician or advanced practitioner (AP) must be available by telephone to provide assistance and direction if needed.
Direct supervision: The physician or AP providing supervision must be "immediately available" and "interruptible" to provide assistance and direction throughout the performance of the procedure; however, he or she does not need to be present in the room when the procedure is performed.
Personal supervision: The physician or AP must be in attendance in the room during the procedure.
Overview of CMS's supervision requirements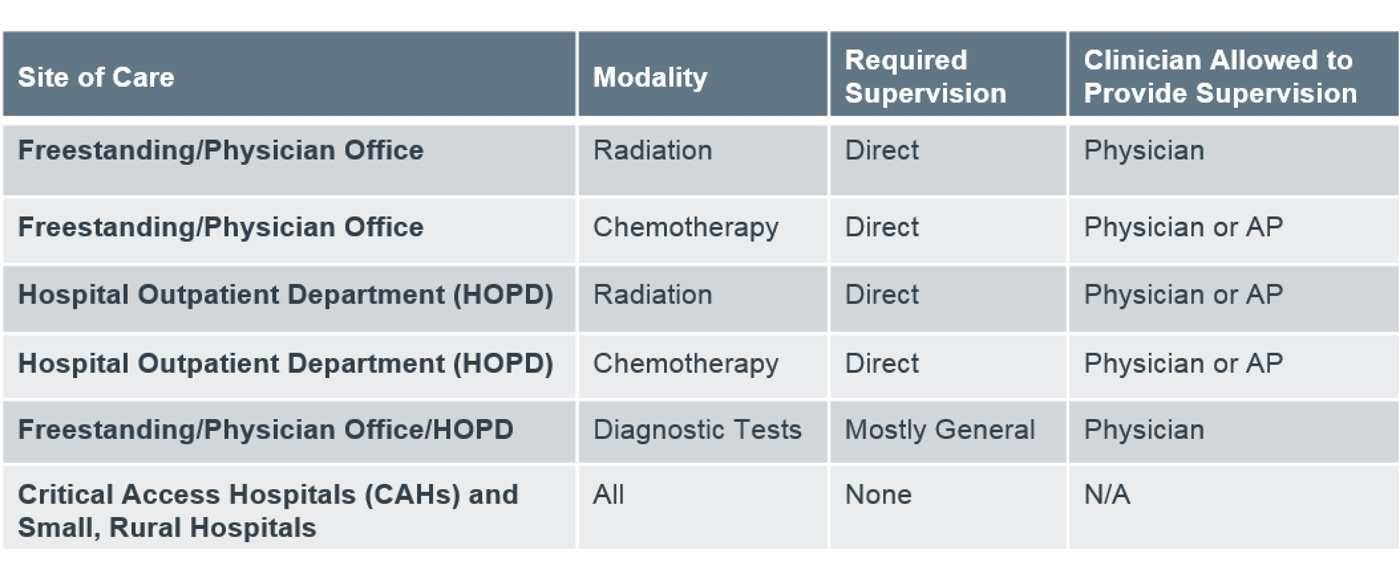 Chemotherapy and radiation therapy require direct supervision
All therapeutic services are subject to CMS's supervision requirements. Under these requirements, both chemotherapy and radiation therapy require direct supervision in both the hospital outpatient and freestanding settings.
Physicians and APs can provide supervision in hospital outpatient departments
CMS states that a physician or AP, such as a nurse practitioner (NP) or physician assistant (PA), must provide direct supervision of therapeutic services. The person providing supervision must be permitted to do so under state law, scope of practice regulations, and their hospital-granted privileges. In addition, he or she must have sufficient knowledge and training to be able "to furnish assistance and direction, not merely manage an emergency."
Get the oncology leader's Advanced Practitioner Toolkit
While CMS does not specify that radiation therapy services should be supervised by a radiation oncologist, it is the opinion of the American College of Radiology (ACR) that a board-certified/board-eligible radiation oncologist is the clinically appropriate physician to supervise these procedures.
More stringent requirements for radiation therapy in the freestanding setting
CMS's supervision requirements set a higher bar for physician offices and freestanding centers than for hospital outpatient departments for radiation therapy. Whereas CMS allows APs to provide supervision for radiation therapy in hospital outpatient departments, a physician is required to supervise these services in the freestanding setting. This is not the case, however, for chemotherapy supervision in the freestanding setting, which can be performed by either a physician or an AP. Click here to read more about the regulation differences. 
Diagnostic tests
With very few exceptions, diagnostic X-ray and other diagnostic tests payable under the physician fee schedule must be furnished under at least a general level of physician supervision and some require direct or personal supervision. The exact type of supervision required depends on Current Procedural Terminology (CPT) or Healthcare Common Procedure Coding System (HCPCs) code and can be found here. CMS maintains that the supervision for diagnostic tests in either the freestanding or hospital outpatient setting must be administered by a physician, not an AP.
Non-enforcement of supervision for critical access hospitals (CAHs) and small rural hospitals
In the CY 2018 HOPPS final rule, CMS has finalized a proposal to reinstate non-enforcement of direct supervision for outpatient therapeutic services for CAHs and small rural hospitals having 100 or fewer beds for CY 2018 and 2019. In other words, if your program qualifies as a CAH or a small rural hospital, there are no formally outlined supervision requirements for 2018 and 2019.
2016 MPFS clarification of "incident to" billing
In the 2016 MPFS final rule, CMS offered some critical clarifications around its supervision requirements. In the past, there's been confusion about who should be billing for "incident to" services when the physician providing supervision is not the physician who ordered the service. As shown in the graphic below, CMS included new language that states that the supervising provider must also be the billing provider for "incident to" services.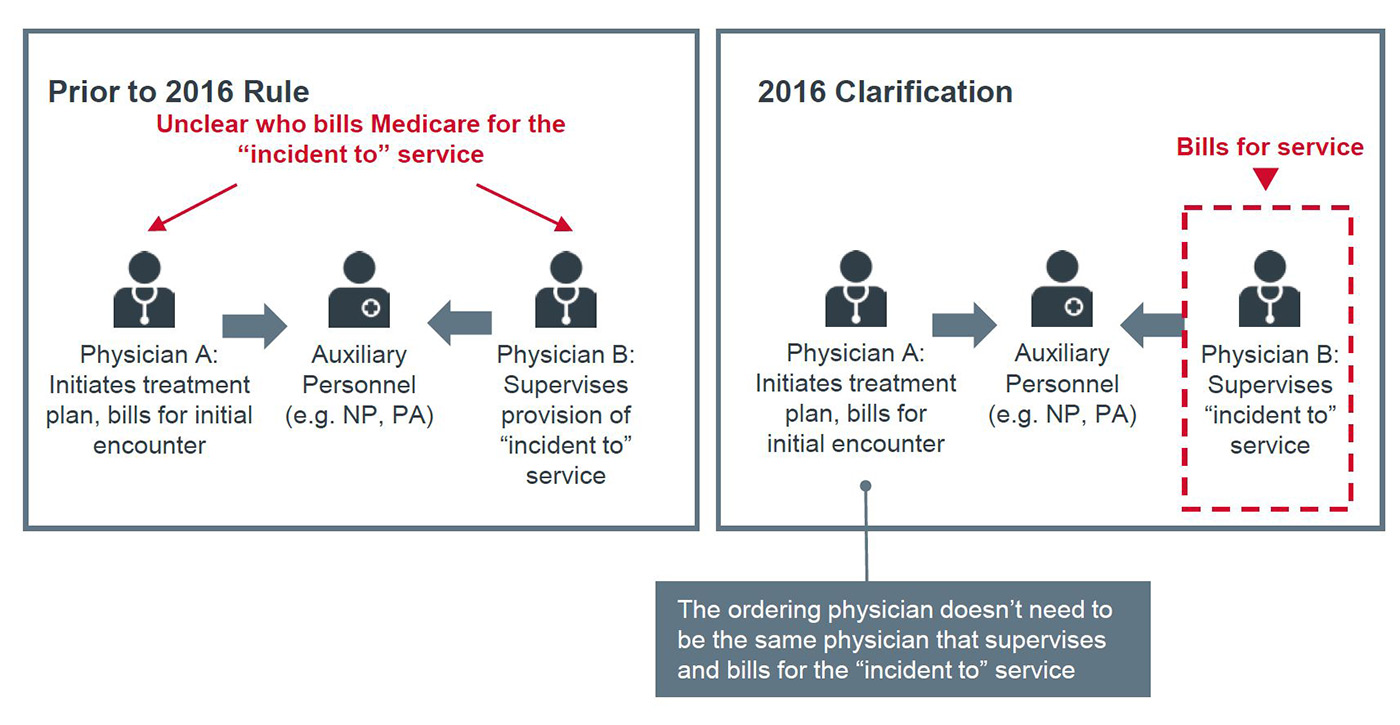 It is also important to note that CMS requires all "incident to" services performed by auxiliary personnel to be done under direct supervision of a physician. Additionally, because "incident to" services must be performed in a non-institutional setting to non-institutional patients, hospitals, off-campus sites owned by hospitals, and provider-based facilities must limit these services to discrete and separately identifiable parts of the facility.
HOP Panel reduces supervision required for multiple cancer-related services
As mandated in the 2012 and 2013 Hospital Outpatient Prospective Payment System Final Rule, the Hospital Outpatient Payment Panel (HOP Panel) will evaluate the supervision requirements for each therapeutic outpatient code. In August, 2012, the HOP Panel made a number of recommendations to CMS to adjust physician supervision requirements for specific services, including many cancer-related services. This committee recommended that several services can safely be provided with general supervision, instead of direct supervision.
Although CMS declined to adopt all of the Panel's recommendations, it did announce a reduction in the minimum required level of supervision for a number of services, including injection/infusion, intravenous, and central venous access services.
What are your peers doing?
During our 2015 Infusion Center Benchmarking Survey, we asked our members how their institutions deal with physician supervision. As shown in the table below, the most common team member providing supervision for infusions is medical oncologists, and many institutions also use APs to provide supervision.
Who provides supervision for chemotherapy?
In our 2016 Radiation Therapy Benchmarking Survey, we asked our members how their institutions deal with physician supervision in their radiation therapy facilities. As shown in the table below, more than 90% of respondents use only radiation oncologists.
Who provides supervision for radiation therapy?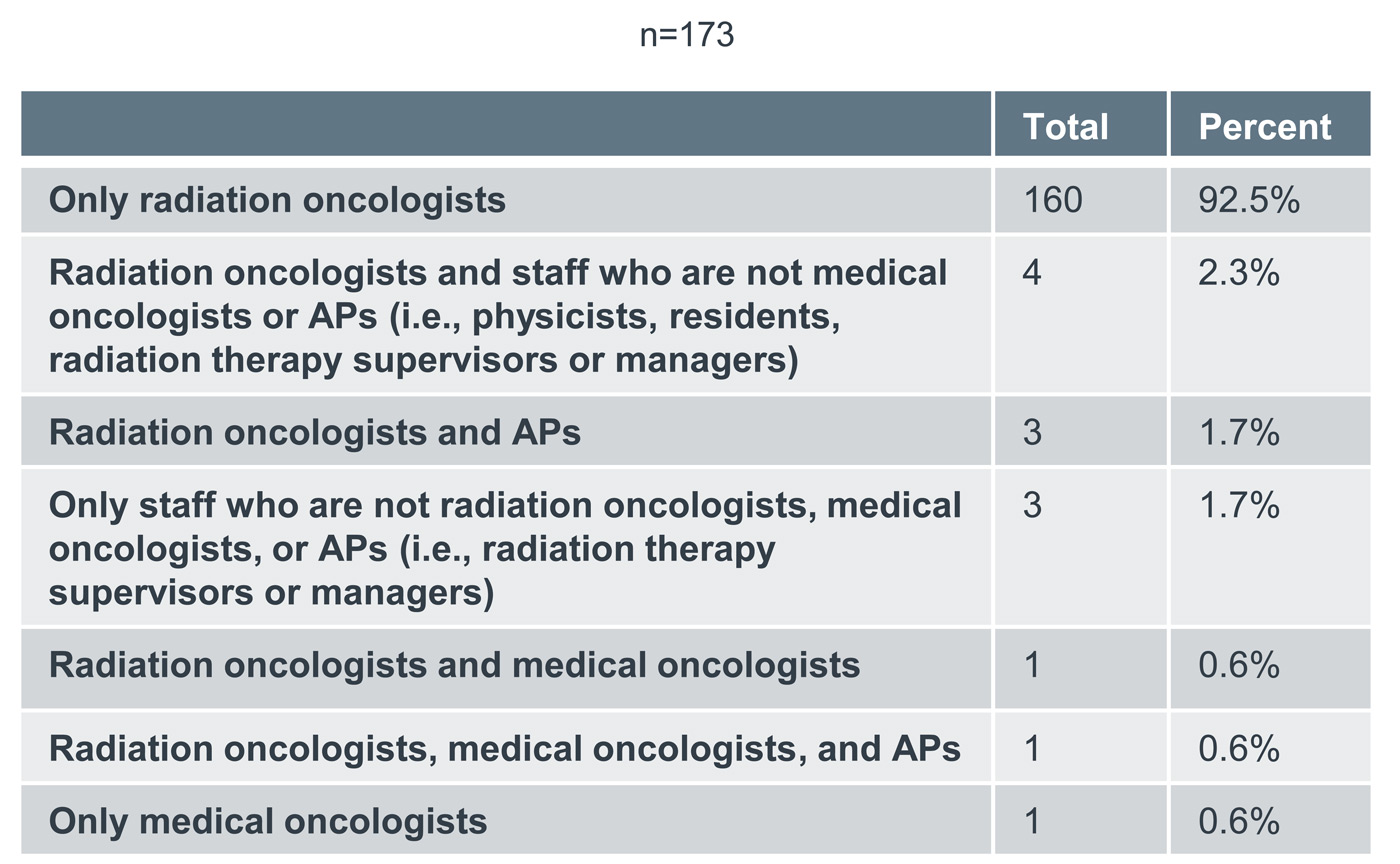 ---
Next, learn the path to your new cancer program investment strategy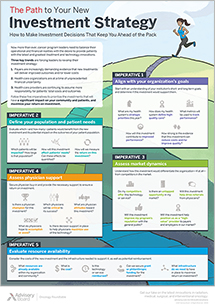 Cancer programs must balance their operational and financial realities with the desire to provide patients with the latest and greatest treatments and technologies. Find out how to ensure your investments have a significant impact on your patients and maximize your financial return.
Download Now