Gender equality getting closer, but still a goal
At least superficially, and after years of struggle, it seems there's near-gender equality across the U.S. workforce. Of the 143 million-plus working Americans, about 47% are women—a percentage that continues to steadily rise.
(As a personal aside, I see this equality every day. The Advisory Board Company maintains a  Women in Leadership program to groom women for executive roles. I've had seven direct managers in my years at the firm, and all seven were women.)
And if health care has a gender problem, it's that the industry seems totally unbalanced in favor of women. Nearly 80% of workers in the health care and social assistance field are women, according to Bureau of Labor Statistics data.
And yet, when Modern Healthcare's much-respected list of the industry's "Most Influential" people was released this week, 79 of the 100 honorees were men.
This isn't a knock on Modern Healthcare, which has done quite a bit to spotlight women in the industry. In 2013, the magazine named a woman—Kathleen Sebelius—as its "Most Influential" person in health care; for 2014, women represented two of the top five "Most Influential" people. Modern Healthcare even recognizes a standalone list of  top women executives.
Instead, it's reflective of the reality: Although women outnumber men four to one, they still represent a minority of health care's C-suite.
Also see: Women outnumber them 10:1. So why do male nurses get paid more?
Take hospitals. While women make up three-quarters of all hospital workers, they represent an ever-shrinking slice of leadership as they move up the corporate ladder, according to Abby Martin of the Advisory Board Survey Solutions team. 
To demonstrate that, Abby pulled data from the Employee Engagement Initiative's database of 550 facilities, and working together, we've graphed those findings out below.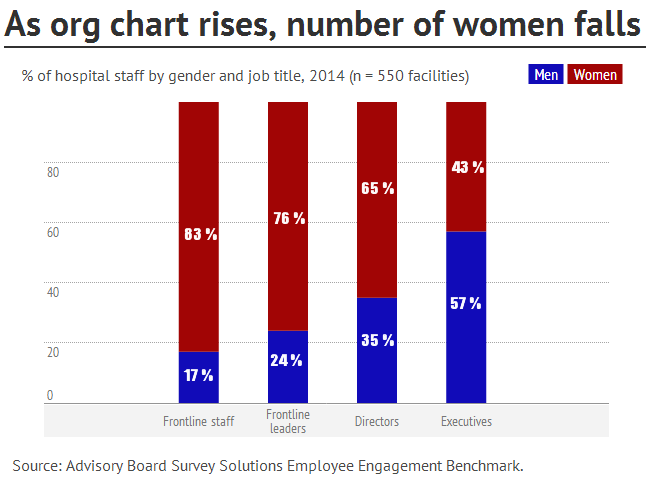 Looking at the Employee Engagement Benchmark data, Abby noted that the gender balance is getting better—just slowly. For instance, women represented 43% of executives in the Survey Solutions benchmark data in 2014, but that's up from 39% in 2011.
The data generated a robust discussion in our office on Tuesday afternoon, and while we argued over some of the causes and factors, there was no debate in one area: This is a problem.
"It seems many in our industry are falling prey to what we call the 'mini-me misunderstanding' when succession planning," said Advisory Board executive director Steven Berkow.  Too often, leaders end up "prizing someone similar to them" when assembling a team and picking a replacement. Those sorts of blinders can harm efforts to build up a leadership bench, Steven said, which ultimately leaves an organization vulnerable. 
"The goal of having more women in senior leadership is the same as any other diversity initiative," added Jennifer.  "You want to ensure your leadership team—and overall workforce—is representative of the diversity of patient population you are caring for."
So how to think about succession planning? Focus on "the competencies that will be most critical moving forward, and deploy a more disciplined process to assess potential," Steven suggested. He also pointed to the Advisory Board's library of practices.
Four key steps for executing high-impact succession plans
To get true balance in health care leadership—and to take advantage of the benefits that diversity can bring—executives need to address a pair of interlocking issues, Jennifer added.
"The challenge isn't to only increase the absolute number of women in health care leadership," she said, "but to expand their representation beyond CNO, VP of HR, and any other executive seats they've been historically likely to fill."