Sample Output Graph of Market-Specific Per-Capita Utilization Rates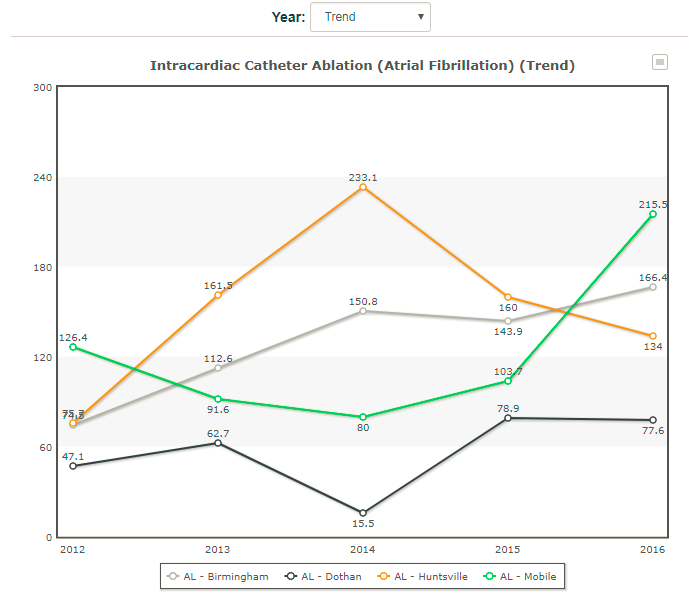 Regionalization Profiler tool in action: Atrial fibrillation program refinement
CV leaders at Lana Hospital, a pseudonym, had been interested in optimizing their atrial fibrillation program for several years. Lana's CV Service Line Director used the Regional Utilization Profiler to analyze AF procedural treatment utilization rates in their market compared with neighboring markets and national rates. She found that while utilization rates of catheter ablation for AF were higher than the national average and nearby markets, Lana's EP program was not witnessing the procedural volumes they would expect based on the high utilization in their market. With this information, Lana recognized an opportunity to further examine utilization in their market.
Lana's administrator analyzed their physician referral patterns, discovering that out-of-network referrals were a significant contributor to Lana's low ablation volumes. In response, they developed a more comprehensive referring provider marketing strategy to ensure that local PCPs and general cardiologists were aware of the comprehensive suite of EP services Lana offered. Lana made sure to provide targeted data on the high-quality outcomes of these services in their marketing to physicians. And simultaneously, Lana reassessed their direct-to-patient marketing to ensure that patients were similarly aware of Lana's extensive EP service offerings and excellent results.
Upcoming webconference
Join us on Jan. 30 to learn how to develop your structural heart program for 2018 and beyond.